Whether it's your first design or 100th installation, creating new, unique, compliant, and accurate plan sets for PV and energy storage projects is one of the most laborious and important aspects of the project.
Without high-quality solar plan sets, you may run the risk of being denied permit and interconnection approval with local authorities, leading to project delays, increased costs, and a handful of avoidable headaches.
In this article, we'll cover the basics of PV plan sets and take a deep dive into the solar permitting process to prepare you for your next project.
What is a PV plan set?
An integral part of the installation process, a plan set is a package of drawings and data sheets that outline the details of a proposed installation. This typically includes a project's address or location, electrical components, and structural information, engineering calculations, labels, and placards. You can think of a plan set as the blueprint for a solar installation, the way a construction crew uses blueprints to build a house, and installation team uses the plan set to install a solar system.
The plan set is the source of truth for multiple parties to align on, it's used with the AHJ for permitting and inspection, utility for interconnection approval, financiers for confirming funds are used as intended, installation teams for performing the work, and even homeowners for final approval and setting expectations of the installation.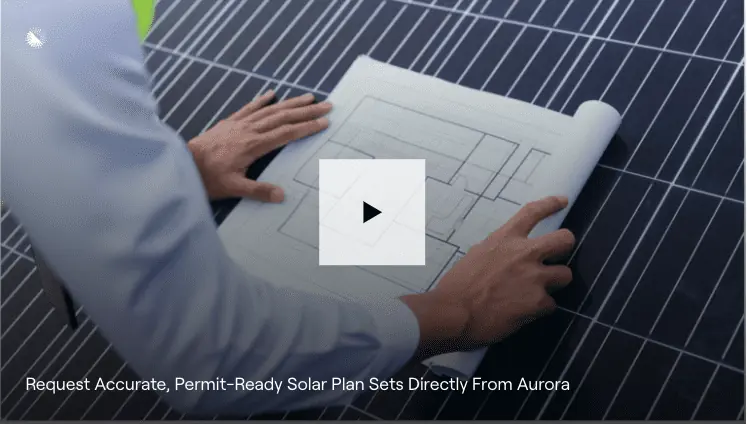 Why is a solar plan set necessary?
A plan set is the key component to efficient post sale operations. A quality plan set, with precise and accurate information in it, means that every step of the post sale work flow is faster and easier: permitting, installation, inspection, and permission to operate.
By creating high-quality solar plan set drawings that adhere to local building and electrical codes, you can assure your customers that their system has been approved as safe to operate with local authorities, and that your installation teams will be able to quickly and effectively install the system.
PV plan sets are instrumental
A proposal design that's presented to the homeowner at time of sale typically just focuses on the layout of the modules, how much power they expect to produce, and how much savings the homeowner can expect.
The plan set design will follow the proposal or sold design, as much as possible while accounting for AHJ requirements, site survey information, such as structural and electrical considerations, mounting hardware limitations, etc. In instances where the plan set design is different than the sold design, the homeowner should be signing off on the changes.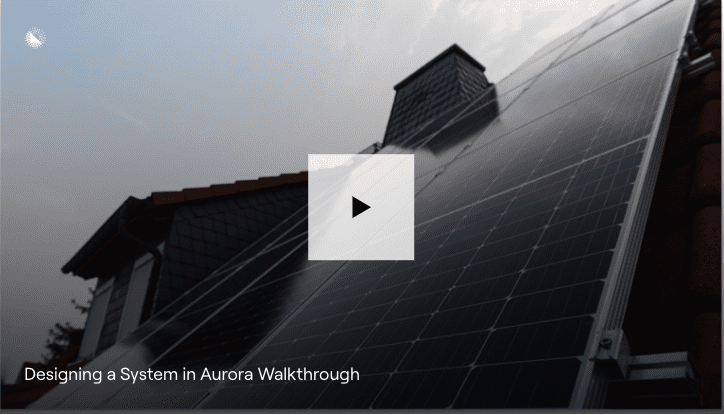 PV plan sets and permitting
In recent years, adapting to the volume of distributed energy systems being installed, many AHJs have been adopting more streamlined and even instant permitting methods that don't require a full plan set for getting a permit. AHJ's like Clark County NV and Los Angeles CA, and tools like SolarAPP+, have made it so standard projects with approved equipment can be permitted without needing a full traditional plan set.
However, most AHJs still require them to issue a permit, and the need for installation and inspections makes having a plan set necessary.
National solar plan set requirements
Within the United States there aren't nationally set requirements for AHJs and contractors to adhere to, it's up to the individual states to decide for each of their jurisdictions. There are, however, National Electrical Code (NEC) and International building codes (I-Codes, IFC, IRC, IBC, etc) that are written and released every three years for rules and guidance for the various building and safety authorities to adopt. Rules such as NEC 690 and IFC1204 and 1205 are some of the most known sections. They dictate items such as electrical disconnecting means, wiring configurations, and fire access pathways. The rules and references can, and often do, change from code year to code year, both in the reference number and what rules to adhere to.

The building codes also leave a lot of space for interpretation for the local building official to use their discretion on what would be safe. The NEC and I-Codes will get adopted over time by each jurisdiction. Some states like California will take the I-Codes, make modifications to them for their unique needs, and publish them as the California Building Codes. Then, cities like San Francisco and Los Angeles will take it a step further and publish their local city codes.
State & local solar plan set requirements
On a local level, individual states, counties, cities, towns, home owners associations, and even neighborhoods, such as historic districts, throughout the United States have varying requirements for solar installations that need to be accounted for on plan sets. Depending on the AHJ for your project site, your design may have to incorporate certain local rules like fire pathways, electrical disconnect and conduit requirements, maximum system sizes, which roofs can have solar panels… the list goes on and on.
Wondering what's the deal with fire pathways? We've got you covered.
There are more than 30,000 unique AHJs in the United States, and they all have multiple individuals working in the building and planning departments, which can mean nearly countless variables to account for. This is why most solar installers track AHJ requirements utilizing an AHJ database, such as the feature Aurora recently released, so that their teams can store and reference any requirements that they need to follow.
What do solar plan sets include?
Like everything in the solar industry, the exact components of your PV plans vary by location, equipment configuration, AHJ requirements, etc., and may look slightly different for every business. To give you a better idea of what you'll need, here are the basic things your solar plan set should include.
Title page
Outlining the project location, scope of work to be performed, property owner and contractor information, and building codes that the plan set design is adhering to.
Site plan
The first of many solar permit drawings, a site plan clearly defines the property's characteristics such as size, orientation, and roof shape. Drawn to scale from an aerial perspective, site plan drawings should show the roof and PV system layout, fire pathways, wiring path and point of interconnection, address, and often property lines, and the street the front of the house is on.
Roof plan
Zooming in a bit, your roof plan (or roof layout) includes more detail about the location of your solar panels, wiring configuration, and mounting system details, such as rails and attachment points, and the underlying rafter or structural layout.
Many AHJs will require structural engineer stamps from a licensed professional engineer. These stamps are typically included on the roof plan.
Structural details
A cross section view of the modules, mounting system, roof, and structural details, the structural details page will show how the roof structure is built, and how the modules are attached to it. They are sometimes accompanied by structural calculations from a structural engineer ground plan
Of course, when you're installing ground mounted solar panels, you won't need a roof plan. Instead, the parts and wiring designs are detailed in a ground plan, or included in the site plan. Ground plan details will often have to show details for above ground modules and framing, and underground items, like trenching, plumbing such as septic tanks and leach fields, zoning setbacks from property lines, and in some cases topography and soil details.
Single-line diagram
Also known as an SLD or a one-line diagram, a single-line diagram shows AHJs, installers, utilities, and building inspectors how all of the electrical components of your system are connected. With solar panel wiring basics in mind, single-line diagrams clearly illustrate how your system will generate electricity and safely send it to the grid. A single-line diagram is needed by most AHJs and utilities, however some require a three-line diagram.
Three-line diagram
Looking fairly similar, but with more detail than a one-line diagram, a three-line diagram depicts all of the positive, negative, neutral, and ground conductors in your PV electrical system. (Whereas a single-line diagram will typically group some or all of the wires together visually to more simply show the path of the conductors and connections.)
Labels and markings
In compliance with the AHJ's adopted electrical codes, solar plan sets must include proposed locations for the warning labels and markings outlined by the AHJ and electrical code. For the safety of the building, its occupants, and emergency personnel, proper labels must be placed on inverters, batteries, rapid shutdown initiation devices, AC and DC disconnects, and several other pieces of electrical equipment.
Specification sheets
Specification sheets, or data sheets, are documents from the equipment manufacturers that include all the dimensions, details, NRTL listings, ratings, and compatibility with other equipment. They aren't always explicitly required to be included in the plan set, but are a best practice so the building official can verify the equipment details in the plans with the details in the spec sheets.
Professional engineering stamps
Some AHJs require professional Engineer stamps, and sometimes calculations letters with the plan set. This is typically a Structural or Electrical Engineer stamp on the appropriate pages, however, sometimes stamps from two different Engineers are needed — where a Structural Engineer would stamp the structural specific pages, and an Electrical Engineer stamps the Electrical specific pages. An Engineer stamp is their certification on the accuracy of the calculations and design details of the system.

This can be a complex and fraught part of the plan sets process, but there are solutions that can help. Aurora customers that need stamped plan sets can request them through our Plan Sets service.
Who is involved in solar plan set design?
A plan set has a lot of people involved in creating and using it:
Sales representative: The project starts here. Without selling a system the site surveyor won't know what roofs to measure, and the plan set designer won't know the customer's expectations.
Site surveyor: Someone who goes on site to the project to collect all the information they can about the existing structure, electrical system, roof dimensions and details, etc.
Plan set or system designer: The plan set designer will take all the information they have available to them, from the sales rep — site survey, AHJ database, building codes, data sheets, installation manuals — and create the plan set design.
Professional engineer: Depending on the AHJ requirements, a professional engineer may have to review the plans created by the designer and stamp them.
Authority having jurisdiction (AHJ): Once the plan sets are created, they are then delivered to the local AHJ with a permit application, either digitally or in-person, depending on the jurisdiction. While some counties and towns have dedicated personnel for solar projects, the plans are usually handled by someone in the local building department.
Installers: Once permits are obtained from the AHJ, the plans are then passed to the solar installation team as a construction blueprint. Install teams are often involved in communicating installation limitations and preferences for plan set designs to enable efficient installations.
Inspector: When the installation is complete, an AHJ representative must then take a final look to verify the system has been accurately installed according to the permit details and permitted plan set.
If you're running a lean business, outsourcing expert solar plan set design services is a great way to access fast PV designs and permit-ready plan sets without having a trained member of your team always on-call for new projects.
Common difficulties creating PV plan sets
As highly detailed documents that are different for every customer, equipment type, roof type, existing conditions, etc. developing permit-ready solar plan sets can be difficult, even for experienced installers. Here are some common issues:
AHJ identification and requirements: The first step in bringing a solar energy system to life, PV solar plan sets must always be created in adherence to specific local building, electrical, and fire codes. Without following the right local guidelines, unforeseen requirements can lead to rejected building plans.
AHJ requirement compliance: Complying with different local building codes and their interpretations across a wide service area takes time, effort, and attention to detail on every new project. Since no two designs are alike, permit-ready plans can take a significant amount of time to develop and processes.
Data accuracy: From proposal designs from aerial imagery, to site survey photos and measurements, there's a lot of information to collect and process to design the plan set. Ensuring the plan set design is completed from the latest, most accurate data is critical for efficient operations.
Tool development and integration: Depending on how you design your solar energy systems, it may be possible to build or integrate a specific tool, program, or software to help develop accurate PV permitting plans. While not every tool integrates seamlessly with one another, transferring information between separate sales, design, and engineering platforms can lead to disconnects and extra time spent on manual tasks.
Expert availability: Even if you employ a team of solar experts, developing accurate plan sets and having them approved is a time-intensive, and often time-sensitive, process. As AHJ approval may require an appointment and can take days or weeks to review, it is critical to try and submit passing plans on your first attempt with the help of an expert.
Have more questions? Check out our plan sets FAQ.
Next steps
Generating permit- and install-ready plan sets is a complex process, and doing it well is critical to the success of the solar company.
Want to learn more about how you can use our plan sets services to build your business? Schedule a quick, no-hassle demo, or click the chat box in the bottom right of the screen to get more information (from a human) right now.
Get a step-by-step look at Aurora's Plan Sets Service below.