August 23, 2023 UPDATE: This blog has been updated to reflect new information about our engineering stamps and battery storage options.
Looking for a better way to do plan sets for your solar projects? You're in the right place. Aurora's new Plan Sets Service takes the time, mistakes, and pain out of the solar plan sets process.
How?
The Q&A below tackles some of the most common plan sets questions, and how Aurora helps solve them. These come from our webinar, Request Accurate, Permit-Ready Plan Sets from Aurora, and will get you all the basics you need to get started. Then, watch the full webinar to see a full demo, and learn:
How to improve team processes with well-defined workflows
How to avoid multiple complex tools with on-demand plan set requests from the app
How to achieve higher approval rates with Aurora's AHJ identification process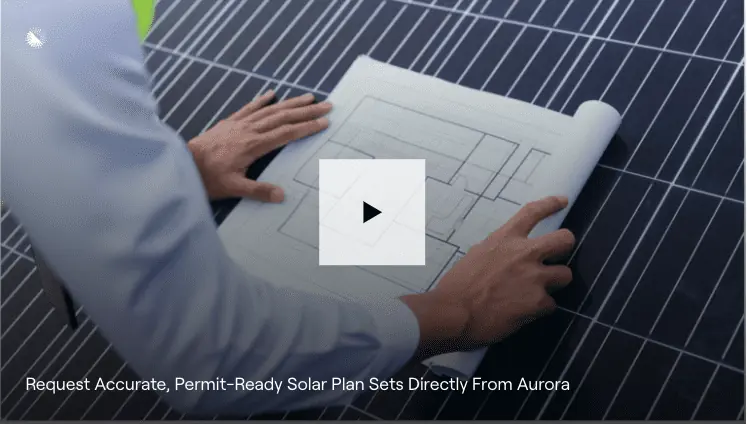 The basics
How do I get Plan Sets?
Reach out to your Customer Success Manager or Account Executive. If you're not an Aurora customer yet, email support@aurorasolar.com, reach out to us on LinkedIn, or schedule a demo to learn more.
How is Plan Sets priced?
Plan Sets is priced based on volume. Please contact your CSM or AE for exact pricing and volume discounts. Again, if you're not yet an Aurora customer, email support@aurorasolar.com, reach out to us on LinkedIn, or schedule a demo.
Does Aurora's Plan Sets Service have an option to get engineering stamps?
Yes! Aurora integrates structural and electrical engineering stamps into the Plan Sets Service; you can obtain the necessary endorsements directly through the platform. The plan set package is reviewed by a Professional Engineer, stamped, and ready for download. (This service is available in most of the US, except for New York City, Portland, OR, and Illinois.)
Does Plan Sets support batteries?
Yes, you can include batteries in your plan sets. Contact your sales rep to learn more about Storage in Plan Sets.
Where is the service available?
Right now Plan Sets is available in most of the US (except for New York City) and territories.
Is Plan Sets available for C&I customers and projects?
It's only available for residential right now. We hope to add capabilities for commercial, through HelioScope, in the future.
Is Plan Sets compatible with Legacy Aurora?
It's only available in New Aurora. However, you can design in Legacy Aurora, follow your workflows in Legacy Aurora, then switch to New Aurora at the end to request your plan sets.
What is the turnaround time to receive a plan set? How about revisions?
The turnaround time once you've submitted a request is 24 hours, the same applies to revisions. In the case of plan sets with stamps the turnaround time is 48 hours.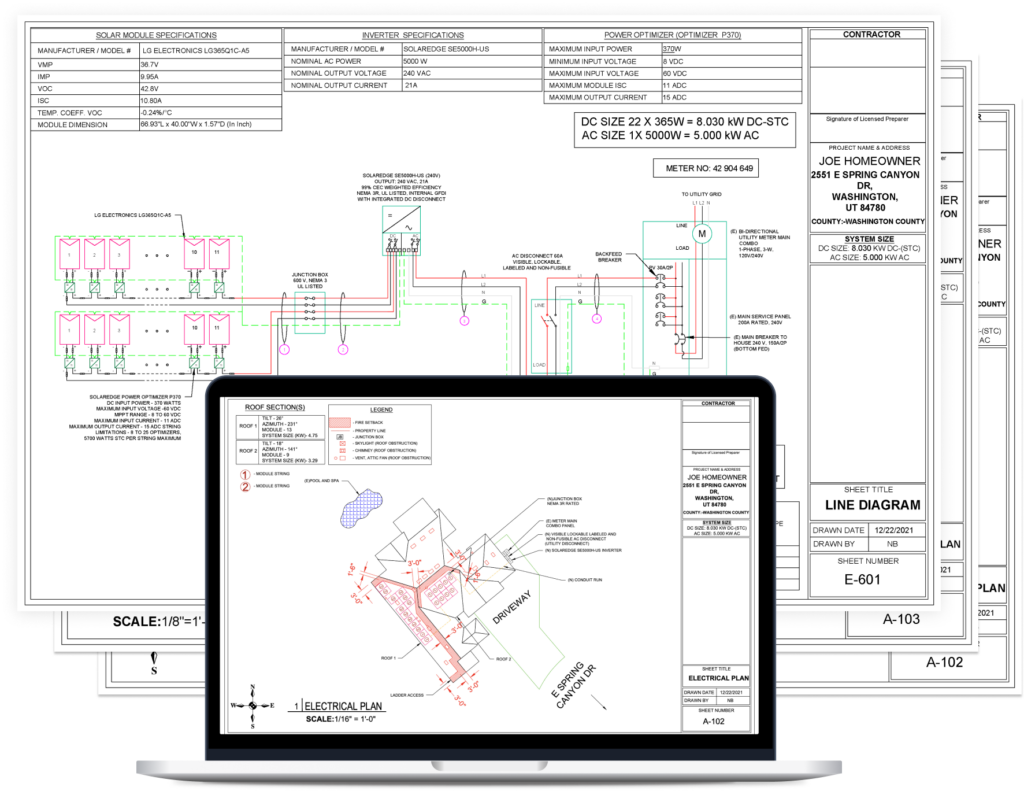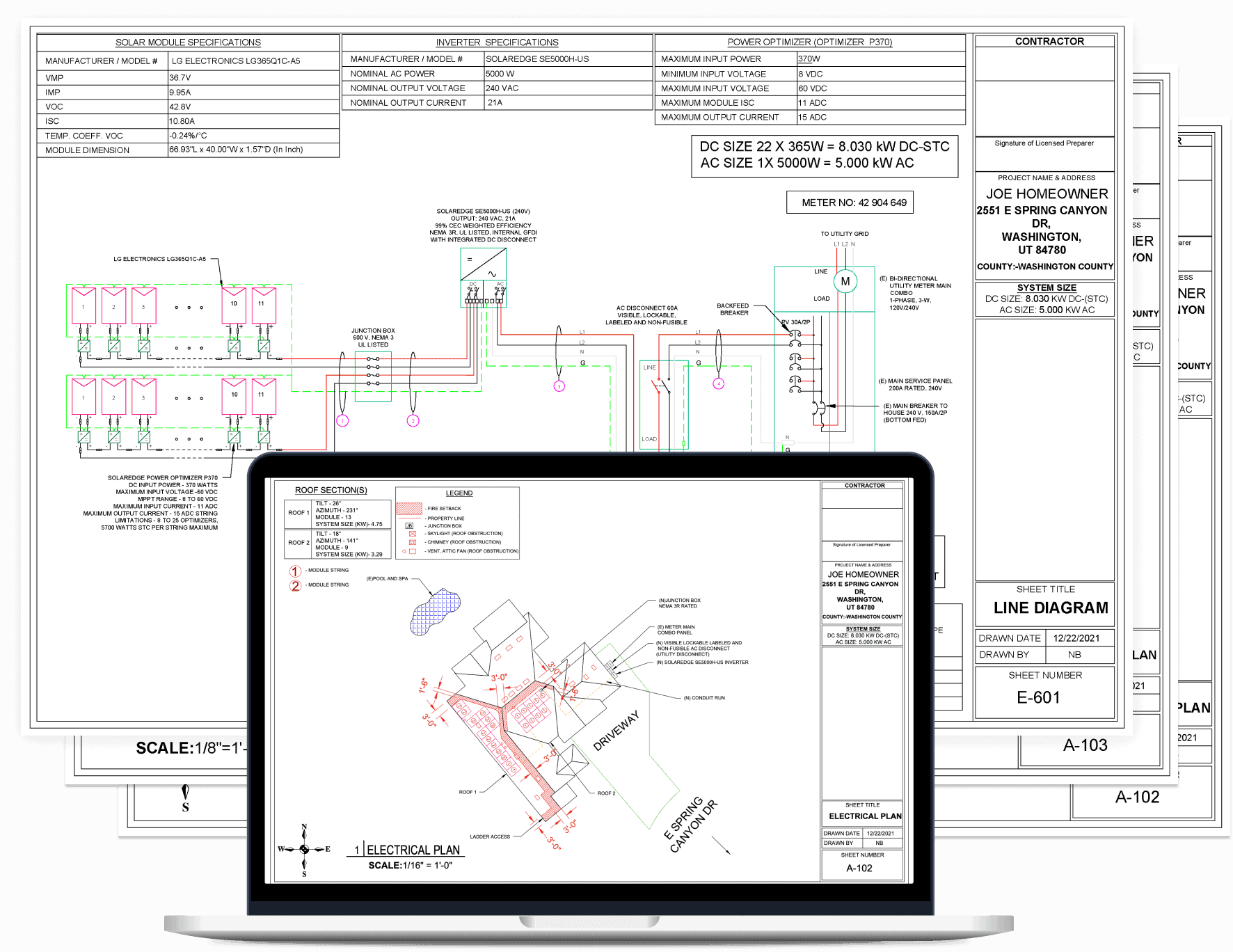 Can I see Plan Sets in action?
Yes. Click through the quick step-by-step walk through below to see how to use Plan Sets.
The Authority-Having Jurisdiction (AHJ) database
Does Aurora take utility requirements into consideration when designing a plan set?
Yes. We review AHJ and utility specifications when we're creating the plan sets. Both the AHJ and the utility are automatically identified upon project creation. In fact, a big benefit of the Plan Sets Service is the AHJ database, where users can upload additional AHJ information for team alignment purposes.
Is the AHJ database added by users or pre-populated?
There's a high-level section that will be pre-populated and maintained by Aurora, the rest of the sections will be added and maintained by the team admins and referenceable by team members.
Using the Plan Sets Service
Can we upload a module datasheet that we'd like to use for a plan set?
Yes. That information can be submitted through the document or photo upload.
Can my team use the intake form as a site survey form to store site survey information and photos?
Yes. The intake form can be assigned to the site surveyor, who can use the form to enter the site information during the site visit.
Can you specify the NEC code? For example, 2017 or 2020?
Yes, the building codes will be identified and displayed in the AHJ database for teams to reference.
Want to learn more?
Watch the full webinar for a comprehensive demo to discover just how easy the plan sets service is to use. You'll also get real-world insight from Meg McDaniel, COO of Perihelion Solar, on how Aurora's Plan Sets Service can help streamline your permitting process by simplifying complex workflows, dealing with difficult AHJ requirements, and reducing errors and revisions.
If you have more questions related to your specific business needs, or would just like more information, please reach out to us at support@aurorasolar.com, schedule a quick demo, or get in touch via LinkedIn or Twitter. Or, click the chat box at the bottom right to get more information (from a human) right now.