Like peanut butter and jelly or salt and pepper, roofing and solar go incredibly well together in a contracting business portfolio.
If you're considering whether to add solar to your roofing business, well, then you've come to the right place… and at the right time.
After over a decade of growth, the solar industry shows no long-term signs of slowing down. By 2030, the national residential PV market is expected to be a $44.77 billion industry with sustained 15% yearly growth forecasted in the US.
If you're interested in learning what it takes to try to get your piece of the solar pie, this guide will show you the basics involved in getting started.
The benefits of solar for roofing businesses
By incorporating solar energy services into your business model, you may find yourself on the path to more revenue, a greener reputation, and a competitive advantage in the roofing industry. What more could you ask for?
Increased revenue opportunities
In the growing solar energy market, roofers are well suited to add photovoltaic (PV) installations into their line of services. After all, you're already well-versed in rooftop home upgrades. While selling adjacent products (like gutters, skylights, and insulation) is by no means a new idea in the roofing industry, some companies may believe that integrating solar will be too difficult due to its technical nature. 
Instead, the continued advancement in solar technology and maturing of the industry as a whole have made it more realistic than ever for contractors to get started installing solar panels. Whether you're selling to your existing customers or attracting new business with PV services, solar panels and related products can help you create new revenue streams to improve your bottom line.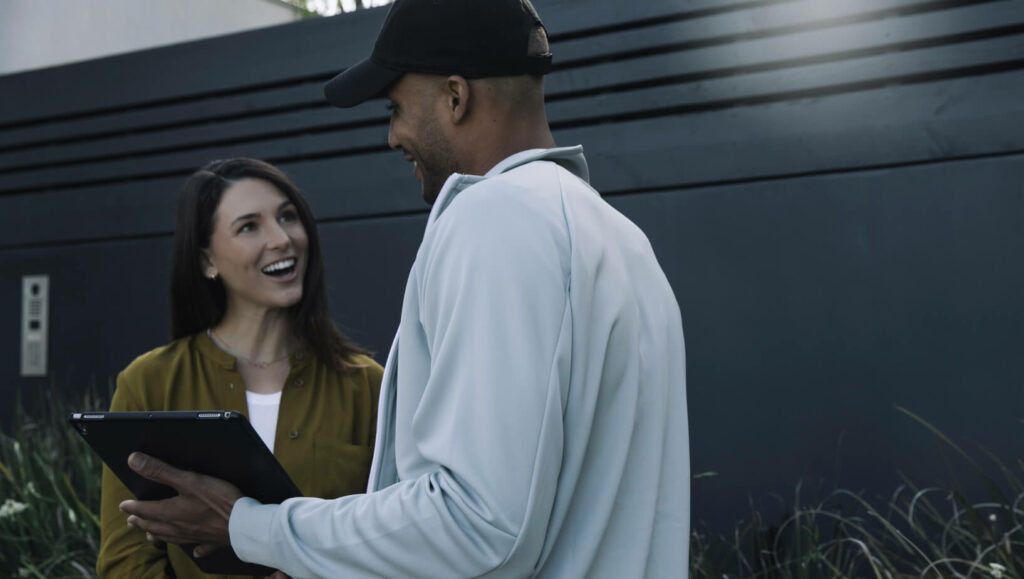 Enhanced brand image and reputation
In a world already experiencing the effects of climate change, embracing renewable energy is one of the most vital movements that people, companies, and governments are participating in to create a better future.
When you offer roofing and solar services together, your customers will recognize your efforts to help reduce potential carbon emissions and improve local air quality. As a result, your customers may be inclined to choose you over another roofing company or recommend your services to a neighbor, friend, or family member.
Competitive advantage in the roofing industry
Despite its rapidly growing popularity, solar energy is still a relatively new concept to many homeowners, which presents an excellent opportunity for roofers to educate their customers about its benefits. In addition to outlining the financial incentives for installing solar, demonstrating how a PV system can reduce energy costs can help you establish yourself as a knowledgeable resource that is committed to providing value to your customers.
In the competitive landscape of the roofing industry, any additional services you offer can give you a leg up on new companies selling to residential or commercial customers for the first time. By selling two related services at once, offering bundled pricing and efficient project timelines can also help you more easily win over customers that may be considering hiring separate roofing and solar contractors.
Overcoming challenges and building expertise
Of course, getting into solar will require effort. But developing your expertise and selling solar energy products and services may be easier than you think.
Misconceptions about solar integration
Some homeowners believe that adding a solar system could damage their roof, leading to leaks, floods, or worse after installing a rooftop array. In reality, roof damage from solar panels is very rare, and as a roof and solar company, you can have complete control over an entire installation to ensure a high-quality result.
When integrating solar energy into your business model, you may fear that you need to know every little thing about how it works and that a considerable amount of research will be necessary upfront. Thankfully, to cut back on startup time, solar energy services can be rolled out in a variety of ways that best fit your business — through strategic partnerships, joining a dealer network, subcontracting, and more.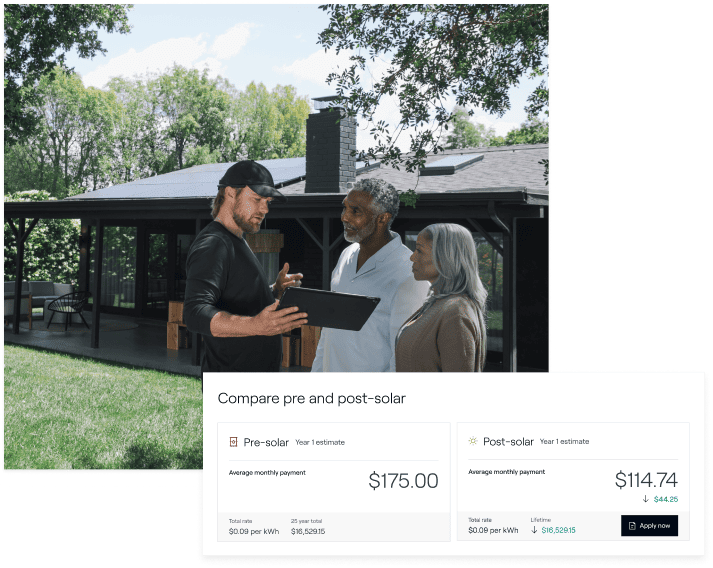 Developing solar expertise
There are any number of online and in-person resources to help you get the solar expertise you need. Whether it involves establishing a partnership with an existing PV company or hiring experts to train your employees, having an educated sales and installation staff will be critical in earning customer trust and providing high-quality installation services.
If you're ready to start selling solar immediately, there are opportunities to partner with PV experts at every step of the process. Whether it's with an established solar provider, or a company that can help you streamline your sales, design, and operations processes, the right partnerships can make all the difference.


Navigating solar regulations and permitting
Always changing, and never quite the same in two separate parts of the country, navigating the policies and regulations that surround solar energy can be challenging. However, it's very important to stay up-to-date with the evolving solar policies in your service area in order to operate efficiently and provide the most value to your customers.
In many American jurisdictions, for example, a licensed electrician is required to obtain solar permits and achieve grid interconnection. As every PV installation is unique, navigating permitting with local building authorities and utilities will be an ongoing process that will be crucial for your business's ability to offer efficient and legal solar energy services.
For more information, please see our guide to Getting Started with Solar Permitting.
Strategies for incorporating solar into a roofing business
If you're wondering how to start a solar business, your path may take one of several different routes as an existing roofing company. While you can always add solar services to your website and promotional materials, many roof and solar companies find it easier to create separate entities such as A1 Roofing & A1 Solar (brought to you by your local roofing experts!).
Roofing business partnerships with solar companies
Rather than starting your own PV division, a solar company in your area may already be looking for a roofing business partner. By partnering with an established solar company in your service area, you can easily access local PV experts and drum up new referral business in a mutually beneficial relationship. (And, it's worth noting that if you're a solar business, partnering with a roofing company can be equally lucrative.)
Working together, roofing and solar contractors can streamline customers' property upgrades by offering complementary services and, in some instances, bundled financing for roof and solar projects. To find reliable solar partnerships, you can reach out directly to highly reviewed companies online or seek out established PV businesses at your next local trade show.
When speaking with potential roofing business partners, you can develop a relationship more quickly if you can highlight the unique benefits of partnering with your roofing company — whether that's a large pool of leads, superior services, or decades of experience in the home contracting business.
Training and realigning staff for solar services
Training your roofing staff to also provide solar services may be very time-consuming — on both the sales and installation sides of your organization.
In 2016, the Department of Energy launched a Solar Training and Education for Professionals (STEP) program that has helped fund solar education initiatives in many different parts of the country. The project helped fund many solar education services that are still available today, such as The Solar Foundation (for veterans) and the Electric Power Research Institute.
More than anything, however, a NABCEP (North American Board of Certified Energy Practitioners) certification is the most widely recognized standard for solar industry professionals today. Therefore, if you're serious about getting into solar long-term, earning (or helping your key employees earn) a NABCEP certification can help boost your company's credibility in the eyes of your customers and roofing business partners.
Here are some additional solar sales resources:
Marketing and promoting solar services
As a roofing and solar contractor, you're in a great position to market directly to customers already in your pipeline. After earning trust with high-quality workmanship on a brand-new roof, you can enlighten your customers with the knowledge that the best time to add solar panels is directly after a roof replacement, as both products are expected to last for decades.
Whether you are opening a new "solar division", partnering with a solar installer in your area, or simply adding PV systems to your ongoing list of services, consistency in branding will be very helpful to the success of your campaign. While you don't have to reinvent the wheel, opportunities may exist to advertise your solar services through many of your existing marketing channels like flyers, online ads, trade show promotions, and more.
Beyond your everyday marketing campaigns, many unique channels also exist to advertise local solar energy services. By creating online profiles on PV industry sites and partnering with other related companies (such as panel manufacturers, suppliers, and solar financiers), you can build your digital reputation upwards and towards the direction of new business.
In closing…
To recap, roofing and solar services together can help increase your revenue and improve your brand's reputation by offering unique green energy solutions for new and existing customers.
Whether building your own clean power division or strategically working with established PV experts, offering solar energy services presents an opportunity to grow your business within the blossoming solar energy industry.
If you have more questions about adding solar to your roofing business, schedule a quick demo or simply click the chat box at the bottom right and a real person will respond.