Table of Contents
Introduction
The solar installation market is thriving. We've already seen incredible solar adoption and job growth for years, and that growth is expected to skyrocket. There are many reasons for this growth, from rapid decarbonization of the world's energy and its ecological benefits, to the simple fact that it saves homeowners money. 
The fact that solar panels can last up to 35 years gives roofing businesses an additional leg up — before a home or business can install rooftop solar, the roof may need to be replaced. 
Bundling solar and roofing into one package saves customers money, and gives you a lucrative new income stream. As a roofer, your tools, knowledge, and connections set you up for a logical — and lucrative — jump into solar installation. 
In this blog, we'll look at some of the common questions and concerns roofing businesses have when looking at adding solar — and how you can overcome them. 
Is it profitable to start a solar business?
The sun's energy is inexhaustible, totally renewable, and pollution-free. And unlike fossil fuels and nuclear, it's totally free. Helping people transform sunshine into energy has become a profitable business for many installers, and with more people realizing its many benefits, the outlook appears bright for decades to come. 
Now, a typical solar installation can have a payback period of less than 10 years. And that time continues to come down as technology improves, so as long as the sun keeps shining, there's going to be a place for solar panels. 
And a place for you to install them. 
Why should you add solar to your business?
Even during the pandemic, solar has been breaking records, both in terms of deployment and affordability. Plummeting solar prices have made it competitive and even more affordable than fossil fuels. That, combined with policy changes and renewable energy standards being adopted by states and countries, means solar is here to stay. It's no longer a question of if solar will supplant fossil fuels, but when. 
We are on the cusp of the greatest energy transition in history, and solar will lead the charge. For those wanting to add solar installations to their roofing business, there's no better time than the present. Consider the following:
20 percent

of residential solar installations don't go through because a new roof is needed at the time of installation

As a roofing contractor, you have the tools and training to bundle roof replacement with solar installation

You can cut out the middleman and wait times homeowners associate with hiring more than one contractor
Three quarters of U.S. roofs are asphalt shingles with a life expectancy of 15-20 years. Because so many of these roofs will require new shingles prior to installing solar, many solar-only installers will need to provide the customer with the bad news that the job will require more money and time than initially planned for. You can cut this out of the equation by bundling roof replacement and a solar install to save the customer time and money. 
Challenges facing new installers
The photovoltaic industry is among the fastest evolving industries in the world. This means nearly limitless growth potential, but it comes with challenges. Here are three important ones to keep in mind:
Ever-changing solar policy, incentives, and regulations
It's essential that you know the ins and outs of how local utilities operate in your area. Do they have requirements for plugging in solar to their grid? What are their requirements that might affect installation? What are the net metering policies?
Next, familiarize yourself with local building and zoning requirements, such as:
Required construction and zoning permits

Inspections

HOA rules
Lastly, be the go-to source for available local, state, and federal incentives as well as manufacturer rebates. This not only helps make solar more affordable for your customers, but sets you apart as an expert people can trust. 
Getting the right licenses and certifications
Licensure and certifications vary by state, but most require at least a roofer's and/or building license to install solar. Others require electrician licenses, or a combination of the three. Research your state's specific requirements and get certified by a respected organization like NABCEP.
Having the right proposal and design tools
Prompt proposals and designs mean more contracts signed. Moreover, having your proposals and designs accurate from the get-go means less change orders for system redesign, saving you and your customer time and money. 
The quicker a salesperson can deliver a preliminary design proposal — even working with the customer to come up with the best option on the spot — and the more accurate that proposal is, the more likely you are to both make the sale, and make a profit on the project. Aurora Solar offers permit-ready designs for installers, helping you avoid change orders and deliver the most efficient system possible.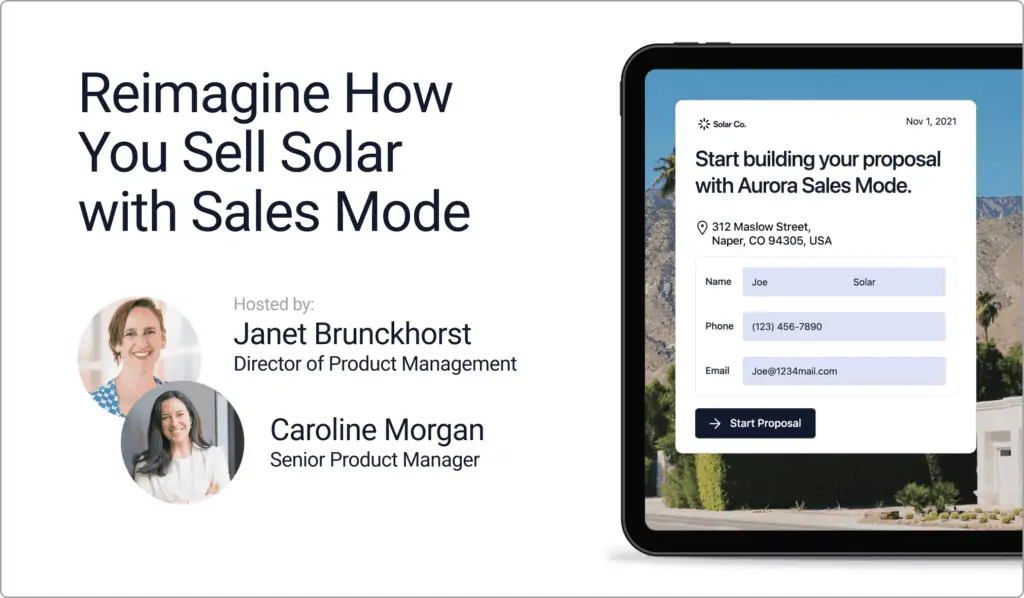 Needing better generation integration and management
Decentralized renewable energy like rooftop solar is fundamentally changing the way we produce energy. The current energy infrastructure is designed to deliver electricity on-demand from a central source, but renewables don't work that way: They only produce energy when the sun is shining or the wind is blowing. Therefore, we need better ways to integrate, manage, transfer, and distribute multiple forms of generation. 
Solar generation at-scale will create a grid with complex interactions between electricity generators and consumers. Some generators — be they households or utilities — may have a surplus they need to transfer where needed, otherwise store the energy in batteries. Others — such as homes equipped with rooftop solar — will need their electricity demands met during the night when the sun isn't shining. 
How to market your new solar business
As a roofer, you already have a huge advantage for starting your new solar business: You have a reputation and established client base that trusts you. 
If you're incorporating solar as an ad-on to your existing roofing business, all you need to do is pitch to clients a solar install with a new roof. The average cost to replace a roof is about $8,000 (depending greatly on the size of the home, the roofing material, and other factors). The average cost of a 10 kW new solar installation is $27,700, or $2.77 per watt, (this also varies greatly by state, and other factors) before the homeowner accounts for the federal solar tax credit and other rebates and incentives can further defray solar costs. 
Bundling a new roof and solar install can potentially save prospective customers serious money, and if you can do both, you have a high chance of tantalizing customers with a new roof/solar combo.  
Start by simply asking your roofing customers if they've ever considered solar. If they're interested, you have a few options:
You can sell their info as a lead to someone who installs solar 

You can sell a solar system yourself, then team with a dedicated solar installation partner that will take it from there 

You can sell and install the system yourself 
You can use the connections and referral networks you have now to search for interested solar customers. Let them know how much they can save on a new roof/solar bundle and all the benefits both will provide. 
Here are a couple solar marketing resources:
Regardless of your plan, here are some more tips on how to market a solar business. 
Know your customer — who are you selling to?
Customers want to go solar for many reasons, including everything from reducing their carbon footprint, to saving energy, to increasing the value of their homes. 
Do your best to ascertain your prospects' values and aspirations, and how solar fits into them. What are their motivations for going solar? Environmental, energy independence, financial, or all three? Knowing the limitations and motivations of your potential customers will help you better tailor your sales pitch to meet their needs. 
There are resources out there to help you. For example, our research shows that there are 5 main types of solar buyers, each with their own motivations and requirements. Knowing which type of buyer you're dealing with, and following the strategies included in our guide on how to sell to them, will give you a leg up on the competition.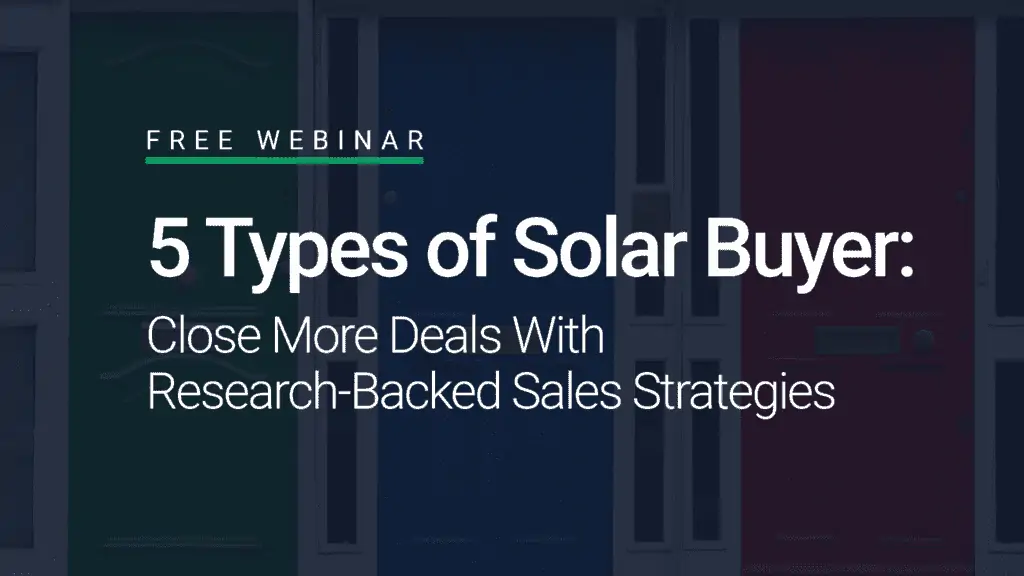 Get licensed and certified
If you're installing solar, you'll likely need a builder's license, electrician's license, or both. Check with state and local rules to determine what licensing you need to get started in solar. 
Solar-specific certifications also provide valuable training and knowledge that you'll need in planning and on the job. They're an important way to promote customer confidence, and can allow you to charge a premium for your services. In addition, it may enable you to operate in more than one municipality or state, increasing your competitiveness.
The North American Board of Certified Energy Practitioners (NABCEP) offers an array of certifications, including some that can be completed in as little as two months.
Have the best tools (again)
You need the right software to accurately model and visualize solar systems for your clients. Being able to do things like modify designs in front of customers, right on the spot, and then have a contract ready to e-sign can help you sign customers more quickly, with fewer follow-ups. 
Follow up!
Time is of the essence in solar sales. The faster you respond to customer questions, the more likely you are to get a sale. But, it's more than just responding to the customer, you have to be proactive. 
If you're not able to achieve that elusive one-knock close, thoughtful and helpful follow-up communication can set your company apart. Here are some resources where you can learn more: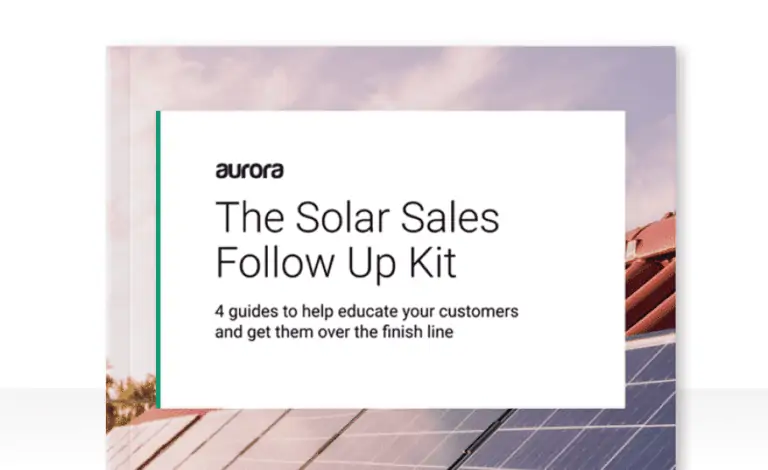 Know your competitors
The market for solar installations is competitive, to say the very least. Just look around your neighborhood: you'll likely see lawn signs for several companies. You'll be competing with all of them, so you have to do your homework.
There's too much to list here, but to start, you should be able to:
Compare your quote with that of your competitors. 

Know the difference between a competitor's offering and yours. 

Justify your price when you're the more expensive option, with clear and enticing value propositions. 

Assure the customer that you're delivering the best service and product when you're the least expensive option.
Here are some other resources to help you tune in with what your competitors are doing and set your company apart:
In closing…
There will always be roofs. And the way the solar industry is going, rooftop solar will be a common consideration for many homeowners looking to replace their roofs. As a roofer, you're poised to double-dip in both industries, making significant profits and helping the world become a better place… one roof at a time.