The solar industry is booming, and its sun is just starting to rise. Solar power was the leading new renewable energy by capacity in 2020, making it the cornerstone of the emerging renewable energy market. In the U.S., solar has consistently ranked first or second in new energy capacity installed each year back to at least 2010.
Likewise, solar installers are among the fastest growing professions in the United States. The trade is projected to enjoy a 52 percent 2019-2029 growth rate and a median income of $44,890 per year, offering a promising prospect for contractors looking to cut their teeth in this exciting sector. If you're wondering what it takes to start your own solar business, this post is for you.
How to Start a Solar Business – Beginnings
There's more to solar installation than slapping up panels: there's general contracting, roofing, metal fabrication, sales, repair and maintenance, consultation, landscape design, and so much more. Find a niche in your market that isn't saturated, play to your skills, and set yourself apart as the industry expert in your particular field. 
What to Know Before You Get Started
Becoming an expert means more than knowing your product. It requires having your finger on the pulse of the various rebates and incentives available, an important differentiator for companies looking to get ahead of the pack. Businesses that do the research to save their customers time and money get the contracts.
Regardless of whether you specialize in sales, installation, or both, it's imperative to become a pro at navigating financial incentives, working with utilities and regulations that might not be immediately apparent in the planning process. 
The best place to start a new solar business is between the cracks of large, over-saturated markets. Find out what solar professionals are doing in your area by checking in with local SEIA chapters and chambers of commerce, and conducting internet searches. Maybe you could specialize in aesthetically-pleasing solar and landscape design. Perhaps your market could use a regulation and financing ninja. It's highly likely that even if your market is saturated with traditional solar businesses, you will find a niche that only you can fill.
Solar sales
Starting a solar business doesn't necessarily mean you'll need a crew up on roofs installing panels. If sales is your thing, there are many businesses that focus on just that. 
These companies do all the work of selling solar systems: getting leads, qualifying them, doing in-home or virtual consultations, and getting the customer to sign. Once a customer has signed on, these organizations then work with a contractor that takes care of the rest of the installation process.
Solar installers
Solar installers are usually the most saturated business in the market. If you're wondering how to start a solar installation business, you might want to start at the basics: Roofing. If you're a roofer, solar installation could be a great option to add to your business. 
The solar and roofing industries are starting to converge, and for good reason. Solar panels and roofs have about the same lifespan (approximately 25 years), and savvy roofers are realizing the one-two punch of installing a new roof and solar system simultaneously. Whether you're a roofing contractor or solar installer, there's a lot of overlap between the two, and plenty of untapped market opportunities for incorporating roofing and solar into your business plan.
What is a PV system?
Before we move on, let's take a quick look at how a PV system works to get a better idea of how you can make money building one.
How Does a Solar Photovoltaic System Work?
Solar panels convert the energy of photons (light particles) into electricity, a process called the photovoltaic effect. When a photon hits a photovoltaic (PV) device, its energy knocks electrons in the material. These excited electrons begin to flow, producing an electric current.
At a high level, the process of how solar panels works involves three primary steps:
Solar cells within solar panels absorb light from the sun, which causes electric current to begin flowing.




An inverter converts

DC electricity to AC electricity

.




This electricity is used to supply current energy demands in the customer's building and excess electricity beyond what the customer can use is exported to the grid.
The photovoltaic process occurs on the cell level. Solar panels are composed of multiple cells, and PV systems are a series of solar panels wired together (called "stringing") to provide appropriate voltage to the system's inverter.
After a PV system is installed, there's nothing standing between a customer and free, green energy.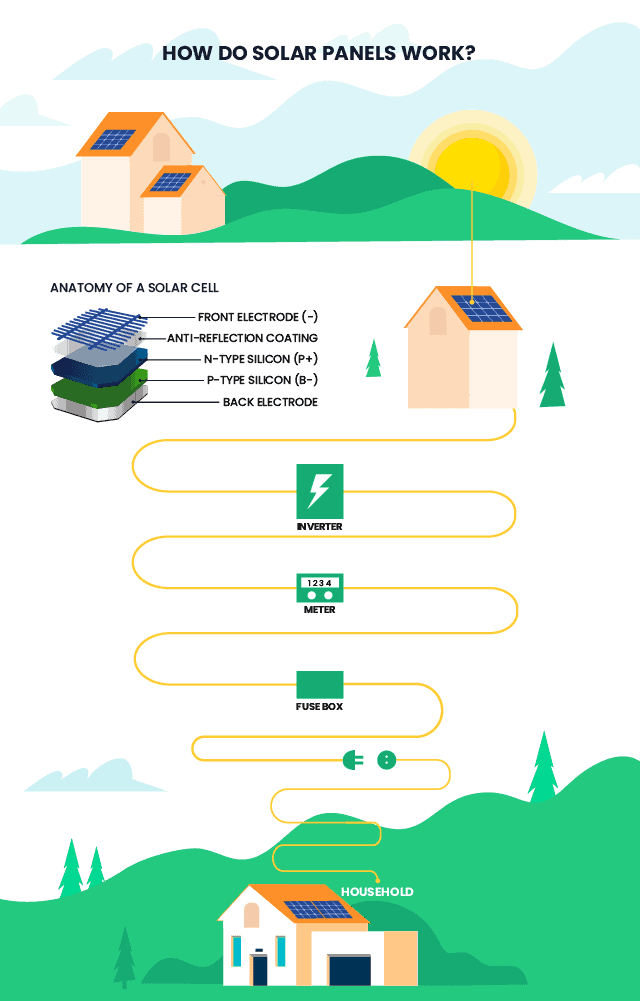 Solar Company Licensing & Certifications
Solar Licensing
Not every state requires solar licensing, but some do. Keep in mind that if you're planning on working outside of your home state, you'll need licenses for any state you want to work in. For states requiring licenses, you'll often need a plumbing or electrician license, or both. Some states require a specialized solar contractor license.
Check here to confirm whether you need licensing in your state, region, or municipality
Solar Certifications
Even if you don't need a license to operate in your area, earning a solar certification is a great idea. Solar certifications are an important way to promote customer confidence, putting you ahead of the average uncertified business. 
Certification can also lead to more income, with certified solar professionals earning an average $11,000 more annually. Getting certified may also allow you to operate in more than one municipality or state, increasing your competitiveness.
North American Board of Certified Energy Practitioners (NABCEP) voluntary certifications provide national standards for PV professionals, certifying they have the skills, experience, and competency to set themselves apart. NABCEP's certifications include:
PV Installation Professional (PVIP)

PV Design Specialist (PVDS)

PV Technical Sales Professional (PVTS)

PV Installer Specialist (PVIS)

PV Commissioning & Maintenance Specialist (PVCMS)

PV System Inspector (PVSI)
Set Up Your Solar Business
You've nailed down your niche, identified solar certifications and licenses, and are ready to make the jump. Let's take a dive into how to start a solar business from the ground up, starting with the legal stuff first.
Establish an LLC
An LLC, or limited liability company, is a business structure set up by state statute. LLCs provide several benefits, including liability protection, flexible structure, and tax advantages. They provide the same limited liability as a corporation but are much cheaper and easier to form and operate.
In most states, getting an LLC entails choosing a name, selecting members (which can include just you), creating articles of organization and operating agreements, and getting an EIN (employer identification number). You'll then need to obtain any seller's permits and licensing required by your state.
Check your state's LLC requirements for more information.
Business insurance
Protecting your personal assets from litigation isn't enough: You're going to need insurance for your solar business. Businesses need insurance to cover costs associated with property damage and liability claims. Without it, you may have to fork over cash out-of-pocket, which could be a death blow to your business.
The right insurance coverage is essential to mitigate potential risks and liabilities. Every contracting business must meet general insurance requirements, but there are a few considerations specific to the solar industry. Here's your solar business insurance checklist:
General liability insurance




Workers' compensation




Automobile liability insurance




Excess/umbrella liability insurance
Most contractor general liability insurances provide a minimum of $500,000 coverage. Keep track of your inventory, equipment, and properties, and get the right insurance that would cover the worst-case scenario. Do yourself a favor and get the right insurance before you even land your first contract. Click here for an in-depth look into the right solar business insurance.

Establishing a Solar Team
1. How to find salespeople
Salespeople are the backbone of most solar businesses. Regardless of your niche, chances are that someone on your team is making at least part of their paycheck knocking on doors and making phone calls.
When seeking out a salesperson, here are three elements to consider when vetting your candidate pool:
Knowledge about your niche




Passion and persistence




Familiarity with questions and concerns that customers have about solar
It's crucial that you foster a culture of customer satisfaction in all of your employees, but salespeople in particular. They are usually the folks leading your conversion process and are often the face of your business. Make sure they wear it well with world-class customer support.
If an in-house sales team isn't feasible, there are several options available for sales outsourcing. Many businesses exist specializing in outsourcing solar sales for installers, consultants, and retailers. A quick internet search will point you in the right direction.
2. Ramping up a team
Start out with nothing but the best right from the gate. Find team members that are

NABCEP certified

(see above). If your team isn't certified, give them the time and resources to do so.

Make sure your salespeople, installers, marketing team, and others know the ins and outs of your product. Give everybody on your team the time and resources to learn about your product and services.

Your dream team doesn't have to be all employees. Network with other solar experts outside of your niche. They will become invaluable sources of help and referrals if you keep at it.
3. Setting up compensation structures
Solar salespeople are usually paid by commission. Commission payouts are usually paid as a percentage of the total contract price or as a cut of the base contract price. 
Commissions have various pros and cons. On one hand, they can motivate your teams to work hard. On the other hand, commissions may encourage your salespeople to sell more than a customer needs, take on cost-prohibitive projects, and inflate project costs above market rates.
Read more on common commission structures in the solar sales industry today.
Pro Tips: Avoid These Solar Sales Barriers
Incorrect or Inefficient Designs
It's all too easy to under-or over-engineer a solar system. An incorrect or inefficient design is a surefire way to sink your business. Aurora Solar's sophisticated solar design software generates complete engineering designs and sales proposals with just an address and an electric bill, meaning you can deliver the best design, every time.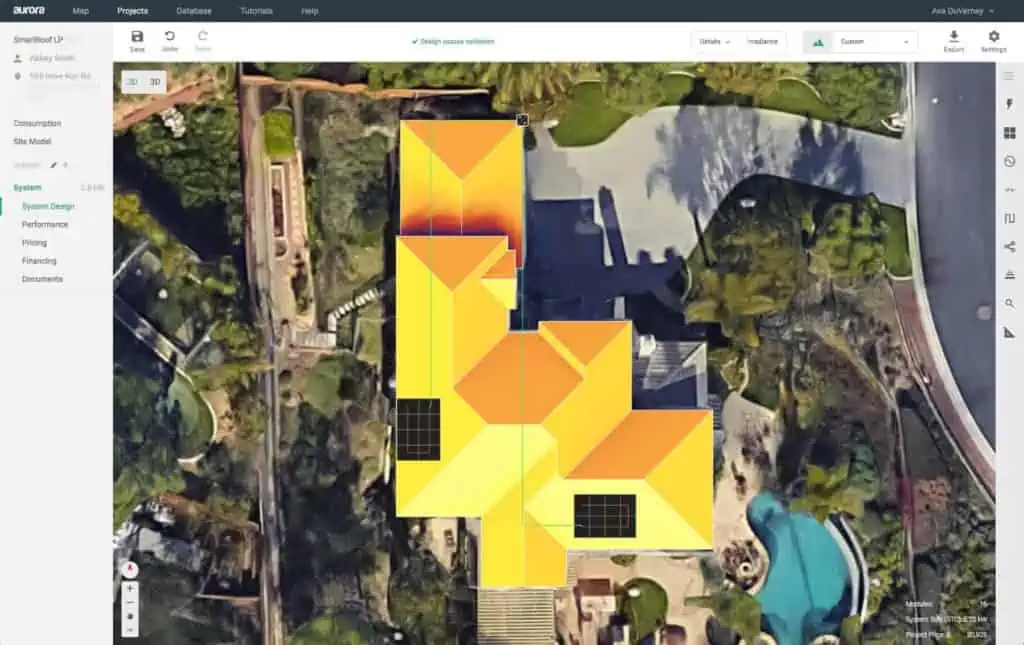 Electric quotes from customers
Customers are often wary of providing their electricity bills. Just a few days can mean the difference between landing a new customer and losing them, so make this process as seamless as possible for your customers.
Most electric customers receive a bill in the mail every month. If they don't, they can likely access it online from their utility. Either way, Aurora can provide a forecast of year-round energy usage from just one month's bill — taking into account factors like weather, HVAC, and more. If the bill isn't available, get the kWh from your customer's meter. Next, divide the kWh by the number of days that have elapsed since that billing cycle (usually every month), and multiply the result by 30 to get a rough energy use estimate.
Take this opportunity to remind your customer that making efficiency upgrades in the home could drastically improve energy efficiency. 
And don't forget to study up on the net metering rules for your state. Being able to sell excess power back to the grid can be a huge selling point for solar installations.
Licensing problems
Flawed designs can lead you straight back to the drawing board. If a solar design isn't compliant with state or local regulations, your plans will be rejected. Collecting and reporting permit-related project data constitutes up to 30% of total solar project costs, owed largely to installers' mistakes and regulatory bottlenecks. 
Aurora has many features that can cut down on potential licensing and permitting delays. Any design created in Aurora's platform is permit-ready and approvable. Our shading analysis is also validated by NREL — so you can save a trip to the site on every install — and you can directly export our shade reports to many rebate authorities for incentive approval. 
Solar Leads
Your team's professionalism, courtesy, knowledge, and service will lead to more conversions through referrals. A Nielsen study revealed that 83% of consumers trust referrals from friends and families above all other marketing methods, and referrals come when customers are impressed.
Salespeople end up becoming your marketing team if they're doing their jobs right, leading to less time cold-calling, boosted employee morale, and greater conversions. If there's ever been a case for karma, the customer service/referral connection is it.
Conclusion
Starting a solar business takes research, investment, time, and leadership. But, it can be worth the effort, providing a great career in a growing and fulfilling industry. 
When you do start your business, make sure you have a software solution that sets you up for success. Aurora Solar has solar companies covered, increasing sales conversions by 15%!
Schedule a free demo today to see how Aurora can help you get started in the solar industry.