Every solar salesperson can rattle off an array of homeowner objections they've faced when trying to get that contract signed. The best solar salespeople know, however, that objections are actually opportunities to show your company's value, build a relationship, and move closer to a sale.
This page is your one-stop shop for turning homeowner objections into selling points. Whether you want to read, listen, or watch, we have something for you.
The Solar Sales Objections Handbook
First up, The Solar Sales Objections Handbook breaks down five of the most common homeowner objections.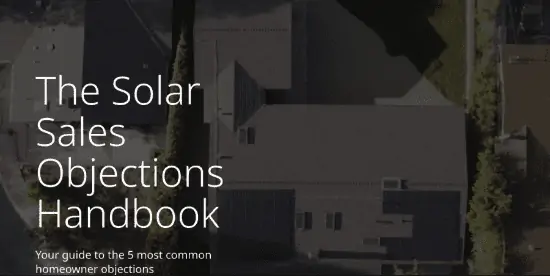 Having an answer to whatever questions the homeowner has is one of the most important tools a solar salesperson has in their tool belt. With that in mind, we got some seasoned solar sales pros together to walk us through how they handle the most common objections they hear out in the field:
"We need another quote"
"We'd rather use the money for other investments"
"We're retired and on a budget"
"We're concerned about roof damage"
"We're planning to move soon"
Need something to give to your sales team, or looking to learn some new strategies for you personal playbook? Download this comprehensive, interactive e-book to learn strategies and follow-ups for all of these objections in one place.
The Solar Sales Masters blog series
Once you have the Handbook, you can refer to our blog series, where we go even more in depth on each solar sales objection:
The Solar Sales Objections Throwdown
If you're looking for something you can listen to on the way to a customer, check out the Solar Sales Objections Throwdown webinar on demand. In it, you'll hear the solar sales pros' strategies in their own voice, and their own words.

Register for this year's Throwdown
Still looking for more? This year's Throwdown will be held on December 1 at 11:00 AM PST. We'll have five new questions for the solar sales pros to help learn how to handle real-world situations. We'll also have live voting so you can pick the objection handling you think is best, complete with prizes awarded to the winners! Click here to register now!