Our recent partner management blog series laid out some of the things you need to know to build, launch, and scale a solar dealer program.
While this series has many actionable strategies and recommendations, as they always say, "There's no replacement for experience." So, to cap off this blog series, we wanted to provide just that: A real-world example of a successful dealer network.
In this webinar, Thibaut Woolace, CEO of 1 Earth Solar, discussed how the company is scaling their successful dealer program with the help of Aurora's new Partner Management capabilities.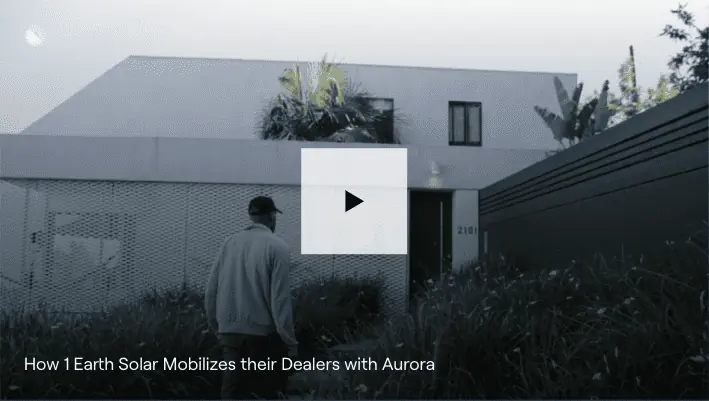 Along with his partners at 1 Earth, Thibaut's experience truly runs the solar gamut. He has previously founded his own sales organization, worked as a rep for other dealers, and spent time on roofs as part of an install crew. Each step of his solar journey has come with successes and challenges which heavily informed his decision to launch 1 Earth Solar and to develop a dealer network.
Thibaut's #1 tip for anyone pursuing the dealer model: focus on quality. When any new dealer joins your network, their reputation can impact your business and vice versa. So experienced, quality-oriented, customer-obsessed sales organizations are a great place to start.
In the webinar, Thibaut also discusses how to:
Give your dealers those customizations they demand — and make your network stand out — while also retaining the control you need
Help your dealers close more sales by using the most accurate, flexible sales software
Ultimately get from prospect to install faster by generating accurate designs at the point of sale
This just scratches the surface, though. Download the whole webinar and listen whenever you want to get more tips and tricks on how to make your dealer network a success.