In sales, the goal is to close the deal as soon as possible. This is especially true for big purchases like solar, where delay can lead to cold feet.
Sharing strategies for easing potential customers' minds and getting them to act is what the Solar Objections Throwdown is all about. In this installment, we examine a potential objection that's based on something that is actually a huge positive for the solar industry: The extension of the ITC.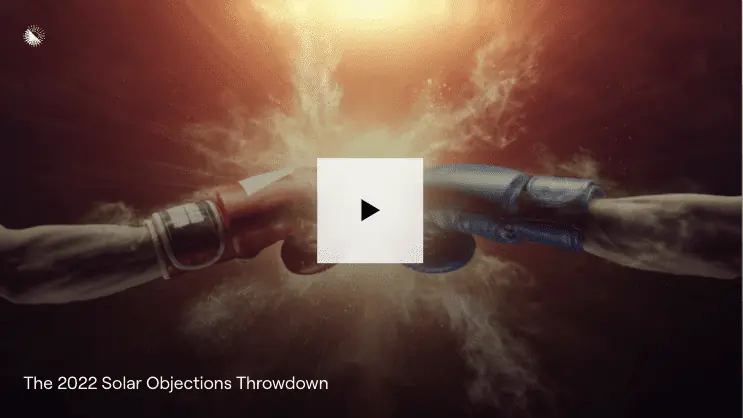 In 2022, the Solar Investment Tax Credit (ITC) was extended for 10 years as part of the historic Inflation Reduction Act, and restored to its original 30%. This is great news, but it does remove some of the urgency to go solar right now — which was often a selling point when the ITC was scheduled to step down and eventually go away. 
Now that the urgency is gone, and the ITC is here to stay, our panel of experts has a new objection to overcome…
Solar Objection #4: With the Solar ITC Extension, where's the Urgency?
Question #4 isn't one any of us have ever seen before a few months ago:
"Now that the ITC is extended, why should I do this now?"
This year's Solar Objections Throwdown panel included:
How do they deal with this objection?
Joe Mouhaskheel of Solar Academy & SolarCon started off by highlighting how this is a "someday" or "one day" objection that he commonly hears in the field. He starts with a Q&A approach:
"So you agree that 'one day,' you're going to go solar?"
[Prospect presumably agrees.]
"Then why give any more money to the utility than you have to? That money should be paying off your system and paying yourself."
Joe then pivots to a "renting vs. owning" analogy:
"Let's say you're living in a home and you're renting. And all you had to do was change that rent to a mortgage at the same payment — or even less. How many months would you wait to move from renting that house to owning it?….
"It's the same exact situation with your electricity. If you have the opportunity to stop throwing money out the window like you're renting a home — and put it towards generating your own electricity and paying off the system (so it's paid off sooner) — and cutting your electric bills to boot. Why wait any longer?"
Every month of delay introduces a host of hidden costs, in the form of utility payments and even carbon emissions. And these costs should ultimately factor into the final price of each homeowner's solar decision.
Solar YOUniveristy's James Ramos expresses some doubt over the objections itself, pointing out:
"I'm not 100% sure they're bought in. If they're basing their decision strictly on the ITC, knowing it's been extended for 10 years, there are other things this homeowner may be hung up on…. If they're saving $50 a month and see all the other values in going solar, then this ITC credit is just an extra kicker."
Based on this thought, James goes with an uncertainty-based approach:
"In 2023, the ITC was going to drop to 22%. And in 2024, it was gonna drop to 0% for residential properties…. We just never know what's gonna happen next year or the following year. Since you're 100% bought into solar right now, let's see if you're pre-qualified. Let's lock everything in and at least guarantee that you qualify for the 30% federal tax credit."
Urban Sol Energy's Ashleigh Tatarcyk, starts off by highlighting the positives of the ITC extension — pointing out how it's a chance for ordinary homeowners to finally get money back from the federal government.
She then answers directly about why now and not later:
"If you are looking at solar now, you're clearly interested. But something is holding you back. So let's talk about that for a second….
"The tax credit is there. But the thing we don't know is how stable is the price of other things involved? Is the price of equipment will stay the same, are the interest rates are gonna stay the same, is everything else is gonna stay the same?
"The one thing we do know is going to happen is that your utility is going to continue to raise those rates on you. So you might as well start saving money now versus saving money in 5 years. If somebody came to you and said, 'Do you want to start saving $40 a month?' would you say, 'No. I'd rather start doing it in 5 years.'"
Rivus Energy's Richard McCoy echoes James's earlier sentiment by pointing out that any installer who leverages the ITC likely needs a stronger value proposition. It's a very attractive incentive. But on its own, it shouldn't be the deciding factor between going solar and not.
"I'm super excited it's been extended. It's going to be a great thing for our country in general — to be able to help as many Americans adopt solar over the next decade….
"But what's also going to happen is that demand for solar is gonna go up. As more states mandate solar and as the demand goes up, the price of equipment goes up. We saw last year how import and export tariffs affect the cost of equipment and put things on backorder."
He then goes in for the close:
"It sounds like what we presented to you today met all your needs and is gonna be the most cost-effective solution for you today. If we wait another 5 years, this $250 bill that you have is just gonna be another $15,000 you give to the utility company…. Over the next 5 years, the cost of batteries, equipment, and labor are all going to go up. Can you think of any reason why going solar today is not a better decision than 5 years from now or later down the road?"
The solar sales tools to help
With this objection, it's all about savings — and specifically savings starting now. This is where tools like the Bill Overview page in Sales Mode can close the deal. It lets you show the customer their monthly savings, how that savings will grow over time, and even lifetime savings. It may be the single most important feature for closing deal quickly.
Watch this quick video to see how it works.
In closing…
With the solar ITC extended, demand for new installs will likely increase. But with urgency no longer in the picture, clarifying the importance of acting now is critical.
Whose pitch resonated best with you? What strategies do you use in this situation? Head to our Solar Sales Throwdown LinkedIn post to weigh in.
Want to learn more? To hear the complete responses watch the entire Solar Objections Throwdown on-demand, or listen on the way to your next customer.
You can also get the highlights by visiting the other posts in this 5-part series:
With the Solar ITC extended, what's the urgency?
Our neighbor had a bad experience with solar (coming soon)
Hungry for more? Download the Solar Sales Objections Handbook to get actionable strategies for 5 more of the most common solar sales objections.