"We are moving at light speed from the lowest interest rate environment, I think, in any of our lifetimes to what is certainly the highest in decades," explains Mike Gilroy, CEO of Sungage Financial.
These high interest rates — basically, the cost of borrowing money — make big purchases, such as solar, trickier. But it doesn't mean solar isn't still a great investment for homeowners. It just means solar salespeople need to get more creative, and deliver more knowledge to make sure potential customers understand solar's benefits, even with high interest rates.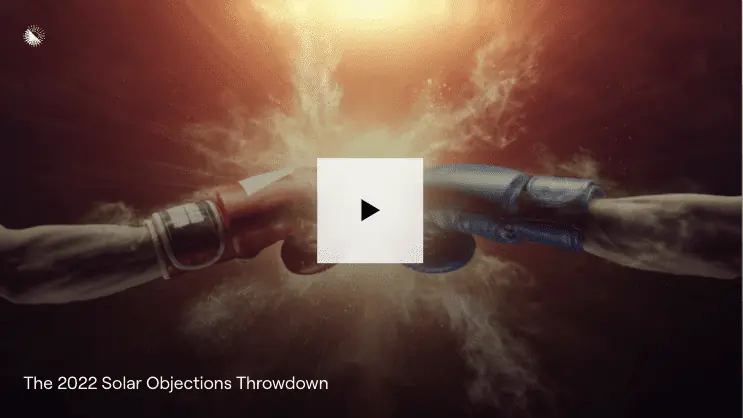 In this edition of our Solar Objections Throwdown our experts tackle the issue of interest rates head on — looking at the concerns that prospects increasingly voice as solar financing rates continue to climb. Our panel of solar industry experts included:
Let's see what they had to say.
Solar Objection #2: With Solar Financing Rates So High, How Much Can I Really Save?
There isn't much that PV installers can do about solar financing costs; borrowing money is simply more expensive today than we've gotten used to in the past few years. As a result, many installers hear from prospects that:
"Financing rates are just too high right now, so it doesn't look like I'll be saving much."
It's a fair concern. But it can also be a frustrating one given that the prospect has already gone through the time and trouble of booking an appointment. They clearly understand the value of solar.
Here's how our experts recommend navigating this particular question.
Every expert starts with empathy — showing they understand how the customer is feeling. In this case, it's a combination of high interest rates and costs, and uncertainty.
"You're absolutely right. Everything is super expensive. I just paid $6 for a dozen eggs, and don't get me started on my new car payment. And who knows where it's going in the future?
Urban Sol Energy's Ashleigh Tatarcyk then pivots to lay out the certainty of savings vs. the uncertainty of the market:
"Here's what we do know. Maybe [if you wait to buy] the dealer fees go down and financing fees go down. But, the price of equipment may go up, or the interest rates may go up, or the price of labor may go up….
Even if you're saving $30 a month with solar, what will that look like in a couple years?…. I like to take advantage of things right now vs. later. What do you prefer to do?"
Ashleigh emphasizes that although it may be tempting to put off going solar in an attempt to avoid high interest rates, inflation impacts every aspect of the economy (including borrowing). And installing solar panels could be more expensive in the future than it is today, once you factor in the total cost of equipment, labor, financing, and even incentives.
Rivus Energy's Richard McCoy based his pitch on solar customers who are focused on the long term and know their finances. In these cases, he focuses on their ability to save, and cut down their payback period.
"We took a look at your utility bills and were impressed you kept a spreadsheet. You knew exactly how much you were paying for every little thing….
"We're gonna be able to help you save on a monthly and long-term basis. You're the type of person who will re-apply those savings towards the principle — you won't need 25 years to pay the loan off, you'll take care of this in a much faster time period. Wouldn't you agree that's a better financial decision than what you're currently doing with the utility company?"
Joe Mouhaskheel of Solar Academy & SolarCon used a slightly different tactic. After acknowledging that financing rates are high, he uses a Q&A approach to highlight the contrast between "energy as a service" vs. energy as an asset:
"At the end of the day, how much interest are you paying your electricity company? You're basically paying 100%. Imagine you live in a home with the option to pay $2,000 in rent or $2,000 in mortgage (with a 9% interest rate). Would you rather pay 100% in rent and get nothing in return or pay a higher interest rate?"
"Interest rates and inflation may keep going higher and higher. But the cost of electricity is going higher and higher…. And that's not gonna stop. But at least with solar, your cost will be fixed."
The key message? The cost of "renting" power from your utility company — i.e. buying power that they generate — will always go up, but the cost of generating your own clean electricity on-site stays consistent through time.
Finally, Solar YOUniveristy's James Ramos highlights total savings, which helps show just how good an investment solar can be:
"Inflation is causing everything to go up. Dealer fees and financing fees are high because of inflation. And that's uncontrollable.
But you're still saving $50 a month at first. And even with high dealer and financing fees, you end up saving a total of $28,550 over the next 25 years. So at the end of the day, you're saving a lot of money in the long run."
It's hard to argue with total savings numbers that are that high — and this is a fairly typical installation example.
The solar sales tools to help
While the total savings number from James's pitch is fairly typical, it's important that you can provide each customer with their savings. With Sales Mode, you can actually show prospects these savings while still at their kitchen table. They can see that as electricity prices from the power company continue to go up, their savings climb, and their payback period only shortens.
If the homeowner wants different financing options, or a different system size, you can work with them to get a system cost, monthly payment, or interest rate that works best for them — in real time.
In closing…
Want to weigh in? Head to our Solar Sales Throwdown LinkedIn post to give your $.02.
To learn how our panel of PV experts navigated all 5 residential solar objections, watch the Solar Objections Throwdown today — or listen to it on the way to your next meeting.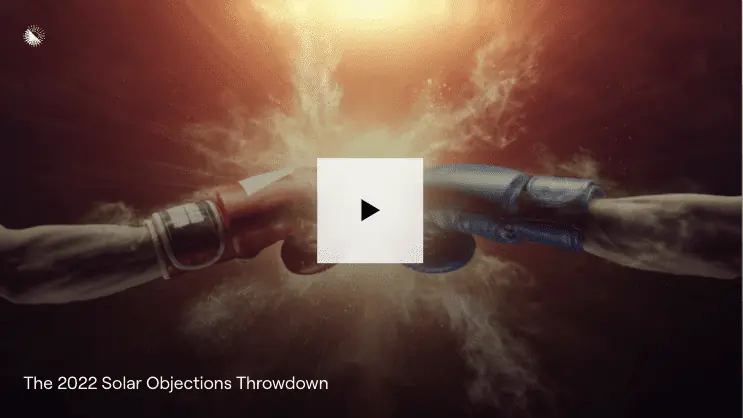 You can also get the highlights by visiting the other posts in this 5-part series:
With interest rates so high, I won't be saving much
What if you (or the manufacturer) go out of business (coming soon)
With the Solar ITC extended, what's the urgency? (coming soon)
Our neighbor had a bad experience with solar (coming soon)
Hungry for more? Download the Solar Sales Objections Handbook to get actionable strategies for 5 more of the most common solar sales objections.