No matter how successful a solar business is, no matter how detail oriented, no matter what failsafes are in place, someday there's going to be a project that doesn't satisfy a customer.
That leads us to our next guarantee: Unsatisfied customers always tell others about their bad experience, and at some point you're going to end up in a room with one of those people, trying to sell them a system.
In the fifth and final installment of the 2022 Solar Objections Throwdown, our experts tackle the particularly tricky situation where you're dealing with a homeowner who has heard a negative review about the solar process.
PV Objection #5: My neighbor had a bad solar experience
If you've been in the industry long enough, you've almost certainly heard some variation of the following complaint:
"Our neighbor got solar last year and hates it. Their panels don't produce enough. Their storage hardly ever works. It seems like a huge hassle for small savings."
This year's Solar Objections Throwdown panel included:
How do they deal with this objection?
This is a tough one since you're indirectly being held responsible for someone else's project-gone-wrong. It's not fair, but it's inevitable.
Solar YOUniveristy's James Ramos starts off by acknowledging the issue.
"Solar is not for everybody… And there are a lot of companies that mislead homeowners into going solar. And those homeowners often get screwed over."
He then pivots to the homeowner's situation before going in for the close.
"But based on your energy savings report here, you are going to save X amount of money. You're also eligible for a battery storage system to back up your essential needs. 
"Solar isn't cookie-cutter. And unfortunately, with your neighbor, it probably wasn't the best decision for them to go solar. Every situation is going to be different based on usage and energy needs."
Joe Mouhaskheel of Solar Academy & SolarCon likes to use a blend of humor and leading questions to guide prospects along the sales journey. 
"Let's say a doctor gave a patient the wrong medicine. And that patient was not happy with the result. It didn't help with the problem they had. It gave them bad side effects. Would the problem be the doctor or the medicine? It would be the doctor, right? 
"And it's the same thing with solar. If you have a situation where your solar consultant sets you up in the wrong way, you could have a bad situation. You could not have electricity — or too much electricity. A tree could cover your panels. A lot of these things could happen."
Once he has the prospect's attention, Joe focuses on the benefits of moving forward — specifically with his company:
"I pride myself on my experience. I don't just call myself a solar consultant, I call myself a serious solar designer. I understand the electrical. I understand the process. I understand the steps to make sure you get exactly what you were promised. And based on what we have here, you're actually a top prospect. You're paying so much money for electricity, and so much sun is hitting your roof. This is going to be a big benefit for you."
He finally closes with proof.
"I've helped over 700 homeowners go solar. And I have a few in the neighborhood that I can actually refer you to. You can ask them about their experience with me — and what their situation was like when going solar."
Admittedly, not every installer can boast similar numbers. But if you have the reviews and ratings, you should absolutely flex them during the sales process.
Urban Sol Energy's Ashleigh Tatarcyk directly addresses some of the potential reasons the prospect's neighbor had a bad solar experience.
"Your friends probably had a company that didn't build the system correctly. Or the installer only talked about offsets but not production. They also probably didn't understand the net metering regulations in their area so that solar could work more efficiently for them — instead of oversizing the system."
Ashleigh then pivots to her company's bonafides.
"We use tools like Aurora to help us accurately design a system, to be able to see how much sunlight you're gonna get throughout the year, what the trees are going to do on your house. And that way, we can give you a correct analysis of what type of savings you're looking at. And if it at all looks good to you, and all those numbers are straightforward and right to the point, would it make sense to look at a solar report and see if it works in your favor?"
[Editor's note: Should Ashleigh receive extra points for the Aurora shoutout?]
Rivus Energy's Richard McCoy employs his trademark approach of honesty by verbalizing the prospect's worst fears.
"I get it. And unfortunately, I've heard that too many times. How scary would it be for you to spend $48,000 on a solar system and have someone sit in your living room and make promises about how it will eliminate your utility bill? And not only does it not eliminate your utility bill, but you're actually paying more on top of that. Plus the system isn't working. And the company and sales rep aren't even answering their phones. What a nightmare of a situation."
Richard also then pivots to show that all investments do have risks.
"Because these things do happen, my company over the years has paid attention not only to our customers, but also to the industry. We've built world-class processes to ensure 48-hour response times on top of our 25-year equipment and workmanship warranty — in addition to our extended warranty. I'd love to be able to say these complicated electrical systems will never fail you. But unfortunately, they do — just like iPhones and BMWs. Nothing is guaranteed to be perfect."
Finally, he also pivots to what his company will do if something should go wrong.
"Our reviews, warranties, and ratings can guarantee that we will take care of you if you do have any of these situations. I'm not in a rush to sign you up for solar today and install tomorrow. You can be patient, you can read reviews, and you can talk to our other solar customers in the area. We want to make this the right fit for your family. This thing is going to power your home for the next 40 years… We want to make sure we're designing the right system for you."
How Aurora can help
Does your sales proposal highlight what sets your company apart from the rest? As we can see from the answers above, being able to show what makes your company a reliable partner is a key aspect of dispelling this objection.
To learn how Sales Mode can help you set your business apart, watch our webinar: How to Use Sales Mode Customization to Tell Your Story & Close the Deal.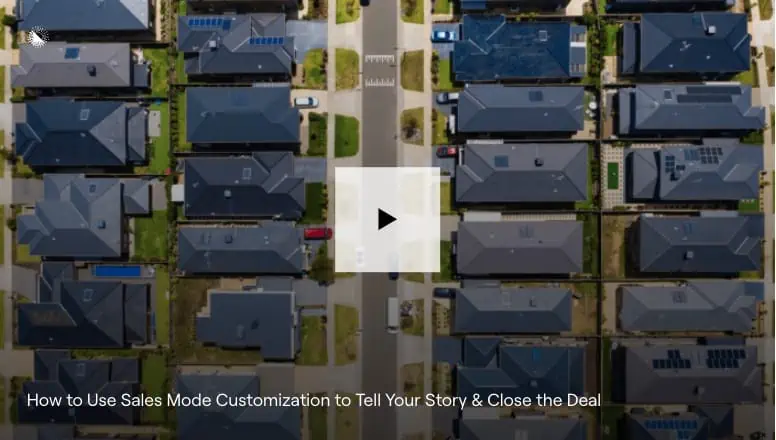 In closing…
We hope you enjoyed this 5-part series on the most common confusions, questions, and myths that installers hear in the field. The Solar Objections Throwdown webinar also includes an insightful audience Q&A at the end, with even more great insights about what it's like to be a solar installer in 2023 and beyond.
To learn more about the other objections and share them with your sales teams, click below: 
Our neighbor had a bad experience with solar
Still hungry for more? Download the Solar Sales Objections Handbook to get actionable strategies for 5 more of the most common solar sales objections.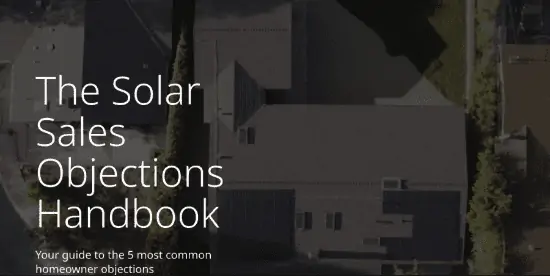 See you for the next Throwdown!