In April of 2023, the California Public Utilities Commission (CPUC) officially transitioned its net metering policy into the Net Billing Tariff (NBT). Commonly referred to as "NEM 3.0," the decision has been publicly criticized by many solar advocates, raising concerns about the reduced value of energy exported to the grid.
Make no mistake, solar still represents a great value for many potential customers under the new NEM 3.0 rules. It's just a matter of education.
During Empower 2023's Solar Sales Objections Throwdown Aurora Product Marketing Manager Stephen Gerken asked our panel of solar sales pros how they would react if a prospect said, "I've heard that solar won't save me money anymore with the rates in California."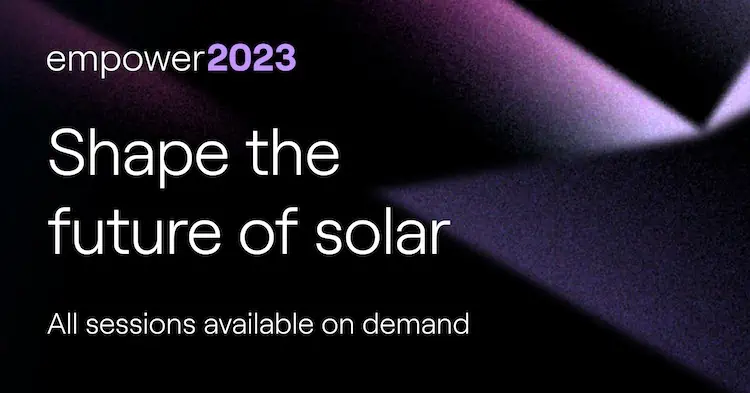 Our sales pros for the event were:
Using their advice, let's look at a few ways that California solar sales professionals can continue to sell systems and deliver value to customers in the age of NEM 3.0.
"I won't save money under NEM 3.0 rules"
---
Step 1: Clear up any NEM 3.0 misconceptions
First, when talking to potential customers about NEM 3.0, it's vital to make sure that they understand the policy enough to make an informed decision. Depending on what they've heard, you may need to clear up certain aspects of how NEM 3.0 works in order to present solar as a viable option.
Kenny Parry with Virtual Solar Pros would start by telling a skeptical homeowner, "As much as there is good information out there online, there's just as much bad information. So it's really my job to help you navigate that."
Although every conversation will be different, knowing California's policy front-to-back is a great way to establish your expertise and help customers understand its functions. When talking to your prospects about NEM 3.0, some of the main points you may need to address include:
The new policy directly affects customers of PG&E, SCE, and SDG&E.
NEM participants must enroll in time-of-use (TOU) energy rates for grid consumption and solar exports, with large differences between on-peak and off-peak costs and value.
A battery is not required under NEM 3.0 but can help maximize the benefits of solar energy.
There is no new "solar tax" where PV system owners would pay more monthly than non-solar customers.
To quickly get up to speed with everything net billing in California, read our NEM 3.0 frequently asked questions.
Step 2: Start the solar battery conversation
NEM 3.0 presents a great opportunity to talk to potential customers about the advantages of battery storage. Solar battery storage can give homeowners energy security during local outages, while also helping optimize their solar savings under NEM 3.0 with features like battery self consumption.
As Jader Leao of Vivint explained, "[Under NEM 3.0] PG&E is no longer accepting your energy for the same amount and so the program has shifted to where now these batteries make it a good proposition."
In helping your customers understand how batteries work, the key message is that they will allow solar producers to have more control over their energy use and electricity spending. With batteries, NEM 3.0 customers can strategically export stored power to the grid when it is most valuable and/or run their home on energy their panels generated outside of energy-producing hours to avoid additional utility energy consumption.
Step 3: Calculate your customer's solar savings
In the end, numbers don't lie. So, if you can accurately calculate solar savings based on NEM 3.0 rates, you can show prospective customers precisely how a system can reduce their total energy spending. Compared to the cost of utility electricity, a solar energy system in California can still provide long-term savings with NEM 3.0.
As Ashleigh Tatarcyk, Owner of Urban Sol Energy expressed, "Although savings may be reduced by 3.0, you can still save. Solar can still be a better option than the increasing utility rates at the end of the day."
With Aurora's newly reimagined Sales Mode, you can design a solar energy system and calculate its NEM 3.0 savings in real time, right in front of a potential customer. After showing them their property's solar energy potential with a fast 3D model, you can use Sales Mode to deliver an accurate projection of their savings based on automated, up-to-date local utility energy rates under NEM 3.0.

Step 4: Put California's NEM 3.0 in perspective
California leads the country in solar energy adoption, and consistently ranks as the number one state for solar by the Solar Energy Industries Association (SEIA). It has enough solar capacity to power over 11 million homes. So, while NEM 3.0 is certainly not ideal for solar customers and installers, solar is still a great option for California homeowners and businesses.
As Joe Mousakheel, Owner of The Solar Academy, would tell California residents worried about NEM 3.0, "When you compare it to the rest of the country, I want to make sure you realize, this is one of the best net metering deals right now… California has the second most expensive electricity in the country and it's going higher and higher."
The tools you need
NEM 3.0 has made the solar sales process in California a little more involved. With battery self-consumption entering the equation, it's critical that your solar sales software can model it quickly, accurately, and in terms that consumers can understand. Your software also needs to be able to show savings both with and without battery storage.
Features like Sales Mode's battery self-consumption are game changing for solar sales in California. With the click of a button (or two) sales reps can show the homeowner savings with solar, then savings with battery self-consumption. And, just as importantly, can help you explain the why to potential customers, in a customizable package.
Recap and resources
NEM 3.0 absolutely doesn't represent the end of solar energy savings in California. In fact — without looking back and comparing it to past policies — there are still plenty of opportunities for homeowners and businesses to save money with NEM 3.0.
It's more accurate to say that it changes the savings proposition and even opens the door to more battery storage conversations. This means PV professionals have to be able to clear up misinformation and demonstrate the value of solar and storage to overcome objections and sell more systems.
This is the third of our five-part Sales Objections Throwdown series. Check back each week for another objection, and how to turn it into an opportunity.
Here are the rest of the objections (we'll link them here as they're posted):
"I've heard that solar won't save me money in California with NEM 3" — this blog
"I need to get another quote"
Frequently heard solar objections, solved!
Have more questions? Want to learn more about the updates to Sales Mode? Check out our Sales Mode webinar on October 5!