The U.S. Department of Energy Solar Decathlon is a great opportunity for college students to get hands-on experience with the design and construction of houses and solar PV systems. The collegiate competition—happening in Denver, Colorado at the time of publication—challenges student teams to design and build full-size, energy-efficient houses powered exclusively by solar energy.
The Solar Decathlon is a biennial competition that has been running since 2002, and has involved over 35,000 participants across 274 teams thus far. For each competition, up to twenty university teams are selected from a pool of applicants. Once selected, each team has a year and a half to design and build their house before bringing it to the competition site. Previous Solar Decathlon contests have taken place in Washington, D.C. and Irvine, California.
During the contest week, each team works through 10 competitions that evaluate their houses on different criteria, including hosting their rivals for a dinner party, washing loads of laundry, and taking a commute in an electric vehicle charged by their house's solar installation. The winning team is the one that best blends design excellence and smart energy production with innovation, market potential, and water and energy efficiency. The Solar Decathlon as a whole fosters collaboration between students of different disciplines and an emphasis on sustainability.
I had the good fortune to participate in two previous U.S. Department of Energy Solar Decathlon competitions—once in 2011 as a student, and again in 2013 as a project manager. So naturally, I was excited to take a look at the designs from this year's competition.
In this installment of our Solar Landmarks Series, we examine all 11 of the Solar Decathlon 2017 houses, what makes them special, and how they can be designed in Aurora.
The Solar Decathlon is also a unique chance to interface with industry leaders—here's me (center) chatting with then-Secretary of Energy Dr. Steven Chu about some of the energy efficiency measures in our Solar Decathlon 2011 house, CHIP. Photo Credit: Stefano Paltera/U.S. Department of Energy Solar Decathlon
New Themes
In this year's competition, I picked up a few themes. The contest has brought back electric vehicle driving which had been absent for several iterations of the competition, and battery-powered cars are all on display. The Energy contest has also been upgraded, now featuring net energy metering (NEM) which has encouraged concurrent energy production and usage as well as energy storage systems. The Health and Comfort contest has asked teams to bring in more plants and materials that emit fewer VOCs (a form of air pollutant). And finally, several teams came in with the modular design approach, where the prototype house brought to the competition could be scaled into a larger house in the future.
Las Vegas – Sinatra Living
The University of Nevada, Las Vegas's Sinatra Living house features a combination of photovoltaics and thermal heating, plus a battery pack. Deep overhangs and adjustable patio shade are great for managing the intense desert sunlight, and the inclusion of energy storage is helpful given Nevada's less favorable net energy metering policy.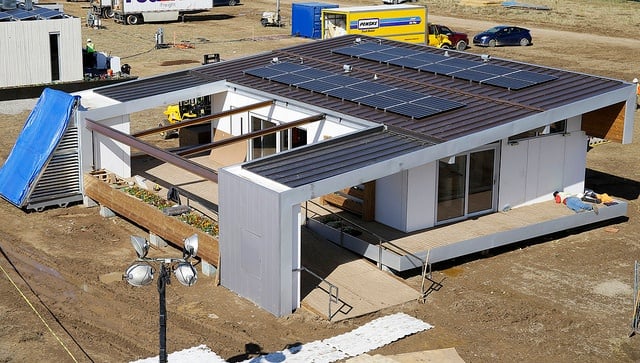 Photo Credit: Jack Dempsey/U.S. Department of Energy Solar Decathlon
To design this house in Aurora, the user should start with our SmartRoof tool and select the Flat Roof option before drawing (as illustrated below). Once the roof has been outlined, simply select one of the bottom wings and set it to "pitched," which will tilt the whole roof up from that edge.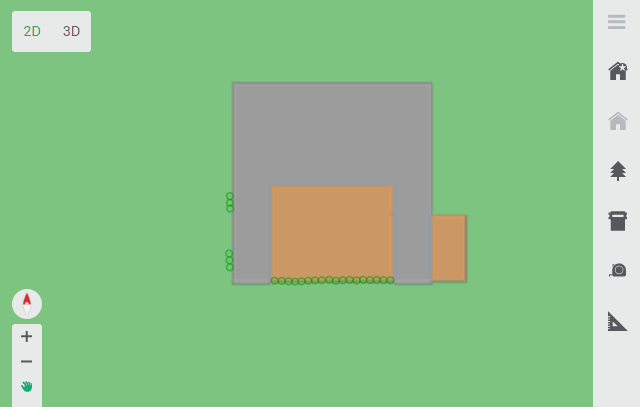 Maryland – reACT
Back in 2011, the SCI-Arc/Caltech team I was on took sixth place in the Solar Decathlon on the strength of heavy insulation, a creative custom smart home app that included a complete power-down button, and some thorough weather analysis that resulted in a PV design that got us through a rainy competition week with energy to spare. The team that took first place overall that year was the University of Maryland team, which not only had a beautiful house, but a custom dehumidification system that worked with just heat from the sun and a large amount of greywater recycling.
This year, Team Maryland brings the reACT house, a self-sufficient design that also features a large amount of plant life and a central courtyard that helps collect thermal heat. The PV system is mounted on two wings of the house, and uses a combination of DC optimizers and energy storage to manage energy usage. With half the array pointed west and half the array pointed east, the system's peak production is spread out through more of the day.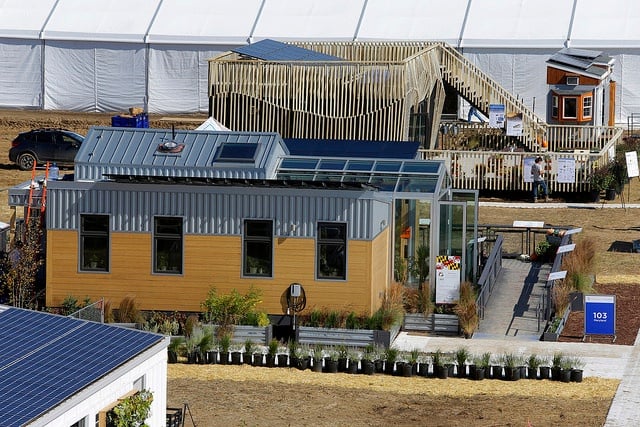 Photo Credit: Jack Dempsey/U.S. Department of Energy Solar Decathlon
To design reACT in Aurora, we need four SmartRoof structures: one for the east wing, one for the west wing, and two gable-style roof structures—one for the center of the house and another for the enclosed courtyard. The deck is optional, but I made it using a flat roof.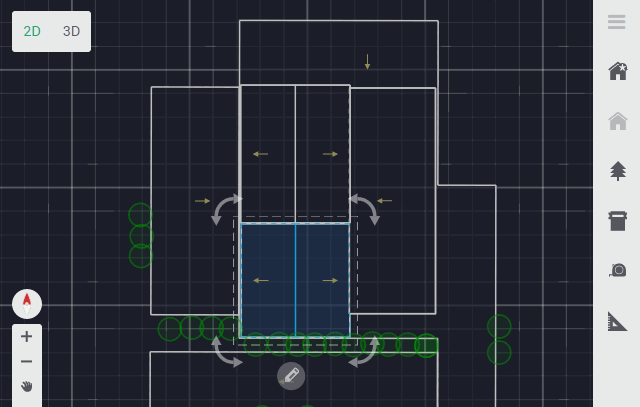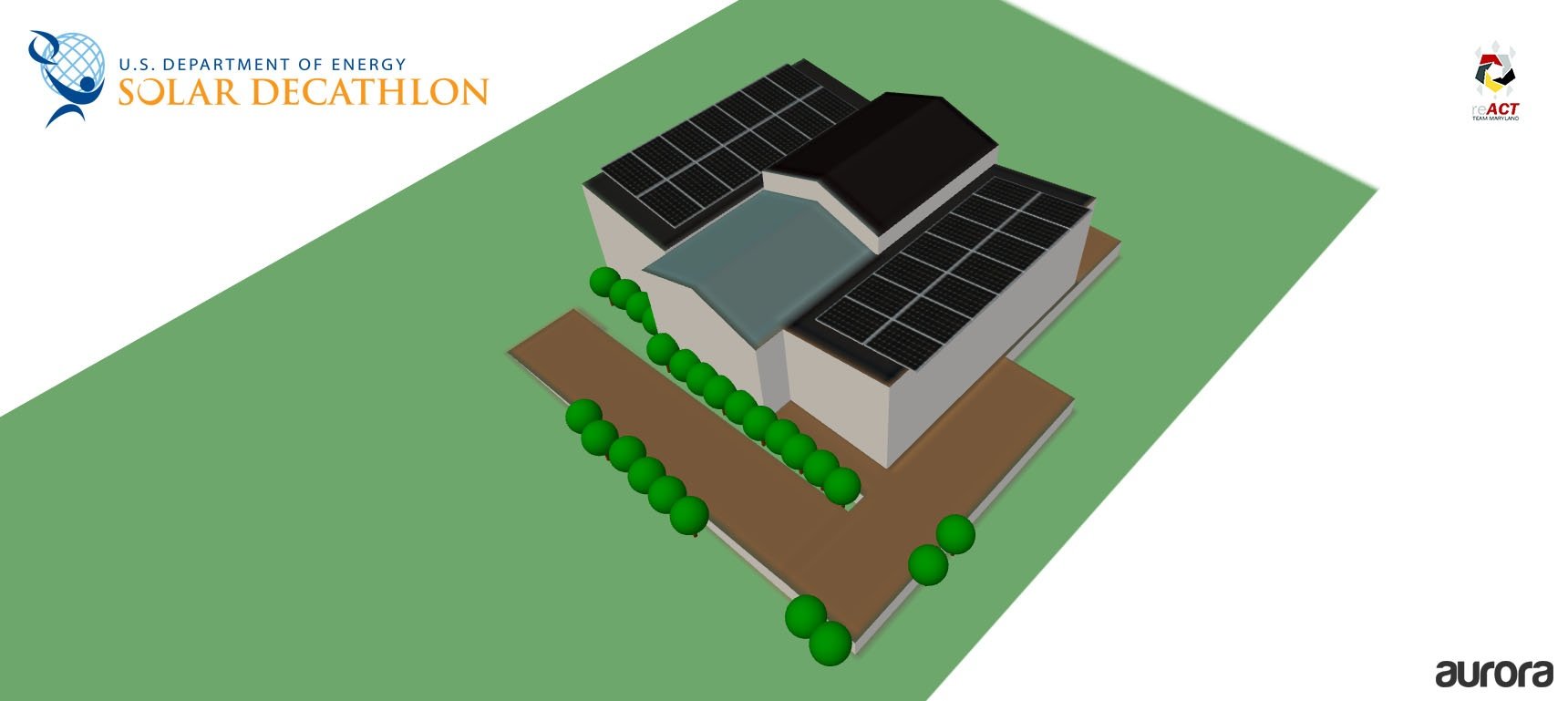 Missouri S&T – SILO
Missouri University of Science and Technology is taking part in their seventh Solar Decathlon competition, this time bringing in the sleek SILO house. Large glass walls bring in plenty of diffuse light, and the 24 PV modules are more than enough to power this house through the contest. Like many other Solar Decathlon 2017 teams, Missouri S&T elected to use energy storage to manage the TOU energy pricing and the fact that exported energy is valued at a lower rate than energy bought from the grid. Both of these aspects are new to the Solar Decathlon Energy contest this year and are typical of most utility NEM rates.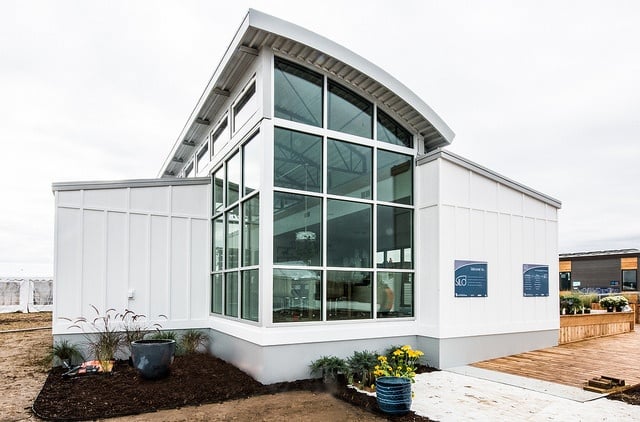 Photo Credit: Dennis Schroeder/U.S. Department of Energy Solar Decathlon
SILO takes three SmartRoof pieces to design in Aurora, one for the south face with PV, one for the sloped north roof, and one for the arched middle segment. Curves take a little bit of time to model and aren't optimal for PV installations, but it's possible to make one in Aurora by using pitched folds with SmartRoof. After creating an outline of the curved roof face, I made only the south edge "pitched" and then inserted several pitched folds. By setting these in progressively smaller tilts, I was able to create a shape similar to the curved roof.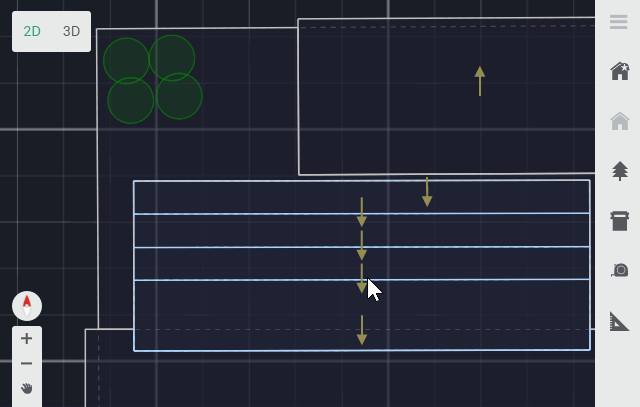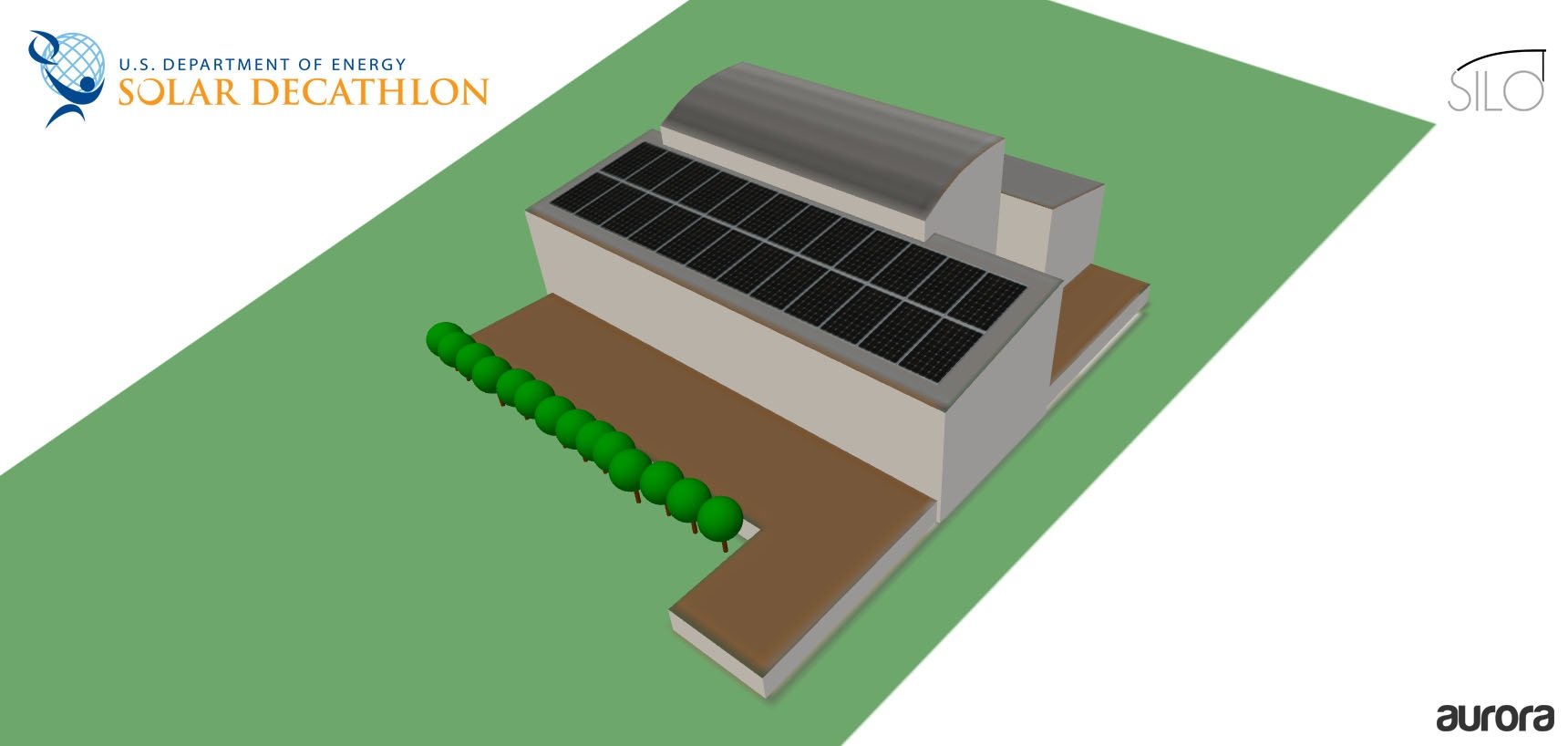 Netherlands – Selficient
The Selficient house, by HU University of Applied Science Utrecht in the Netherlands, is one of the few cases we've seen with dual tilted systems in the Solar Decathlon, although the team from Washington University in St. Louis is also using them this competition. One cool part of this house is the modular design, which lets the installer fit different pieces of wall, floor, and roof to create different floor layouts.
Photo Credit: Jack Dempsey/U.S. Department of Energy Solar Decathlon
In Aurora, dual tilt systems can be created using the Fill Zone feature. This house appears to use a tilt of around 30 degrees, with very small row spacing. Stringing with Aurora fill zones connects modules with the same orientation to avoid mismatch in light availability.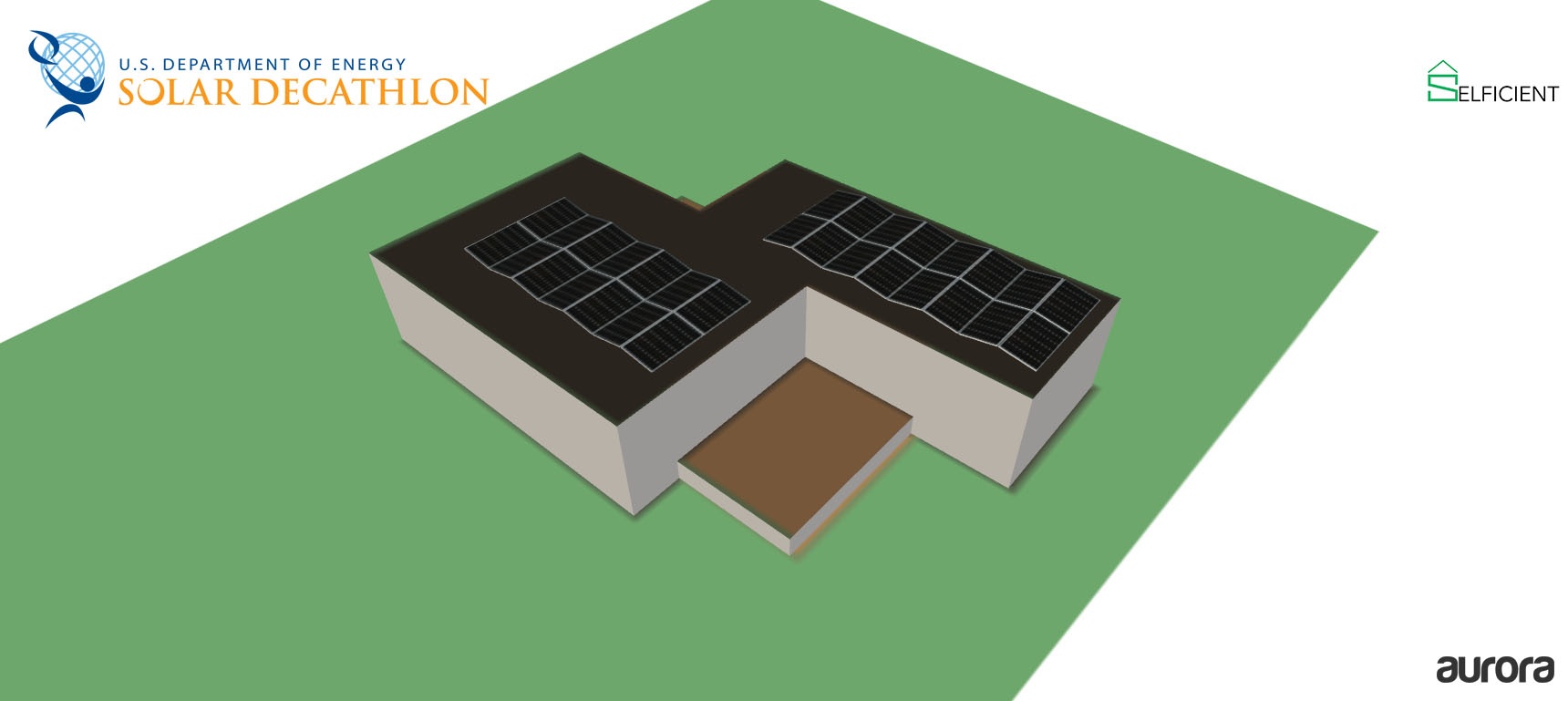 Northwestern – Enable
The Northwestern University team's Enable house sports a nicely tilted PV array, a sunroom, and—a rarity in Solar Decathlon designs—a garage for an electric car. The integrated energy storage system pairs well with EV usage, which will allow the car to charge up during the night when electrical rates are more favorable.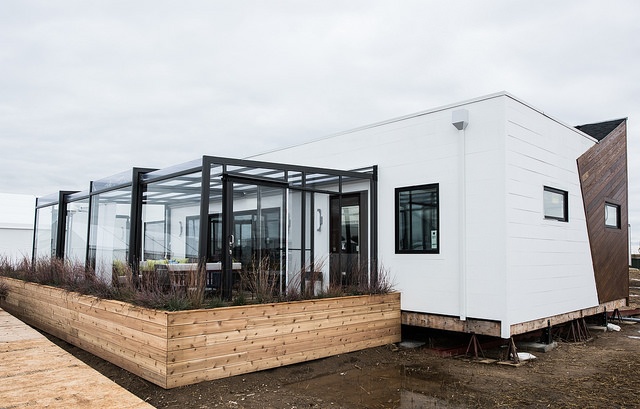 Photo Credit: Dennis Schroeder/U.S. Department of Energy Solar Decathlon.
To create a 3D model of Enable in Aurora, we used four separate roof segments: one for the south-tilted section, a flat segment for the middle of the house, a third roof for the sunroom, and one for the back of the house. One way to ensure azimuth alignment is to copy-paste the same rectangle twice and then resize the pieces. The PV array is nicely-sized and sits at a good tilt for the intended latitude.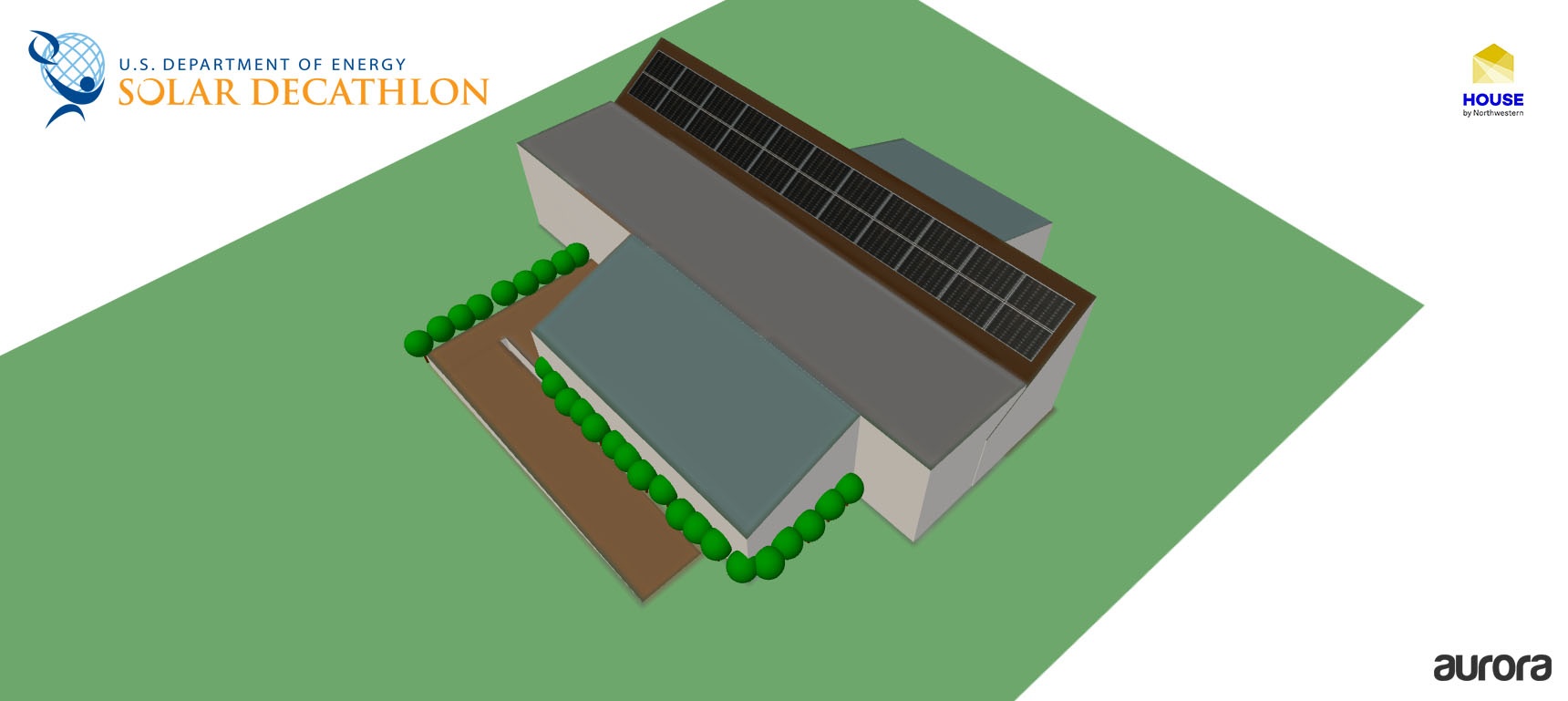 Swiss Team – NeighborHub
The NeighborHub from the Swiss team (a team comprised of students from École Polytechnique Fédérale de Lausanne, the School of Engineering and Architecture Fribourg, Geneva University of Art and Design, and the University of Fribourg) has a central core surrounded by an unconditioned flexible-use space. Some other unique features include a zero-water toilet and exterior wall sections that can be folded upwards to open up the flexible space to the outside. The folding wings hold the PV modules used in this house. Most power is drawn from a series of monocrystalline panels, and a small amount of power is generated from a series of semi-translucent thin-film dye-sensitized modules. The effect is truly building-integrated PV.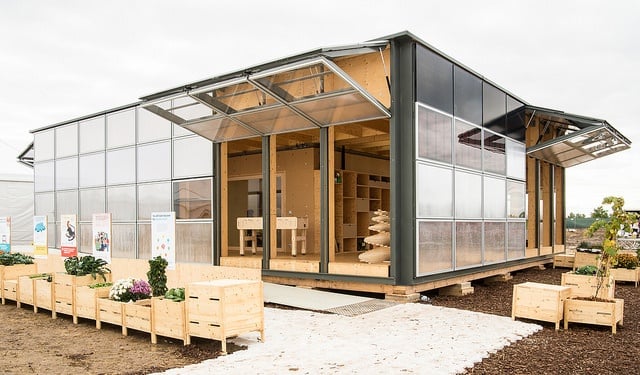 Photo Credit: Dennis Schroeder/U.S. Department of Energy Solar Decathlon
The structure of the Swiss Team's house is straightforward—it just needs a single roof structure. However, the modules are not placed on the rooftop, so this design calls for roof racks to hold the modules in space, rather than placing them on the structure. I used ground mounts at tilts of 15 degrees for the folded-up section and another piece at 89 degrees for the vertical walls, in order to place the modules. Aurora's stringing tool also permits us to connect modules in different orientations like we see in this design when the wings are opened.
Team Alabama – surviv(AL) house
The surviva(AL) house by Team Alabama (comprised of students from the University of Alabama at Birmingham and Calhoun Community College) has a nice large south-facing roof that sports a 9.9 kW array. Each of the modules is attached to a microinverter, which will minimize potential shading losses. It also has a series of 14 clerestory windows (small windows along the top of a structure's wall, near the roofline) and a porch with a translucent overhang, which lets in more light while keeping the elements out.
Photo Credit: Dennis Schroeder/U.S. Department of Energy Solar Decathlon
Modeling surival(AL) in Aurora takes two roof sections: one for the large south face and one for the smaller north face. Each roof piece just needs one edge to be pitched, and they can be set to the same height and tilt which results in the south roof reaching a greater vertical height than the north segment.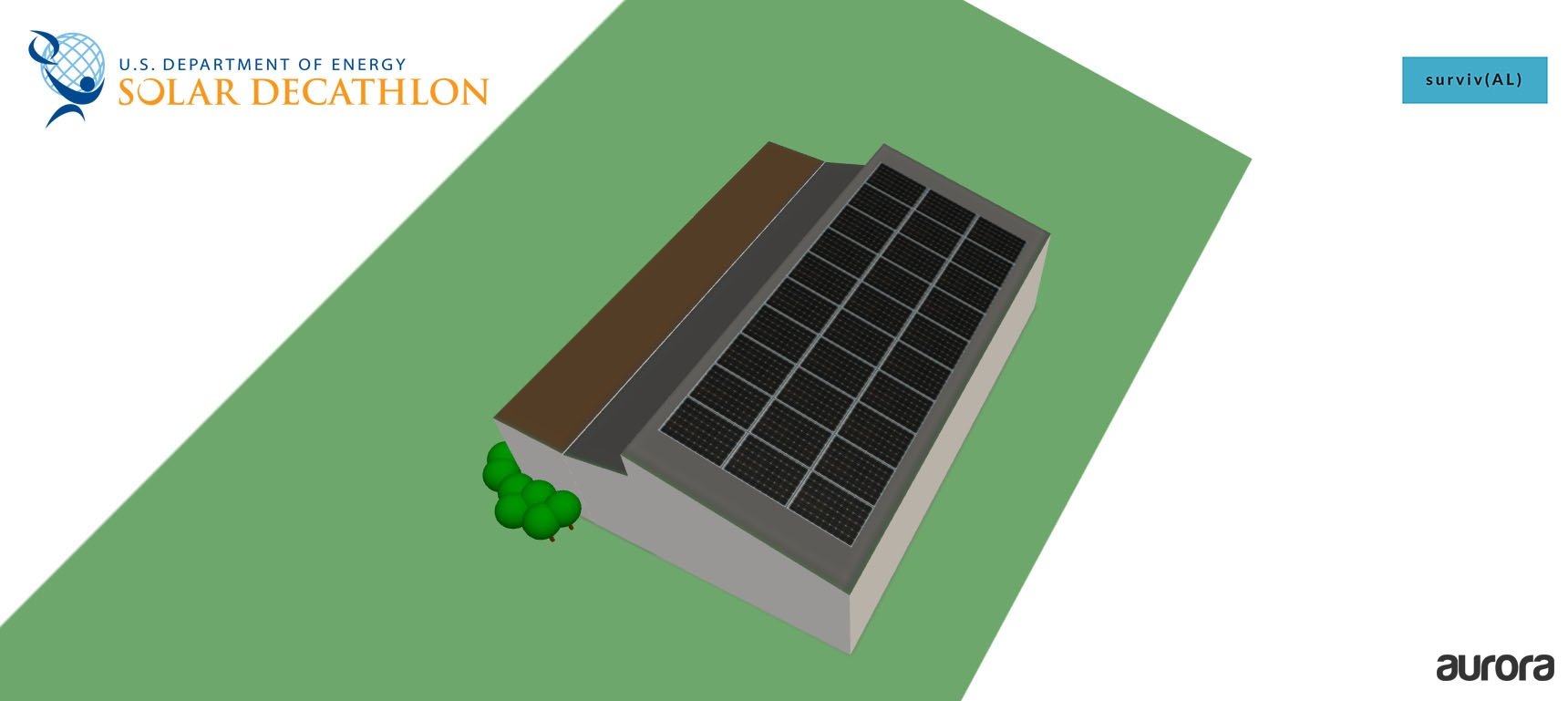 Team Daytona Beach – BEACH House
Team Daytona Beach (comprised of students from Embry-Riddle Aeronautical University and Daytona State College) brings in the accessible BEACH House, designed for Florida's climate. Like the surviv(AL) house, BEACH House can be modeled with two segments, a north-facing roof and a south-facing roof. To create the extended overhang over the west portion of the house, create the 2D outline as a flat roof, and then change only the bottom-most edge to "pitched" to base the tilt of the roof off of that edge.
Photo Credit: Jack Dempsey/U.S. Department of Energy Solar Decathlon
BEACH House also features two different types of PV modules, all of which are connected to a central inverter. Aurora lets strings with different modules connect to the same inverter on different MPPTs, so there is no difficulty in modeling this design. Aurora's module snapping functionality even snaps the different model types together without issue.
UC Berkeley / University of Denver – RISE
The RISE House by UC Berkeley and the University of Denver is intended as a modular design, with stackable stories and communal living spaces. Only the top level is present at the Solar Decathlon due to 18' height restrictions, but it gives a good sample of the house's design philosophy.
Photo Credit: Jack Dempsey/U.S. Department of Energy Solar Decathlon
Modeling any version of RISE is a straightforward task in Aurora, using individual rectangles for each level of the house. We also modeled the stairs using a 45-degree sloped roof, but this has no effect on the site performance. There are also railings on the house, which can be modeled using a thin rectangular obstruction if desired.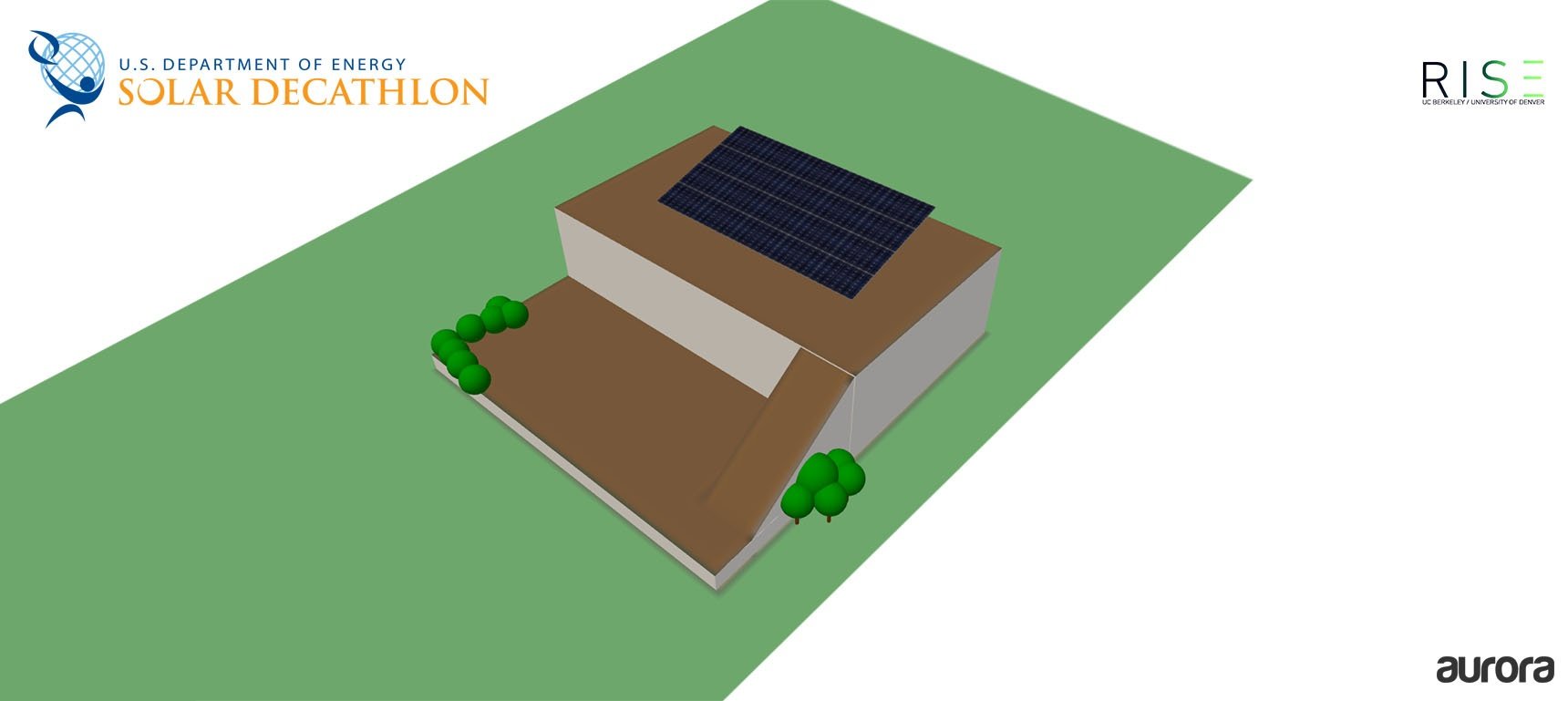 UC Davis – Our H2Ouse
UC Davis brings in Our H2Ouse, an incredibly water-efficient house that uses smart systems to display homeowner's water usage. The array is segmented into two systems, one of which feeds directly to the load panel and another that connects to an energy storage system. We think the bicycle wheels that provide deck shade are also a nice touch.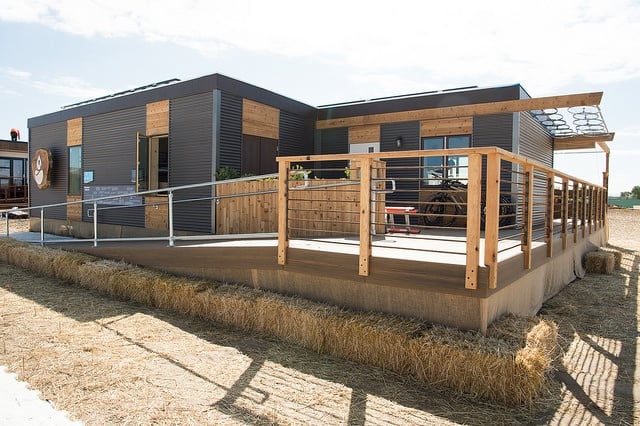 Photo Credit: Dennis Schroeder/U.S. Department of Energy Solar Decathlon
Our H2Ouse can be modeled in a single polygon using SmartRoof, with the south-most edge set to a slight tilt for the whole structure.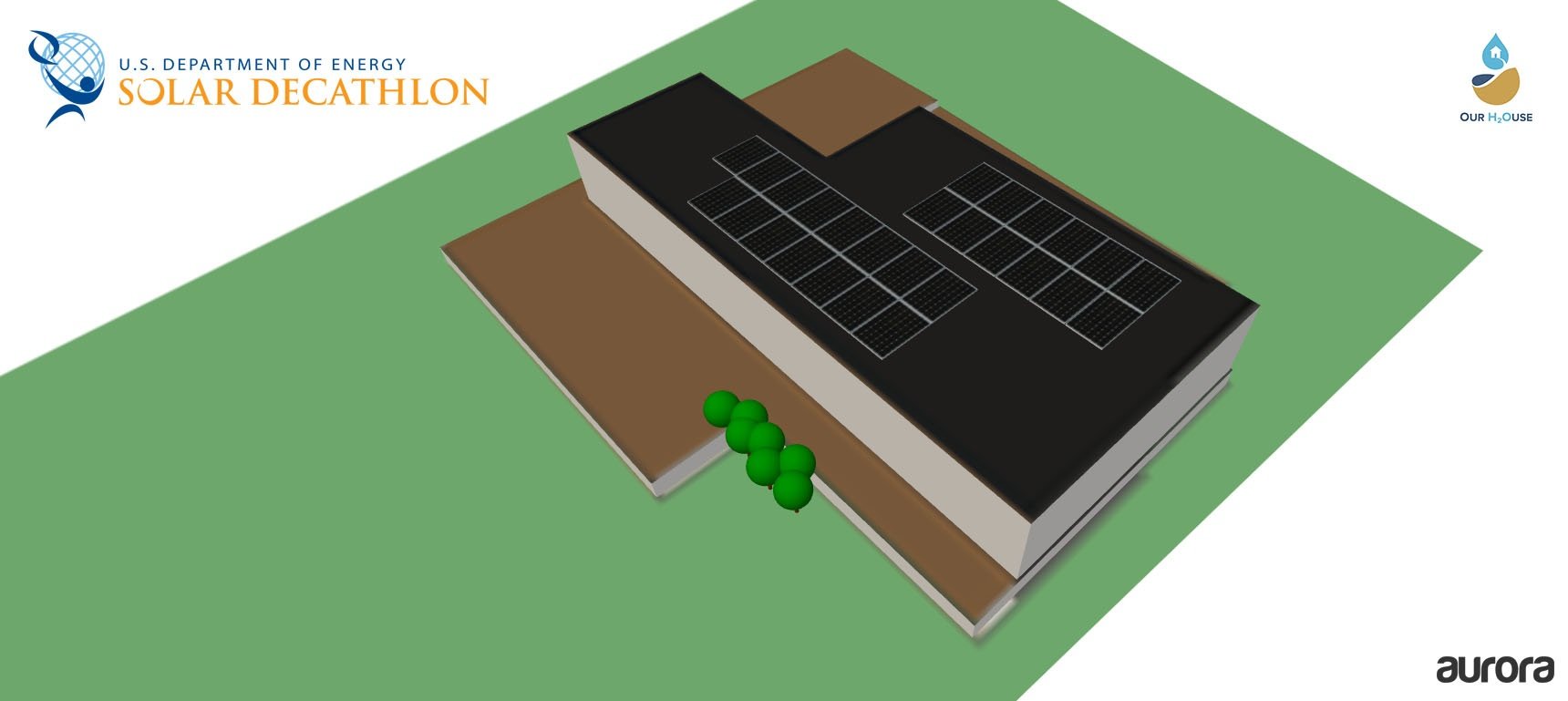 Wash U – St. Louis- CRETE
The team from Washington University in St. Louis brings in CRETE, a storm-proof precast concrete house with vertical planters that connect the exterior to the interior. The precast modules also have a core of insulation that helps minimize heat losses. Building the main structure of the house in Aurora is as easy as drawing a rectangle.
The PV system for CRETE is row tilted, which can be completed easily by using the standard Aurora module layout tool or a fill zone.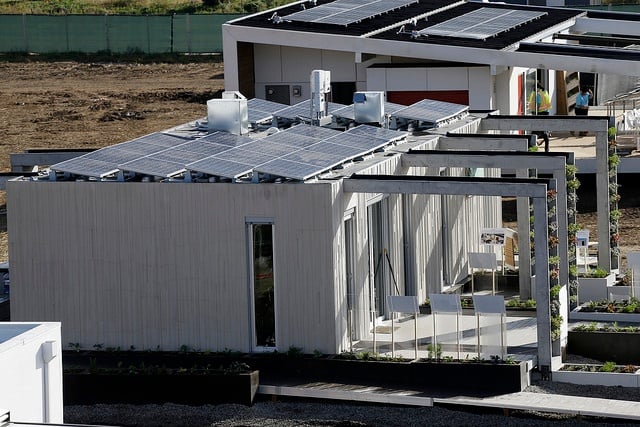 Photo Credit: Jack Dempsey/U.S. Department of Energy Solar Decathlon
Aurora's CAD tool does not model overhangs so, for aesthetic purposes, I created a dummy module with a deep z-dimension to show a fake gutter piece. To enable an accurate performance simulation with these fake modules present, they are attached to a 0% efficiency inverter. An actual proposal wouldn't need to go into as much detail, but it was fun to model the house as close as possible to the real deal.
I'm glad to see that the Solar Decathlon is still going strong in its eighth iteration (not counting the international events). Each year it seems that the houses become more innovative and competitive. There is also more emphasis on energy-efficient house design, especially important given the 10 kWdc PV system size limit, making these homes truly designs of the future.
~~~
What do you think about the houses? Comment below to tell us which one is your favorite!
The winners have just been announced, so check out our follow-up post in which we highlight lessons from the winning designs.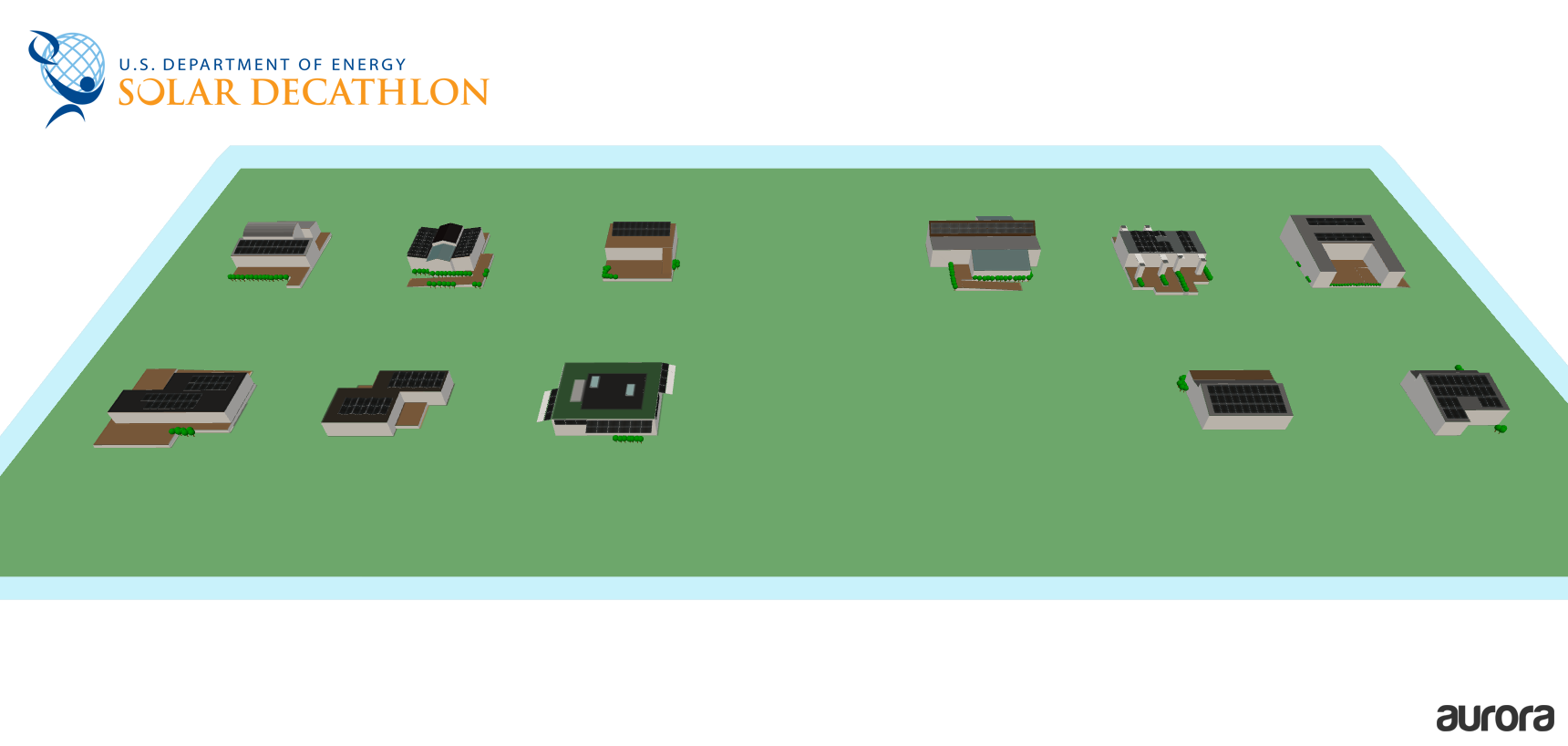 The Solar Decathlon 2017 competition site and all of the team's houses, modeled in Aurora.
---
Top photo credit: Jack Dempsey/U.S. Department of Energy Solar Decathlon
This blog post is not affiliated with the U.S. Department of Energy Solar Decathlon or any of the competing teams.