LIDAR — light detection and ranging — uses lasers to measure the size, shape, area, and other physical characteristics of proposed building sites. It sounds like it's straight out of a science fiction movie, but it's an important technology for the solar industry right now.
LIDAR has been helping Aurora customers streamline project design, eliminate errors, and reduce change orders for years, and now it's available to HelioScope customers. As valuable as LIDAR is for residential solar, its ability to streamline C&I projects is game changing — helping with everything from site identification to design.
In a recent webinar, we gave a demo on how LIDAR for HelioScope works. But we know you still have plenty of burning questions. Based on questions we received at the webinar, and early user feedback, we've created this FAQ to help you get started.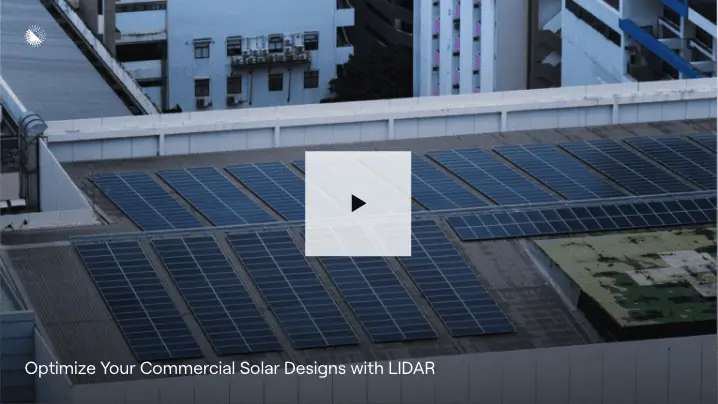 The basics
What is LIDAR?
Light Detection and Ranging (LIDAR) uses lasers to measure the size, shape, area, and other physical characteristics of proposed building sites. These measurements can then be used to generate highly accurate 3D images of landscapes, structures, and other features.
LIDAR is now in Beta for HelioScope's enterprise customers.
What is LIDAR in HelioScope's coverage area?
HelioScope's new enterprise feature uses Aurora's LIDAR data set — one of the most accurate data sets in the market. It covers 98.6% of the US and boasts an average point density from 9.2-12.8 points per square meter. (Click here to learn more about what these numbers mean.)
Is LIDAR in HelioScope available for international projects?
HelioScope's LIDAR feature currently has limited coverage in other countries.
Is there a map of the LIDAR for HelioScope coverage area?
Yes. You can view the density data for any address, and the coverage map below.
On LIDAR data & designing dimensions…
How are the dimensions of the area determined with the LIDAR data?
Based on the objects you draw in HelioScope — the roof itself, and also obstructions like skylights, parapet walls, and hvac vents — the LIDAR coverage will adjust, up to a maximum of about 450 meters X 450 meters.
How do we know when the point cloud data was provided?
You can view the data source info of any address, including dates, using the coverage map here.
On building heights & surfaces…
Do building heights need to be included on the field segments if LIDAR is on? What about if it is off?
You can automatically adjust your Field Segment height to the LIDAR data.
Can you use the LIDAR to design an array on a vertical wall or other surface?
Yes! Contact us to learn more details.
On shading…
Is it possible to use the tree line existing in the LIDAR surface as a shade object?
Yes, you can use LIDAR to model shade from a tree line.
When enabled, does the LIDAR mesh/point cloud cast its own shade?
The shade is only cast by elements drawn, like field segments, keepouts, and trees.
How does HelioScope's LIDAR data pair up with shade data (i.e. shade reports) and actual energy production figures?
LIDAR is only a guide for drawing the elements, like field segments, and getting their heights more accurately. The shade is determined only by the elements drawn.
On LIDAR's fit to topology & slope…
Does HelioScope's LIDAR data provide slope information?
LIDAR will show the slope of any surface. You'll use the HelioScope drawing tools to measure the slope.
Can we set the PV array to follow the topology?
Not at the moment. LIDAR fits to sloped planes only.
Will slope analysis be available in the future? Will we be able to design sites with exclusionary zones given different % grades? For example, "Do not put panels in areas with a north facing slope greater than 0%."
This is a feature request that we are working on. Please check back for updates, and subscribe to our Feature Update Newsletter.
On third-party tools…
Will we have access to the Google Street Measurement tool from Aurora on HelioScope?
This feature doesn't include Aurora's street measurement tool.
Is HelioScope's LIDAR data mixed with Google Elevation Data?
Yes. HelioScope's LIDAR feature includes Google 3D data.
On data imports…
Can I use my own LIDAR points?
At this time there isn't an option to use your own LIDAR data points via import or otherwise.
When will we be able to import 3D imagery into Helioscope, specifically for ground mount systems?
We are committed to improving Helioscope and building the long awaited features like 3D ground mount imagery support for our customers. We don't have a definite timeline for this feature yet. Please subscribe to our Feature Update Newsletter to stay updated on new features and capabilities.
On HelioScope's LIDAR pricing & waitlist…
Is LIDAR included in Helioscope's standard license, or does it require an additional fee?
LIDAR in HelioScope (in Beta) is an enterprise feature. To learn more about the benefits of an enterprise subscription, please reach out to customer.success@helioscope.com.
How do I sign up for the LIDAR waitlist?
Follow this link to sign up for HelioScope's LIDAR waitlist today!
---
Have a question that wasn't answered above? Here are some more LIDAR in HelioScope resources.