If you need to manage your marketing efforts, sales funnels, and ongoing client relationships — which is to say, "If you are a company with customers" — then solar CRM (customer relationship management) software is one of the most valuable tools you can invest in.
Designed to keep the status of leads, potential customers, and established clients all in one place, solar CRM software is the backbone of many successful solar businesses, helping marketing managers and sales teams stay organized, sell systems, and grow.
The right solar CRM for your business can help you establish an efficient system for lead management, improve your customer communication efforts, and optimize your sales processes to fit your company's unique operational model. 
So to accelerate your solar marketing and explore new opportunities, let's look at why customer relationship management software is important before outlining what to look for in a CRM solution for your business.
The importance of solar CRM
A great CRM solution is one of the secrets behind most growing companies. CRM software provides business owners with the tools they need to operate, grow, and succeed in today's marketplace, with interfaces and features designed specifically, as the name would suggest, to help manage customer relationships.
Built for efficiency, the best solar CRM can create value for both your business and your customers — with easy-to-use software that keeps design data up-to-date and tracks lead progress through your sales funnel.
From marketing your solar brand and collecting lead data to walking customers through the financing and installation process, solar CRM software can help you manage every aspect of your sales cycle. Along the way, you can track any interactions with your customers, make notes about their status, and set alerts to contact actively interested leads at the time most convenient for them.
Choosing the right solar CRM software
Of course, not all solar CRM software is created equal, and what may work for a national installer may not work for a smaller, regional business. To help you find the best solar CRM for your needs, let's look at the most important aspects of today's top software.
Key features
CRM for solar companies can only work if the software is built to handle the unique demands of the modern photovoltaic industry. Although you don't necessarily need high-quality design tools built directly into your CRM, being able to manage your customers' designs, proposals, and contracts all in one place is absolutely vital.
Whether you choose to use an industry-specific CRM, or a program designed to accommodate businesses of all types, your software should support both lead and project management. By investing in high-quality solar CRM and solar software, you may also be able to unlock features like reporting, analytics, proposal generation, contract management, and more.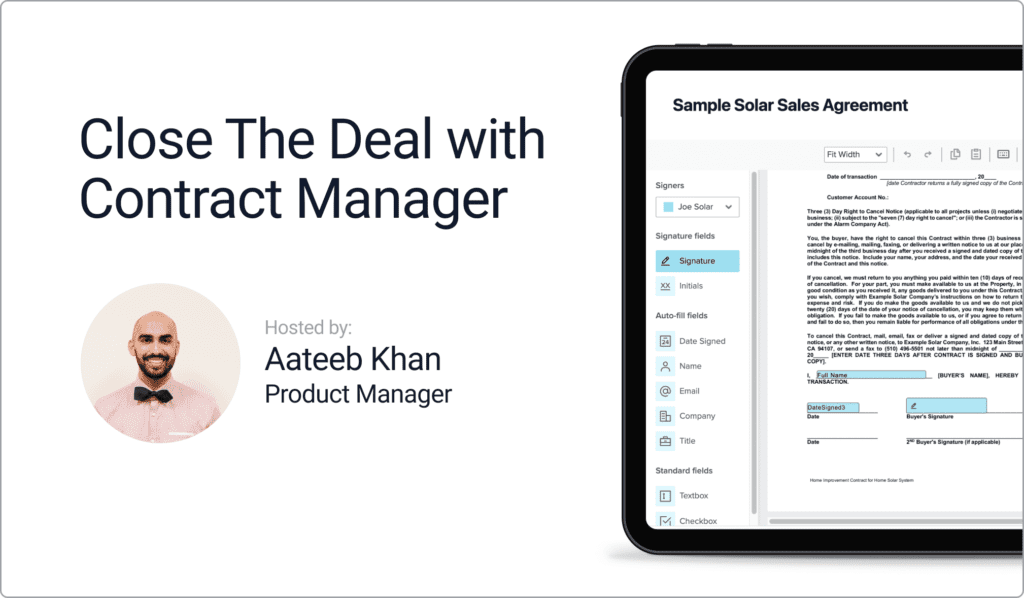 Interface and user experience
User experience (or UX) will be one of the most critical aspects of your software search.
At its core, CRM software is designed to help you save time on your marketing, sales, and onboarding efforts, so finding a platform that's easy to use can allow you to accomplish these goals with the least amount of effort, labor, and stress.
Even if you choose the most expensive and advanced software that money can buy, if it is unintuitive or difficult to use, then many of its benefits can be lost.
While evaluating your options, keep in mind that your CRM may be used by many different people within your company, and training employees on new systems can take a considerable amount of time with software that has a large learning curve.
Integrations with external software
To work within your existing business operations, solar CRM software must also be able to integrate with the other applications that help you run your business. Industry-leading software like Aurora's Sales Mode seamlessly integrates with most CRM platforms, allowing you to control every aspect of a potential contract.
While time-saving integrations are all well and good, you may also want to remember that simplicity tends to be the solution to many of life's problems. By finding a highly capable CRM, you may be able to eliminate some of the less efficient systems in your operations that are holding back growth with out-of-date software or numerous manual processes.
For easy design integration and end-to-end project management, Aurora and Scoop Solar have teamed up to create a cloud-based CRM solution set up specifically for success in solar sales.
Automations
While your design, CRM, sales, and other software works together to move projects forward, you may be ready to scale your solar company with APIs. By finding solar CRM that supports automation (both internal and external), you can accelerate your onboarding processes and cut back on any error-prone or time-intensive manual inefficiencies.
For example, your solar CRM software may include automation templates for speedy customer screening, verifications, marketing email campaigns, and more. With new automations and ways of doing business evolving constantly, staying up to date with new technologies can help your company retain its competitive edge.
Pricing structure
When evaluating your solar CRM options, you are more than likely to stumble upon software with tiered pricing structures. Usually divided into standard and premium options, your subscription level should be determined based on your monthly budget, as well as the needs of your business.
Although choosing the most expensive CRM can certainly be a great investment, a basic software package can sometimes work just as well depending on your company's specific needs. In many cases, you may be able to "try before you buy" with a free trial of your solar CRM to determine whether or not it is something you would like to integrate within your business.
Customer service
Finally, let's not forget about the company behind the software. While any software company can create a great CRM platform, having a supportive customer service team is what sets great software apart from ordinary apps.
Considering that CRMs are designed to help you manage your customer experiences, it's fairly easy to see the importance of after-sales service as you evaluate your software options. By finding a provider with a strong track record for customer service, you can more effectively adapt your CRM to fit the needs of your business and clear up any bugs or misconceptions along the way.
Conclusion
Finding the best CRM for your solar business is a great way to keep leads organized, streamline your sales process, and improve aspects of your customer service both before and after a contract is signed.
By integrating your solar CRM software with Aurora, you can seamlessly collect customer information, design new PV systems, and track the status of your potential clients.
Together with Aurora's intuitive APIs, you can cut down on manual inputs, maintain accurate project data across your company, and accelerate your sales cycle to grow your business and improve customer experiences.
Ready to learn more? Click here to schedule a quick demo, or get the info right now by clicking the chat box at the lower right of the screen


Featured image by Sara Kurfeß.