Whether you are an installer, PV designer, or a renewable energy advocate of any kind, then you are probably well aware of the vigorous solar inspection process for distributed energy resources.
Once the installation is complete, you can't just flip a switch and start generating power. To make sure everything is done correctly, to code, and to the permitted plan set, an inspection is typically required before a system is approved to safely generate electricity and supply power to the grid. The inspection process is usually with an official that works for the local AHJ's building department, and someone that works for the utility, it can also be done by a third-party working on behalf of the AHJ or utility.
Failure to meet building and electrical codes can set back an installation timeline and increase a project's budget with costly change orders. This means passing a solar inspection is vital for the operational efficiency, customer service, and bottom line of PV companies everywhere.
Importance of solar inspections
The need for an inspection is determined by the AHJ and/or utility where the project is installed. Their goal is to ensure the installation was completed according to the details of the permitted plan set, to ensure it complies with local building codes and interconnection requirements.
Utility inspections are typically a separate function that needs to be coordinated with the utility, though many utilities have adopted remote or digital inspection methods to reduce delays in the field and serve more customers. Once the AHJ and utility have signed off on their inspection(s), the system can be turned on and start generating clean power.
If an inspection fails, the reasons can range from something minor like adding a label to a disconnect switch, to going all the way back to the plan set process to ensure the design complies with AHJ requirements. This means going back through the timely permitting process, and in some cases costly modifications to the system.
Once the system is up and running, most inspections afterward would be between the installer and the homeowner, in case something isn't operating as it should.
Solar inspection checklist
The solar inspection process is one of the most time-consuming parts of any company's operations, from design to installation. PV Education 101: A Guide for Solar Installation Professionals shows how to frame solar panel inspection when speaking to your customers about development costs and installation timelines.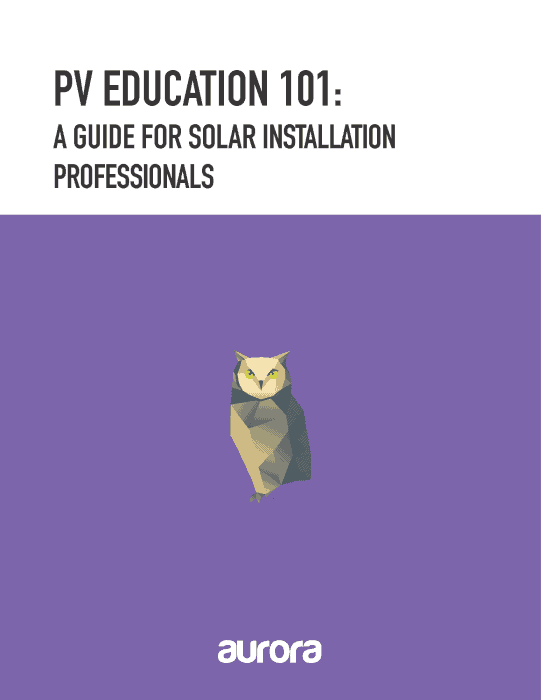 Every step of the solar inspection process is important to ensure the success of your PV systems. Thankfully, with the right processes and people in place to account for every single detail of new customer installations, solar companies can prepare for solar inspections by following industry standards, local guidelines, and several of the best practices we'll explore below.
What to do before your solar inspection
Before plan set design and permitting, determine the AHJ of your installation. See how Aurora's AHJ database and identification can help.
Ensure your plans are up to local building, electrical, fire, residential, and wind codes, and utility interconnection requirements.
Submit your plans to the AHJ and receive a permit to install the system and any work related to it.
Apply for a separate interconnection permit with the electric utility that serves the property. (Some utilities require an approved permit from the AHJ prior to an interconnection application.)
Once permits are approved, schedule the installation with the homeowner.
Verify the system was installed according to the permitted design, some changes may require re-permitting prior to inspection.
Contact the AHJ and utility to coordinate the inspections, this may require the homeowner to be present as well — which will mean coordinating that schedule with them, too.
What happens during the solar inspection?
There's some published examples of what is included in a solar inspection such as SolarAPP+ and California's solar permitting guidebook.
During an onsite solar inspection, systems are evaluated for installation quality, equipment compatibility and compliance to building codes, and ensuring the system was installed as it was permitted.
In some parts of the country, a licensed electrician is required to be present during an electrical inspection.
Inspectors will often check the installed system to ensure the required Fire Pathways on the plans are accounted for on the roof. This may mean they get on the roof and measure the distances from modules to roof edges.
Sometimes an AHJ requires the contractor to provide access to the system, which means having a ladder set up to get to the roof or attic to inspect the system and attachments.
When looking at the solar panels, a building inspector must verify that they are properly installed in accordance with the manufacturer's specifications based on the local AHJ requirements, environmental factors, and aspects of the type of structure.
Beyond the panels, solar inspectors look to make sure all the right sizes and types of equipment are installed in the system. This includes the correct grounding, breaker size, wire gauge and type, conduit size and type, and more.
The inspector will also ensure that a properly functioning disconnect means is installed to code in a readily accessible manner so that it can be accessed and the system shut off in the event of an emergency.
To pass inspection, buildings must also display the proper safety labels that identify the system parts and features.
Important things to consider after the solar inspection
Once approved by all parties with "Permission to Operate", or "PTO", you can ceremonially "flip the switch" and turn your customer's renewable energy system on.
At this point, you will want to show your customer how to monitor their system performance in order to detect possible issues from damage or part malfunctions.
Although inspection approval signals the end of your installation timeline, staying in touch with your customers is a great way to generate positive reviews and even earn new referral business.
Making solar inspections work
The best solar inspections and experiences are the ones the homeowner doesn't notice. This means taking selling, plan set designing, and permitting into account from the beginning — and keeping scheduling as tight as possible. There are tools available to make this process as smooth as possible for you and your customers:
Automatic AHJ identification: Aurora's Automatic AHJ Identification and Database is now a standard part of Aurora. When a new project is created, Aurora uses the project's address to identify the Authority Having Jurisdiction (AHJ) and gives easy access to track and reference their requirements.
Plan sets: Aurora's Plan Sets Service can deliver permit-ready plan sets, on-demand, in 24 hours or less.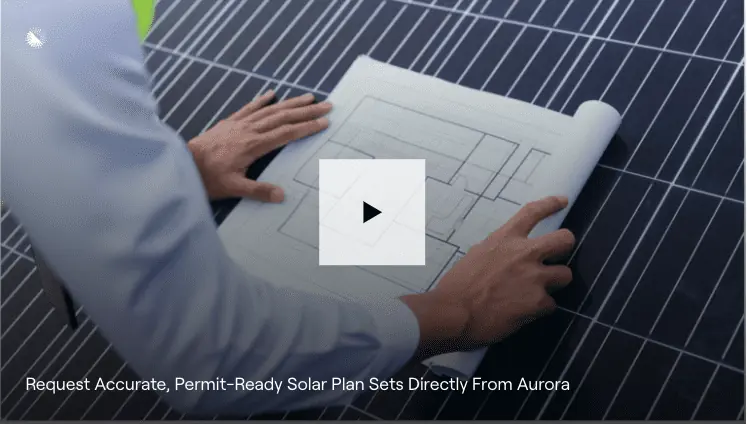 With a streamlined process from design and sales, to permitting approval, Aurora's tools can reduce some of the time and costs usually associated with producing accurate, detailed, and inspection-ready site designs.
Want to see these features in action? Schedule a quick, personalized demo and we'll walk you through it.


Wrapping up
The inspection process is a long, but important part of helping your customers go solar. At both the application and construction review stages of your projects, the best way to prepare for any solar inspection is with the knowledge and tools to efficiently design and install systems up to local safety standards.
Aurora's new Plan Sets Service gives solar businesses the power to create inspection-ready site plans on-demand, anytime. With built-in AHJ requirements on top of our industry-leading PV design software, you can schedule a demo today to see how Aurora Solar can accelerate your solar inspection process and other key business operations.