Last week found the Aurora team busy manning our booth at Intersolar North America–our "hometown" solar conference and trade show just a short walk from our office in San Francisco. In between the fun we had talking to fellow solar enthusiasts at our booth, we found some time to explore the conference and Expo floor.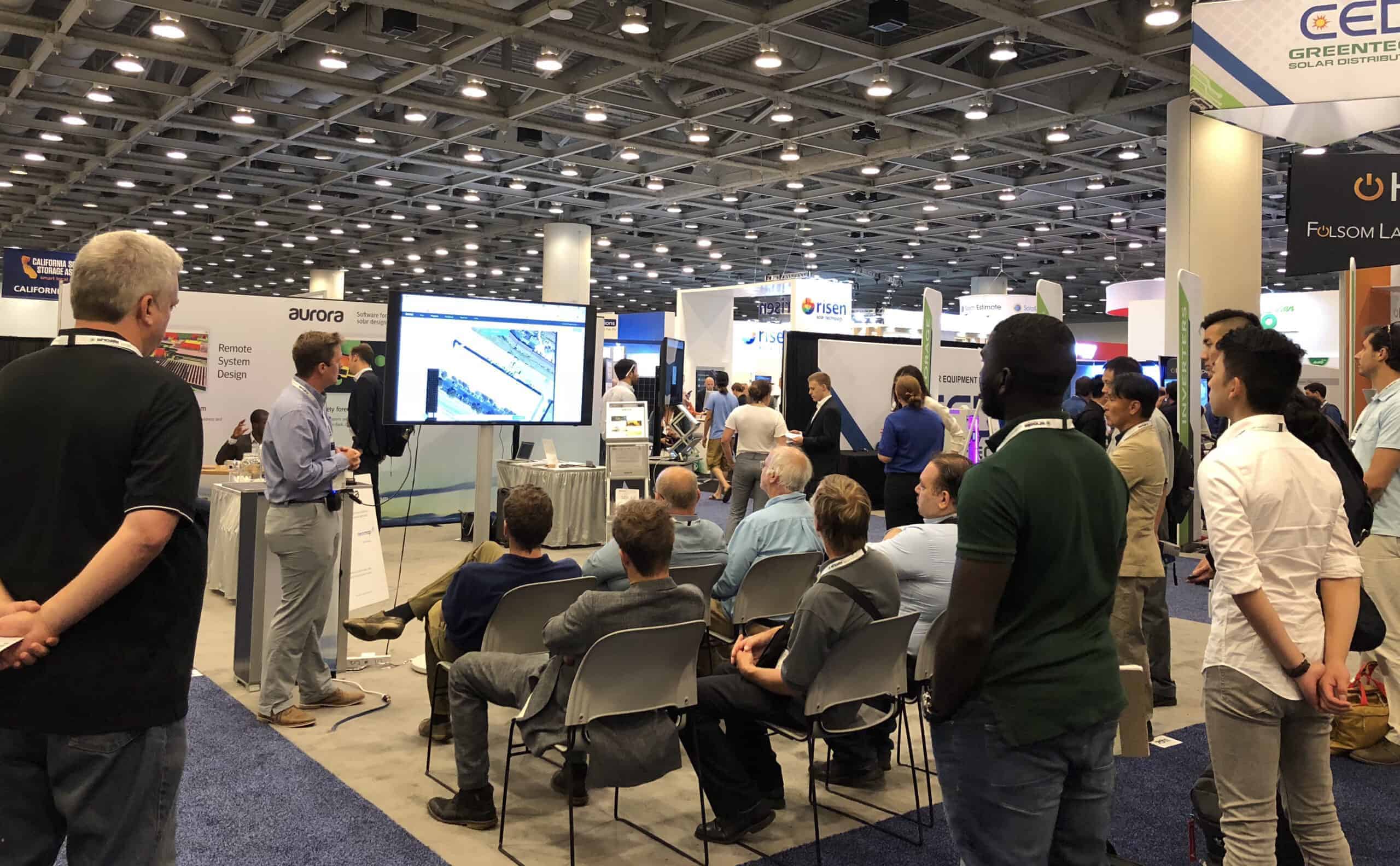 Aurora sales consultant JT McCook shares a sneak peek of some new Aurora technology.
While there were tons of great new solar products on display, we especially loved the opportunities to learn. Here are a few educational highlights we found interesting from Intersolar 2018:
1. Resources from The Solar Foundation for finding great solar employees

Something we've seen repeatedly in The Solar Foundation's annual Solar Census is that, as the solar industry continues to grow (industry jobs have nearly tripled since 2010), employers are finding it increasingly difficult to fill job openings with qualified solar professionals.
The Solar Foundation has found hiring to be a common challenge for solar installation companies. Source: Presentation by Chris Walker at the Innovations and Applications stage at Intersolar North America 2018.
If your company is one of the 84% of solar installation companies that report difficulty hiring, the latest The Solar Foundation's latest initiative is for you! The Foundation released at Intersolar a new resource: Strategies for Solar Workforce Development: A Toolkit for the Solar Industry.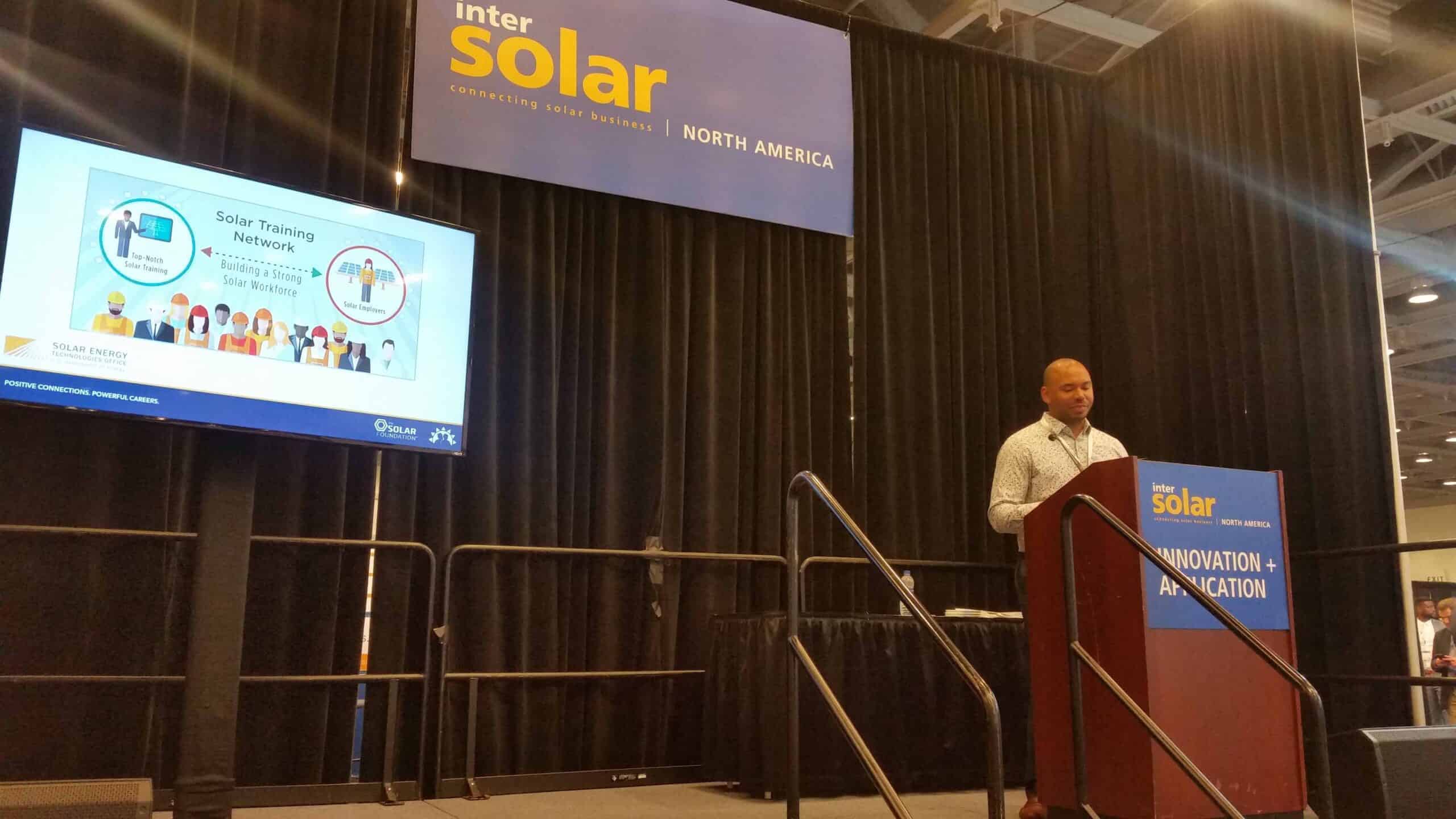 Chris Walker, Senior Program Manager for the Solar Training Network, presents The Solar Foundation's latest report for solar companies.
Chris Walker, Senior Program Manager for the Solar Training Network at The Solar Foundation, presented on the toolkit at the Innovations and Applications stage. The toolkit focuses on providing solar companies actionable steps for engaging with the public workforce system to develop work-based learning opportunities to help create a pipeline of qualified employees.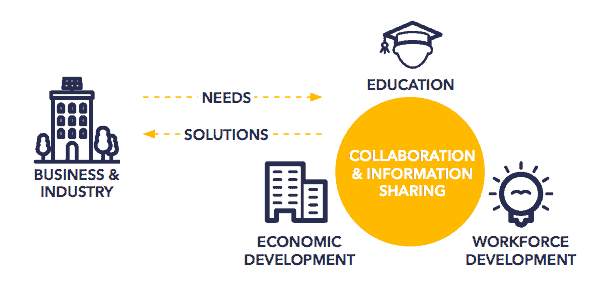 A diagram of the benefits of collaboration between the workforce development system and businesses, as articulated in Strategies for Solar Workforce Development. Source: The Solar Foundation.
Among the toolkit recommendations are that employers collaborate with the Workforce Development System (comprised of local workforce development boards, job centers, and education and training providers) to communicate the skills they need. It explore some of the different forms of workforce training programs and how employers can choose those that best fit their needs. Importantly, it also highlights the availability of federal funding for workforce training  programs through the Workforce Innovation and Opportunity Act.
Interested in learning how these strategies can help your company more easily hire qualified employees? Check out the full report here!
2. Expert perspectives on the Future of Solar
One session of the conference we particularly enjoyed was the Future of PV panel. Expert panelists offered insights on what the future of solar energy will be in the US and global markets, as well as thoughts on what developments will be involved to get us to that point, based on their diverse roles in the industry.
Jesse Grossman, CEO of Soltage–a solar developer that owns a fleet of solar assets around the country, shared some of the trends his company is observing as it keeps tabs on the U.S. market. One of the main things he underscored was the role of community solar as the fastest growing segment of the market. This makes a lot of sense to us since community solar makes solar accessible to the large share of potential customers who, for a variety or reasons, can't access solar directly.
Angelina Galiteva, Founder of the Renewables 100 Policy Institute and a board member of California Independent Systems Operator Board (CAISO), shared a California and international perspective on the future of solar. She honed in on some of the challenges grid operators are grappling as they work to incorporate increasing amounts of renewable energy and resulting variability in the timing of energy production.
While these are big challenges, Galiteva painted an optimistic picture. She noted that high levels of renewables will be the new normal, and reiterated trend of steep declines in the cost of solar and other renewable energies.
She underscored that collaboration will be key to a smooth transition toward a future where a majority of our energy is renewable–including collaboration between different regional grid managers, regional grid interconnection to allow for the sharing of excess renewable generation, and the sharing of information and lessons learned. She also highlighted the diverse suite of solutions that will be needed, including energy storage, demand response, TOU rates, diverse renewable energy sources, and electric vehicles.
3. Remembering the solar pioneers who helped get us where we are today
It was exciting to hear a variety of perspectives on a clean energy-powered future–but we were also intrigued by the opportunity to learn about some of the early solar adopters and enthusiasts who first helped launch the solar industry decades ago.
A new independent documentary, "Solar Roots – The Pioneers of PV," had one of its first screenings at Intersolar–a 20 minute teaser followed by a Q&A session. The film, Jeff Spies and Jason Vetterli, is based on interviews of 50 pioneers of the solar photovoltaic industry. Speaking to Inovateus Solar, Spies explains "I'm telling peoples' life stories, their legacy for future generations is in my hands, and I now fully appreciate the weight of that responsibility. I'm committed on a personal level, above all else, to telling the story the way that will make the people in the movie proud."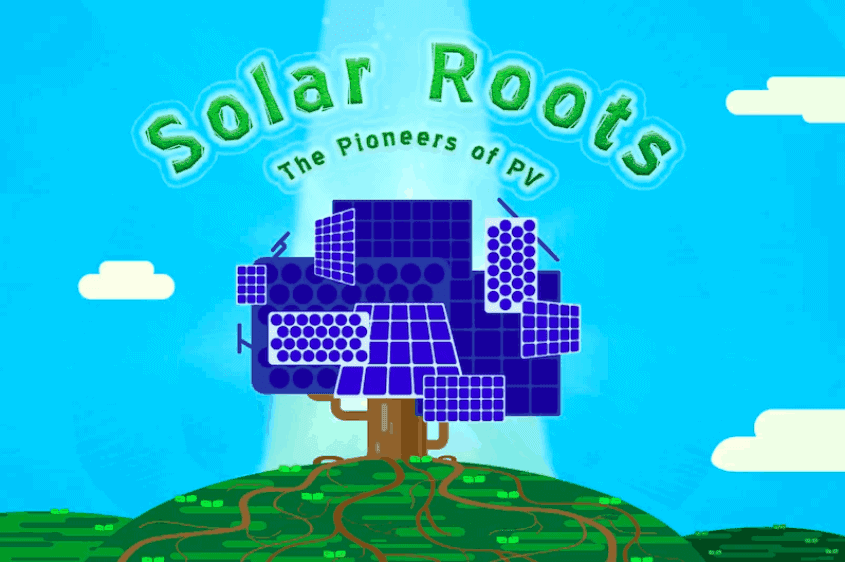 Solar Roots, a documentary by Jeff Spies and Jason Vetterli explores the role of early solar enthusiasts in demonstrating the viability of solar energy and helping to launch the PV industry.
These stories of people whose commitment to solar helped the industry first take root are not often heard, so we encourage you to check out the documentary if you get the chance. It will be screened at future gatherings of solar professionals, including at Solar Power International in Anaheim, CA on September 26.
It's always a treat to attend solar conferences where we can learn from others in the industry and connect with the community. If you couldn't make it to Intersolar this month, we hope to see you later this year at Solar Power International in Anaheim, California September 24-27!
---
P.S. What did you like best at Intersolar? Let us know in the comments below!