August 17, 2023 UPDATE: Empower is over, but you can still hear what Jigar Shah and Bernadette Del Chiaro had to say. Just head to our Empower page to watch the replays of their keynotes — and all the great sessions — on demand.
Jigar Shah and Bernadette Del Chiaro were the keynote speakers at Empower.
That's it. That's the blog.
OK, not quite. Let's get some background. Between an uncertain economy, new net metering regulations taking effect, and strong incentives for installing and manufacturing solar, the only thing that's certain is that the next few years may be a bumpy ride.
"With the challenging market conditions facing the solar industry today, staying agile and adaptive will be critical for success in 2023," Chris Hopper, Aurora's co-founder and CEO, explained.
This makes Shah and Del Chiaro the perfect keynote speakers, since both are actively working to shape — and improve — the conditions for solar.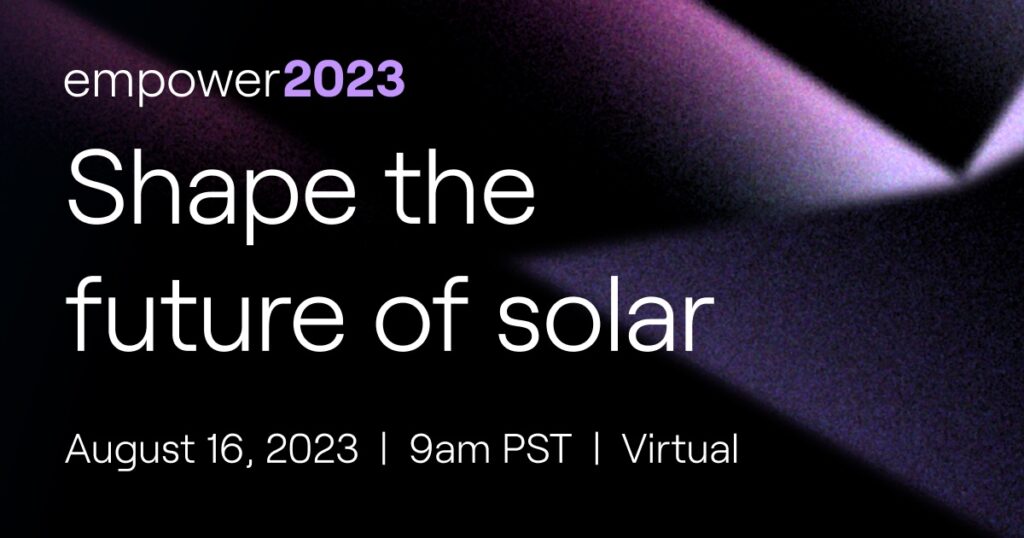 In his current position, Jigar Shah heads up the Department of Energy's Loan Programs Office — which is in charge of arranging $400 billion in loans to help bring emerging energy technologies to market. But he's far from a career bureaucrat. Shah has walked the walk as a solar entrepreneur. In 2003, he helped found SunEdison so he knows first-hand about the ups and downs of the "solar coaster".
"There's no better way to learn than the world of hard knocks," Claire Broido Johnson, Shah's co-founder at SunEdison, noted to The New York Times. "We had a lot of ups and downs in those early days as we tried to persuade potential customers and investors that our idea wasn't crazy."
Shah's combination of business experience, and his current view of the market from inside the government gives him a unique perspective that he shared at Empower.
If that was it, we might say dayenu, but with the hard-fought NEM 3 battle in California and more policy debates in the future, Bernadette Del Chiaro, the executive director of CALSSA (California Solar & Storage Association) has a unique perspective on the solar market.
Del Chiaro has been an advocate for renewable energy since her days at Green Corps, where she worked to clean up the "Sooty Six" coal-fired power plants in Connecticut. In her current position, she fought tirelessly to make changes to NEM 3, and didn't mince words when CPUC predictably approved the policy. As part of CALSSA's statement on the ruling, she said (emphasis is ours):
"The CPUC's final proposal is a loser for California on many levels. For the solar industry, it will result in business closures and the loss of green jobs. For middle class and working class neighborhoods where solar is growing fastest, it puts clean energy further out of reach. For our grid reliability needs, it fails to promise robust growth in battery storage. And for California's race to clean energy, it puts us behind our goals and out of step with the national pro-solar agenda. The proposal is a step backwards when we really need to be moving forward with solar and battery storage. It is a dark day in California when the utility regulators try to block out the sun."
In her keynote, Del Chiaro will take a fresh look at California's distributed solar and storage market as it stands in the summer of 2023. It will provide a retrospective on what the industry has just been through with the various policy changes, but it will also lay out the challenges and opportunities that lie ahead for what is one of the world's largest clean energy markets.
Keynotes set the tone for any event. They have to be informative, sure, but they also have to inspire. We're confident Jigar Shah and Bernadette Del Chiaro will do just that. Come see for yourself.
Click here to watch all the Empower replays on demand.