Every solar sale is a story. A big part is the story of why a customer has decided to consider solar. And every successful solar salesperson pays attention to every customer's wants and needs.
But, in a market as crowded as solar sales and installation has become, you need to do everything you can to tell your story, also — to make your company stand out from the crowd.
And when you're in front of a homeowner, nothing showcases your company quite like a professional, customized, personalized proposal. We've all seen those generic proposals — with too much text, minimal personal details, and nothing highlighting the company. They do nothing to set you apart in the customer's mind, and can actually turn them off.
So, what can you do to make sure your proposal stands out, sticks in the customer's mind, and highlights all the best your company has to offer?
In a recent webinar, Aurora Product Marketing Manager Stephen Gerken discussed how you can customize your proposals in Sales Mode to make sure they stand out. You can watch the whole webinar here, or by clicking below.

In this two-part series based on the webinar, we're highlighting 10 ways you can customize your proposals using Sales Mode. First, we'll look at 5 ways customization can help you differentiate your company and boost homeowner confidence, then in the next post we'll investigate 5 ways to educate the homeowner and overcome potential objections.
It's important to note here, however, that you're not limited only to these 10 things! Sales Mode gives you the flexibility to build the proposal that works best for your company. The level of customization and what content you include is up to you.
Let's get started.
About Us
With so much competition, you're not just selling the customer on solar, you're selling them on yourself. You need to be sure the customer knows what sets your company apart, whatever that is.
Sales Mode lets you create a fully customizable "About Us" page so you can do just that. Have you been in business through thick and thin? Do you have some killer customer quotes? Do you have certifications? Highlight them on this page.
This is the customer's introduction to your company, it's your chance to make a first impression. And we all remember what they say about first impressions, right? Not getting a second chance and all that? Make sure your first impression is exactly what you want it to be, and that it sticks with a compelling About Us section.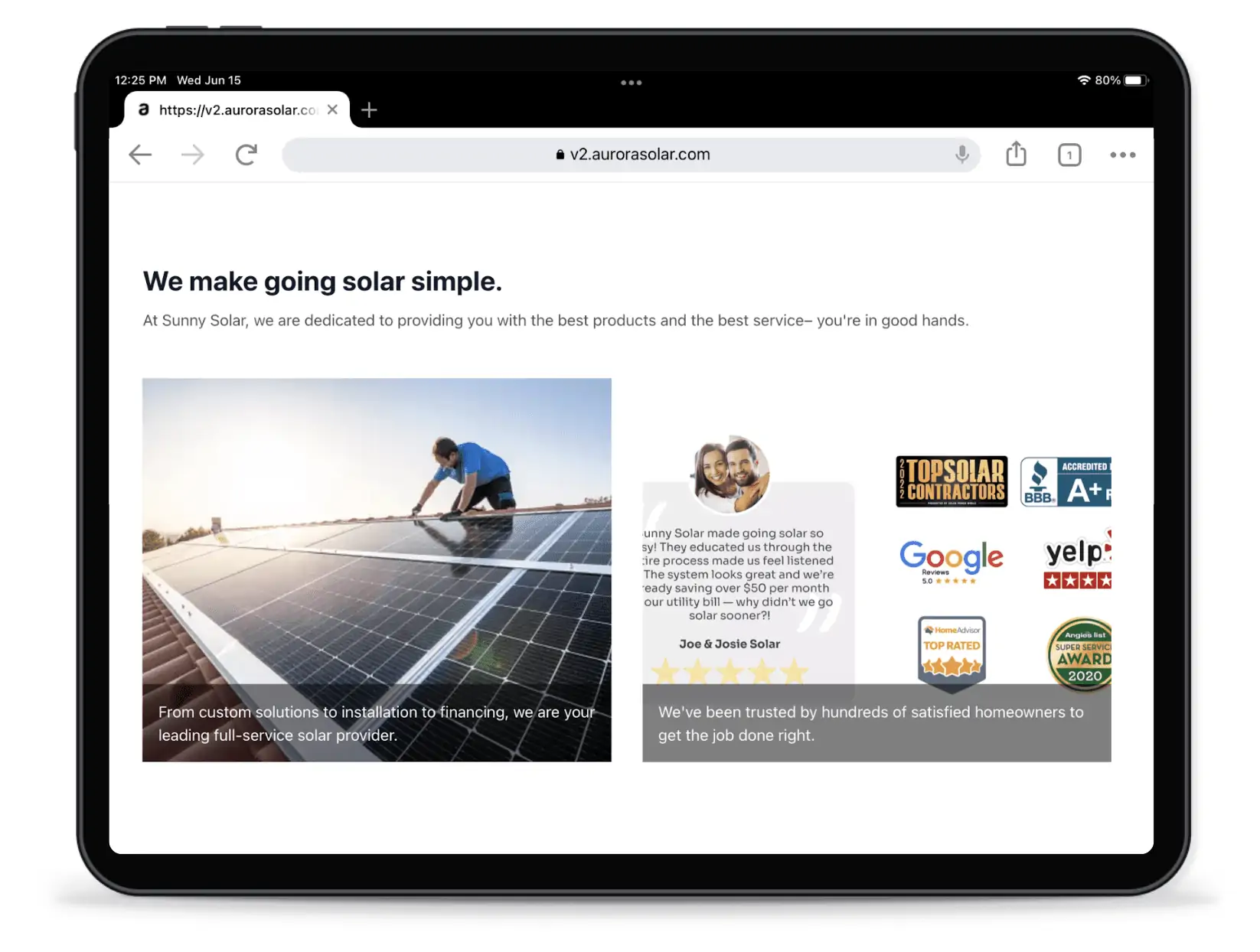 Testimonials
The partner feature to projects is testimonials. You've completed all those great projects, see if your customers are willing to talk about them. This personal touch can really resonate with customers.
And, thankfully, this isn't like online reviews where everyone can write whatever they want. Curate your best projects and customers and help them craft the perfect testimonial.
Warranties
Another thing that resonates with customers? Warranties and guarantees. Remember, solar is a big, unfamiliar purchase for most of your customers. Anything you can do to set their mind at ease will help your close rates.
A comparison table that shows what your company offers compared to the competition (provided you offer more), shows in a clear way why you're the company to go with.
Your Projects
One of the best ways to prove you can complete a project is showing that you've completed similar projects before. So, make sure you highlight your successes in a visually compelling way.
It can be a map showing your projects in the area, it can be photos of your best work, it can be a combination of both. Just make sure it stands out and showcases your company's strengths.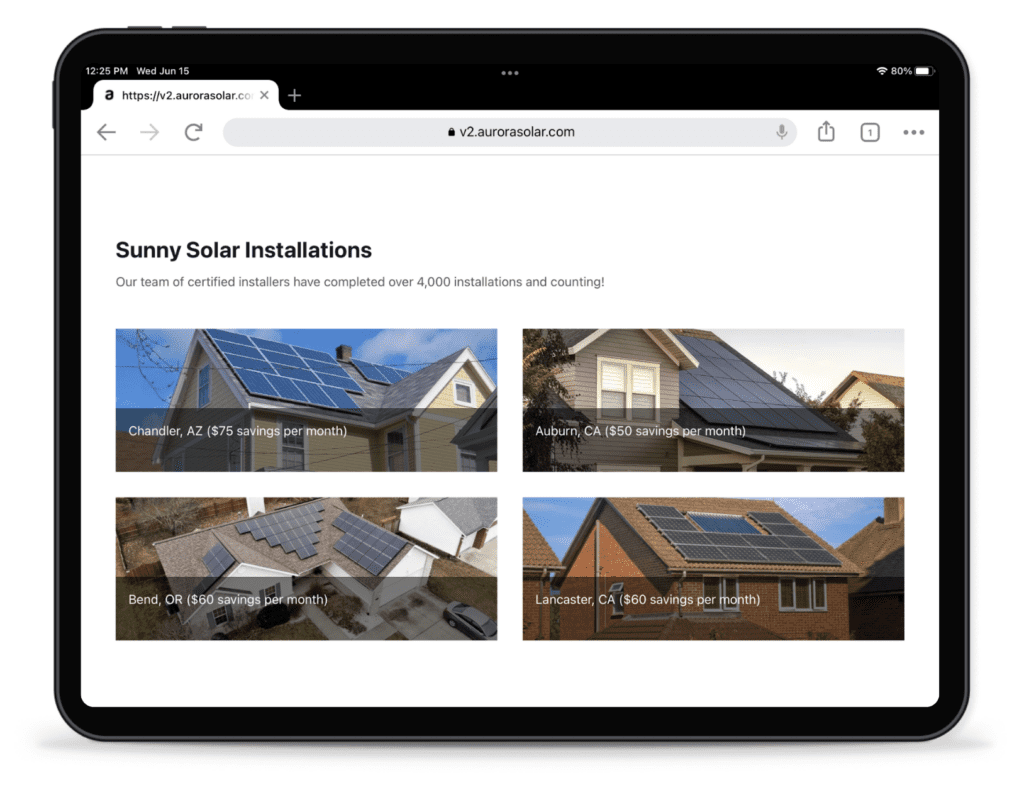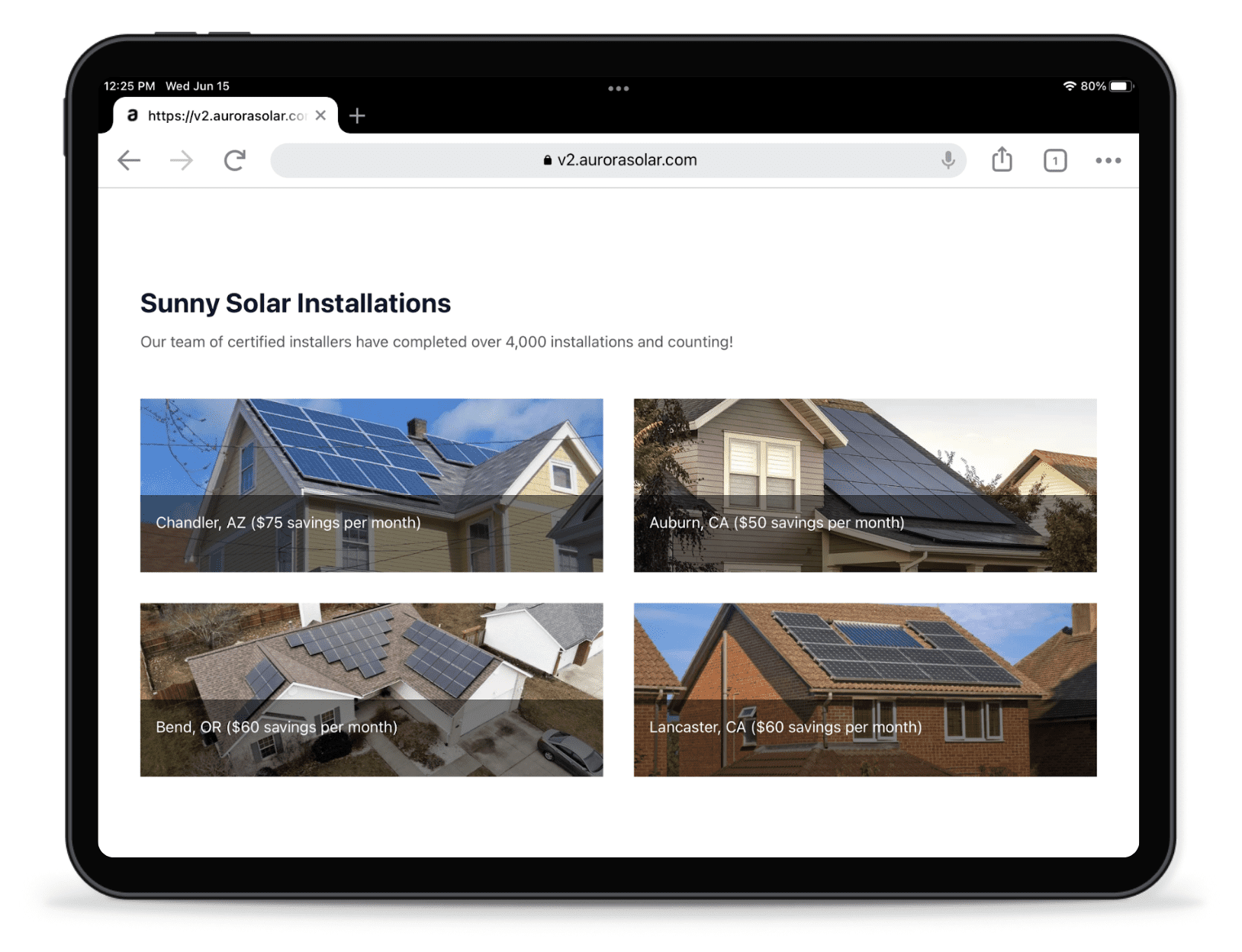 Partnerships & Certifications
In addition to being a big purchase, solar also has the reputation of being a long process with lots of hoops to jump through — mainly because it often is. But, if you have financing partners, or have a team of NABCEP-certified professionals, or are certified by the BBB, this can help customers understand that their project will go as smoothly as possible.

Watch the whole webinar for step-by-step instructions on how to create pages like these — and more — and see some more real-life examples. Then check out our Help Center for even more information.
Have a particular customization in mind? Schedule a *customized* demo (we walk our talk!) and we'll walk you through it.
We'll be back soon with the 5 customizations to help educate your customers and get them ready to buy.