For many of us in the solar industry, it isn't just a paycheck that led us to this work but a desire to contribute to something meaningful. The solar industry helps make the world a better place—from protecting the climate and reducing harmful pollutants to providing families with more affordable energy. But we can also have a positive impact by ensuring that our hiring and employment practices are equitable and provide equal opportunities to people from different backgrounds.
The Solar Foundation's 2017 U.S. Solar Industry Diversity Study , released this month, is the first-ever study of diversity in the solar sector. Today, we dig into the study's findings and examine why diversity matters, where we stand currently, and what solar businesses can do to support diversity in their teams.
Why Diversity Matters to Company Success
Beyond the inherent value in supporting equal opportunities for diverse groups, a robust body of research has found that diversity is a boon for business. Businesses with diverse workforces not only tend to be more profitable but also achieve higher levels of employee satisfaction and are better able to recruit and retain top talent.
The Solar Foundation cites a multitude of studies that have shown bottom-line benefits for companies that prioritize diversity. This includes findings of 53% higher returns on equity for companies with more diverse executive boards compared to those in the bottom quartile for diversity, an average of 6% higher profits for companies where women hold at least a third of executive positions, and the broader finding that having women in senior management increases profitability.
Beyond the boardroom, diversity has powerful benefits for company performance as well. A 2015 McKinsey study found that the likelihood of achieving above-average financial returns was 35% higher for companies with significant racial and ethnic diversity and 15% higher for those in the top quartile for gender diversity. Studies have attributed these benefits to the role of diverse perspectives in creativity and innovation, improved ability of diverse companies to connect to new markets, and better understanding of the needs of different customer bases leading to the creation of better products and services.
The benefits of diversity go far beyond profitability, however. Studies also link diversity to improved well-being of employees, and relatedly, enhanced recruitment and retention of talent. A majority of candidates (67%) consider workforce diversity an important factor when evaluating companies and job offers.
Where Do We Stand As an Industry?
As the first study of its kind, The Solar Foundation's report provides an important baseline for understanding how diverse the solar workforce currently is and where there is room for improvement. Although findings indicate that our industry is more diverse than others like the construction, oil and gas extraction, and utilities industries (see Tables 1 and 2 below), it is clear that there is work to do in ensuring that diverse groups are represented in closer proportion to their presence in the population.
Women currently comprise 28% of the solar workforce, compared to 47% of the total labor force. People of color also represent a relatively small proportion of the solar workforce. While people of color represent 34% of the total U.S. workforce, currently 17% of solar workers are Hispanic or Latino, 7% are African American, 9% are Asian, and American Indian, Alaskan Native, and Native Hawaiian each account for less than 1%.
Table 1. Racial demographics of the solar industry compared to other industries. Source: The Solar Foundation's 2017 U.S. Solar Industry Diversity Study.

Table 2. Gender demographics of the solar industry compared to other industries. Source: The Solar Foundation's 2017 U.S. Solar Industry Diversity Study.
Beyond just raw numbers, the study also explored differences in position and compensation level between demographic groups. Minorities and women are less represented in managerial positions. The study also illuminates discrepancies in earnings for minority groups and women. Men are significantly more likely to be paid in the highest wage bracket of $75 or more per hour, and all women and people of color are less likely to earn executive level wages compared to white men.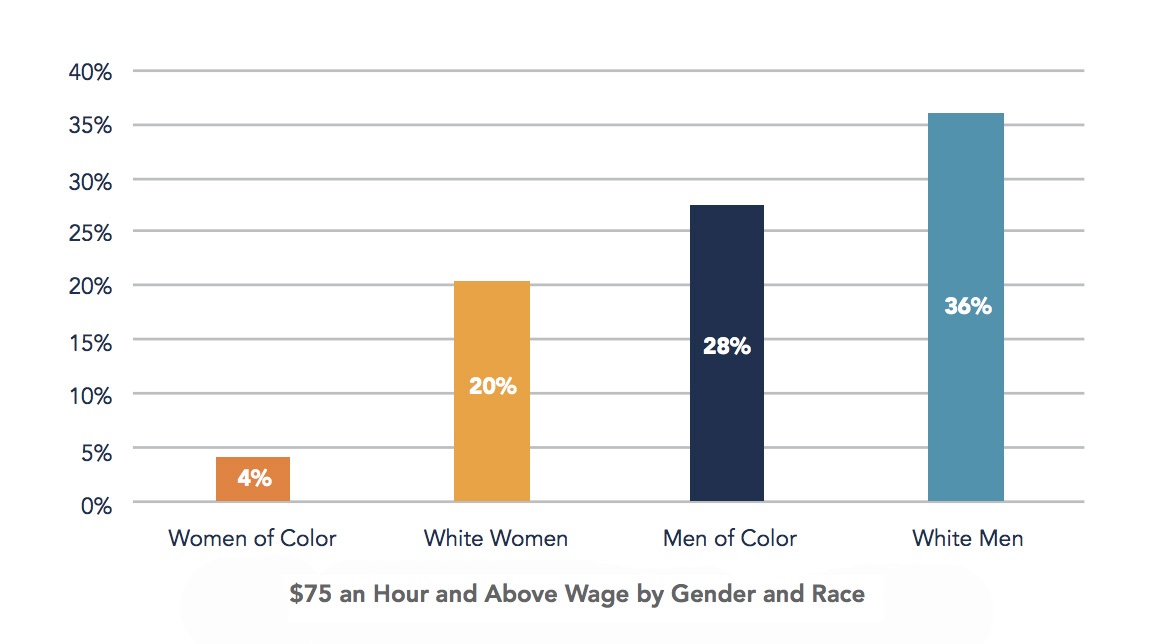 Figure 1. Percentage of survey respondents by race and gender making $75 or more per hour. Source: The Solar Foundation's 2017 U.S. Solar Industry Diversity Study.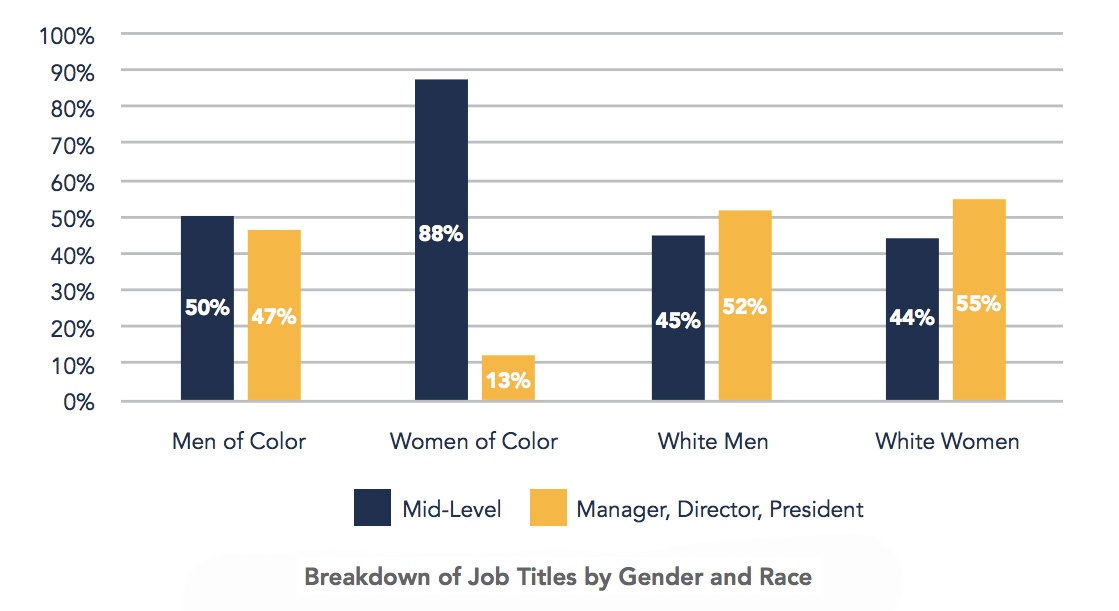 Figure 2. Distribution of job title level by race and gender of survey respondents. Source: The Solar Foundation's 2017 U.S. Solar Industry Diversity Study.
Correspondingly, there are noticeable differences in satisfaction with wage and position among minority groups. In particular, African American respondents are much less likely to report satisfaction with their pay or position; 42% indicated that they are "not at all satisfied" and only 8% of indicated that they are "very satisfied." The study points to the widening wage gap between white employees and people of color in recent decades as a possible contributing factor.
The study also looked at people's perceptions of their ability to move up the career ladder. Women are significantly more likely than men to report that they have not been successful in moving up the career ladder (12% of women vs 4% of men). There are also notable differences in reported career mobility between racial groups.
Figure 3. Perception of success in moving up the career ladder by race. Source: The Solar Foundation's 2017 U.S. Solar Industry Diversity Study.
Figure 4. Satisfaction with wage and position by race. Source: The Solar Foundation's 2017 U.S. Solar Industry Diversity Study.
How Can Your Company Be a Leader for Diversity?
It is evident that there are areas where the solar industry has room for improvement in ensuring inclusion and growth opportunities for diverse groups. Fortunately, the Solar Foundation concludes its report with specific recommendations and action items that solar companies can take to advance diversity in the coming year.
(For those interested in learning more, the report includes in-depth discussion of best practices and additional recommendations on how companies can support diversity.)
1. Create a company-wide diversity pledge. Few surveyed companies had formal policies for advancing female or minority representation (14% and 7% respectively). Adoption of a company-wide diversity pledge, with a well-planned execution strategy, can go a long way toward advancing diversity and communicating a company's recognition of its value.
2. Establish a formal diversity tracking and measurement tool. The study also found that most companies that responded either do not track employee demographics/diversity or do not know if they do. In order to understand current levels of diversity and track progress over time, it is recommended that companies establish a formal diversity tracking process and measurement tools. Such tracking tools should consider both quantitative and qualitative information and be conducted independently to ensure transparency.
3. Broaden recruitment efforts, such as job posting sites and in-person recruitment locations. Solar industry jobs are most commonly posted on sites like Indeed, Monster, and CareerBuilder. Although these sites have a broad reach, low-income groups with limited computer or internet access or less familiarity with these sites may be disadvantaged. The report recommends expanding recruitment efforts to reach new audiences, such as reaching out to colleges, universities, and community groups that serve communities of color.
4. Implement a "blind" job application review process. To eliminate the potential for unconscious bias in the hiring process, The Solar Foundation recommends implementing a blind process for resume review. Other suggested approaches to reduce bias in hiring include ensuring diverse perspectives are represented on hiring committees, and adding language in job postings that encourages diverse candidates to apply.
5. Establish a diversity training program. Voluntary diversity training for staff that is designed with long-term impacts in mind can help not only increase workplace inclusivity, but help integrate diversity into company culture.
If the value of diversity resonates with you, start where you are and do what you can. If you can advance some of these initiatives in your solar company you'll be taking an important step toward a more inclusive, and ultimately impactful, organization.