COVID-19 impacted nearly every sector of industry and business, with solar being no exception. The pandemic forced many photovoltaic (PV) installers to re-envision how they operated, and led them to think about how the industry as a whole could change for the better.
Now, with some restrictions easing [fingers crossed], installers have started to envision what their slice of the solar industry might look like in a truly post-COVID world. But, before we move on, it's important to see what we can learn from these past 18 months (and counting). 
These lessons were one of the topics of conversation at Aurora Solar's Empower Virtual Summit. During the course of the View From the Top: What Industry Leaders Are Doing In 2021 and Beyond's Q&A, the panelists had some especially keen insights into how to improve solar for everyone going forward.

You can watch the whole session by clicking above. In this post, we'll drop in on their discussion to investigate a few of the major lessons installers have learned about solar sales — specifically lessons that were highlighted by the pandemic — that will inform their processes moving forward.
(Responses have been lightly edited for length and clarity.)
Lesson 1: Customer education is key
The first issue many CEOs mentioned was continuing to educate customers on the benefits of solar. While experienced installers realize this is by no means a new issue, or exclusive to selling during the pandemic, there are still misconceptions out there. 
Logan Landry, CEO, Sigora Solar 
There are still far too many misconceptions. People think that they can't afford solar, that it's expensive, that it's not as efficient as it could be… 
We could have spent all the money we liked on generating digital leads. But if those misconceptions were there, those folks were not necessarily going to click on any of those ads.
From a grassroots level, what has been most successful for us, and as well as many other companies across the country, is door-to-door. You're getting in front of people and having the ability to explain to them why solar will work for them…
Door-to-door sales is still, obviously, a huge part of the solar sales process. These days it's also critical to make the most of your remote sales opportunities to dispel some of these myths.
Lesson 2: Set expectations and simplify the process
While customer education is a high hurdle, Atul Raj of V3 Electric also pinpoints that solar projects can be slow going, even after the customer signs on the dotted line. This means that setting clear expectations is important to keeping customers satisfied, and that we all need to do more to streamline the solar process.
Atul Raj, President & COO, V3 Electric 
It's critical that expectations are clear to the customer, and that you communicate and make sure the customer is getting accurate, timely information about their project.
It's faster to buy a house than it is to get a solar project done on your house… You can buy a house from start to finish in 30 days, but in most parts of the country you can't get a solar project done in 30 days. … We have to figure out how to get the process down to 15 days from the sales process to install.
The industry has to simplify the experience from sales to permission to operate — especially for residential customers. [Right now], it's long, it's cumbersome, there are a lot of loopholes and obstacles. 
Lesson 3: Use technology to help
At its best, technology helps us automate many of the most time-consuming and expensive aspects of business. This has been especially true as salespeople and others have been forced to upend their usual processes and rely on technology more than ever.
Yan Purba, CEO of Infinity Energy believes that the industry's future will be powered by emerging technologies including AI, machine learning, and a growing suite of digital tools that are purpose-built for solar installers. 
Yan Purba, CEO, Infinity Energy
[Solar] is a complex process. Something I've learned about is the 45-plus steps to get to PTO and interconnect. We've really broken those down and looked at what's taking the most time, and at the waste inside of those processes. Then we look at, "How can technology automate some of those things?"
For example, with Aurora, our design process went from 25-30 minutes down to 10 minutes. And we're doing that with the help of labor distribution. 
In the end, for 2021, I think the theme of efficiency — and "waste management" if you will — will end up becoming a better customer experience, a better rep experience, and even employee experience.
When we can do things efficiently, work smarter not harder, everyone wins.
Lesson 4: Don't forget empathy
Gilbert Campbell, CEO of Volt Energy, makes an important point that we can all tend to forget as we go about our daily lives: We're all people. It's been a rough year, so taking a step back for a minute can really help us be prepared to step forward.
Gilbert Campbell, CEO, Volt Energy
There's so much that happened in 2020; it was just a heavy year. How do we navigate through that… I had to sharpen a toolset, which is empathy. 
You have to make sure your employees are safe, their families are safe. For your clients — we're in the midst of a pandemic, we don't know what's going to be open, how people are going to handle their kids. It's not the appropriate time to [hard] sell potential customers on solar from a certain perspective.
It took organizations a while to get their footing, to make sure their employees were safe, what their protocols were going to be. I think during that period, just having empathy and understanding of what everyone was dealing with worldwide was the most important thing. Business is important, but family and health takes precedence over anything else.
What will solar sales look like moving forward?
This was just a small part of the conversation the panel had at Empower. To learn more strategies and technology that can help installers improve their business going forward — and see one of the CEOs get put on the spot to do a sales pitch of his own — check out the full session replay.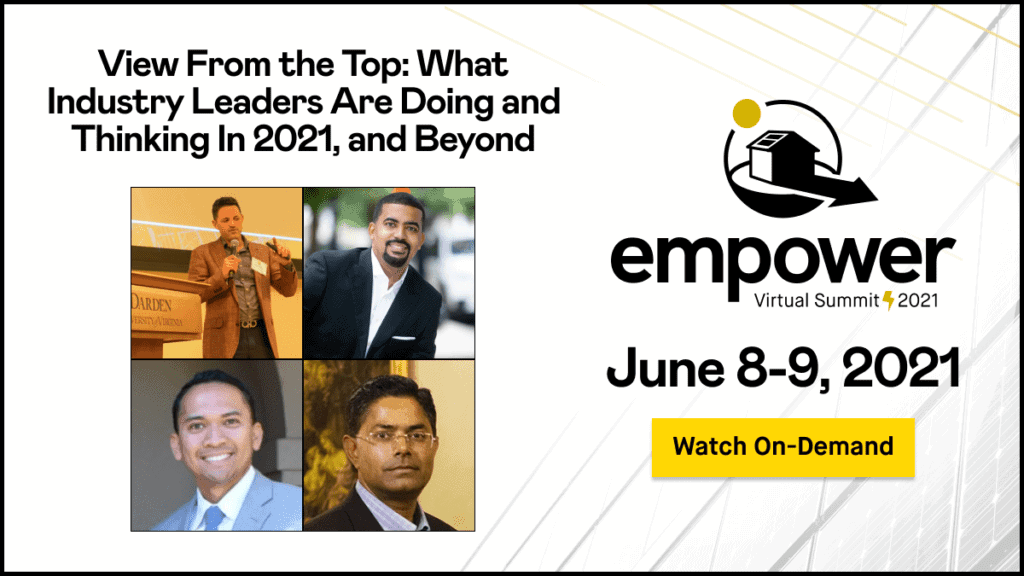 Featured image by Jeremy Zero.