This past week, the Aurora team had the pleasure of exhibiting at Solar Power International (SPI), which brought more than 19,000 professionals to Salt Lake City—making it the largest energy event in North America! SPI provided a powerful platform for companies (including Aurora) to showcase their latest innovations and for the industry to collaborate on important issues and unite around a common vision.
Beyond individual company achievements, perhaps the most pivotal outcome of SPI 2019 was the announcement of a new 10-year strategic plan from the Solar Energy Industries Association (SEIA).
Although the solar industry has grown by leaps and bounds, achieving exponential growth in installed capacity and formidable reductions in costs, today solar energy still makes up only 2.4% of the total U.S. electricity mix. Looking toward the future, SEIA has set the ambitious goal of making solar account for 20 percent of all U.S. electricity generation by 2030. Ambitious, yet achievable.
SEIA's new roadmap—The Solar+ Decade: Roadmap for Building the Solar+ Economy—lays out an action plan for how this target can be reached, highlighting four pillars for achieving the radical market transformation that will be necessary. In today's article, we dig into the action plan SEIA has articulated for the U.S. solar industry to reach 20% of electricity by 2030, what will be involved, and what all of this means for your solar company.
Why Does This Matter?
To start, what are the implications of realizing this 10-year industry strategy? As SEIA President and CEO Abby Hopper explains, "If we achieve 20 percent solar by 2030, the potential payoff to our economy would be enormous."
"Picture this: solar could add more than $345 billion to the U.S. economy over the next ten years, reaching $53 billion annually. The solar workforce would grow to 600,000 professionals and Americans would enjoy greater energy choice, lower utility bills, and cleaner air. Moreover, our success could prove that climate solutions don't hurt the economy, but instead, are some of the strongest economic growth engines we've seen in decades."
Clearly, achieving this target would transform not only our industry, but would bring about considerable positive benefits for the U.S. economy and the world. Yet there are many challenges that will need to be overcome to make this vision a reality.
As SEIA worked to develop its plan for achieving these goals, Hopper testified before the House Science Committee Subcommittee on Energy. She notes that she "felt it was important to share industry pain points with the subcommittee—like permitting and interconnection, workforce diversity and preparedness, grid modernization and resilience, advanced manufacturing, and energy storage integration—and begin advocating for a stronger solar future today." Addressing these pain points will be critical to success.

Annual solar installations required (GWh) for solar energy to reach 20% of U.S. electricity generation by 2030, according to SEIA's 10-year roadmap,
The Solar+ Decade: Roadmap for Building the Solar+ Economy
.
How Will Solar Reach 20% of Generation by 2030?
SEIA's roadmap is built around four pillars. These are: aggressive collaboration, capitalizing on market accelerators, using market levers and policy drivers, and responsibly managing our growth as an industry. Let's take a closer look at each.
1. Collaborating Aggressively
SEIA emphasizes that for solar to supply 20% of our country's electricity, our work can't be done alone. That means within our industry diverse sectors need to work together, and we must be united in our messages to build public and political support.
It also means reaching beyond the boundaries of our own industry to collaborate with other stakeholders and renewable energy sectors. That includes working "closely with the wind and storage industries and related technologies to create a comprehensive renewable mindset in this country," as well as other stakeholders like utilities, climate advocates, corporate buyers, and federal and governments.
(See page 9 of the full roadmap for specific action items SEIA has identified related to collaboration.)
2. Capturing the Benefits of Market Accelerators
SEIA identifies "a number of market accelerators that can increase solar energy adoption." Specifically, it identifies energy storage, carbon reduction goals, and electrification as key levers for enabling this level of solar growth. Storage will make it easier to incorporate high levels of solar energy on the grid, help customers manage moves to time of use rates, and the two technologies create new business opportunities for each other.
Climate policies, and related moves to electrify much of our energy use—from homes to vehicles, will create significant market opportunities for solar. We are already seeing the benefits of these kinds of policies at the state and local level, such as California's (and other state and local) commitment to sourcing 100% of electricity from clean energy, and its mandate of solar on all new homes starting next year.
(See pages 10-12 of the full roadmap for specific action items SEIA has identified related to these market accelerators.)
3. Using Market Levers and Policy Drivers
A third and critical pillar of SEIA's roadmap is the use of market levers and policy drivers. As the roadmap asserts, "The 20% goal is not achievable under business-as-usual growth projections. To put the industry on a path to deeper levels of penetration, we must drive down costs, develop new financing mechanisms, and build stronger federal and state policy."
The roadmap identifies several specific areas of focus including climate policy, extension of the Investment Tax Credit—which is slated to begin stepping down at the end of this year, state net energy metering policies, building codes, renewable portfolio standards, regional energy market rules, and access to financing. It also highlights opportunities to further reduce costs, such as by streamlining permitting costs.
(See pages 14, 15, 17, and 19 of the full roadmap for specific action items SEIA has identified related to these market levers and policy drivers.)
Estimated U.S. Solar Generation (GWh) Across Policy Scenarios & Targets, according to SEIA's 10-year roadmap,
The Solar+ Decade: Roadmap for Building the Solar+ Economy
.
4. Managing Growth
The final pillar of this 10-year roadmap deals with how the industry will manage this unprecedented level of growth in a responsible way. "Whether it is gaining a social license to operate by being good stewards of the land, proactively addressing recycling, modernizing the grid to allow for more solar deployment, protecting customers, or ensuring a diverse customer base and workforce, we have to show that we are growing in a responsible way," asserts SEIA.
In addition to environmental responsibility on issues like recycling and land use, a key focus in this area is ensuring that the diversity of the industry reflects the diversity of the nation – both in terms of our employees and customers, as Hopper and other panelists discussed in the Opening Session at SPI.
(See pages 20 – 27 of the full roadmap for specific action items SEIA has identified related to managing growth.)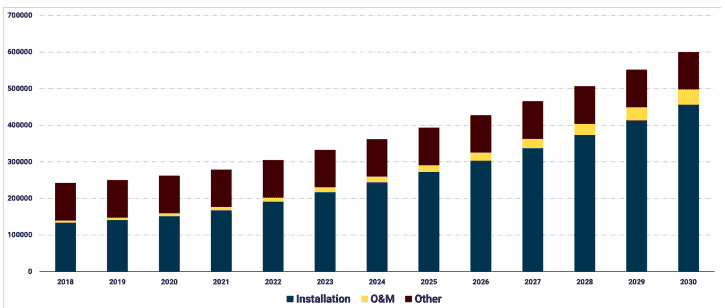 Estimates for solar industry workforce by year on its path to 20% by 2030, according to SEIA's 10-year roadmap, The Solar+ Decade: Roadmap for Building the Solar+ Economy.
What Does This Mean for You?
This roadmap gives members of the U.S. solar industry transparency into the priorities of its national trade association, including what SEIA will be advocating for on your behalf with federal and local governments. The report includes specific action items and priorities for the short-term, mid-term, and long-term.
In the short-term, over the next two years, priorities include the extension of the Solar Investment Tax Credit (ITC). At SPI, SEIA presented estimates that a 10-year extension of the ITC would lead to $87 billion in new private sector investment and an additional 113,000 American jobs over baseline estimates by 2030. Other priorities include reducing trade barriers, increasing state-level coordination, and strengthening its technical capacity to engage in regulatory proceedings.
Over the next three to five years, goals include achieving adoption of its SolarAPP program to reduce permitting complexity, building a national PV Recycling Network, increasing diversity in the industry, and positioning solar + storage as the best, cheapest and most capable generation resource in state and utility resource planning (among other goals). SEIA sets other ambitious goals for the final five years of this ten-year plan.
We encourage you to check out the full roadmap for all of the details and think about how you can get involved! As Abby Hopper explains, "If the solar industry fails to meet our ambitious goals for U.S. electricity generation, it will be because we fail in the next couple of years lay the necessary groundwork. While it won't be easy, it's up to us to shape our future and create a new story for solar in the United States."