With over 13,000 photovoltaic (PV) installation companies nationwide, the US solar industry is incredibly competitive. In this already crowded market, growing and scaling your company is crucial for survival, and long-term success requires converting more customers using fewer resources. 
But with so much to do just to keep your company running as is, you probably don't have a lot of time to seek out and implement best practices to improve and grow. Fortunately, you don't need a large budget, a ton of time, or national reach to remain competitive. 
This blog features some quick strategies, complete with additional resource links, on how to add value for employees and customers, generate more sales, and scale your solar business. 
Recruit and Retain Top Talent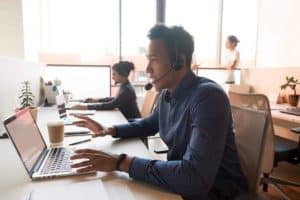 You simply can't scale without hiring and keeping the best people. (We've published a comprehensive resource for Recruiting Top Solar Talent.) But simply attracting knowledgeable and enthusiastic employees isn't enough if you truly want to grow. You also need to maintain that talent. Otherwise, you'll be faced with unnecessary turnover costs as you try to recruit and train replacement staff. 
Common strategies for retaining high-performing employees include:
Decrease onboarding time

. This is made much easier with the software solutions on the market. With features that reduce errors, and let reps design proposals in front of the customer, the right software can reduce training time and increase close rates, both keys to keeping the best employees. 

Offering competitive pay

. The ability to generate more sales using fewer resources allows you to provide employees with attractive salaries, healthcare benefits, paid time off, and other perks.

Making the job easier

. Providing your team with the right solar design tools can make their jobs much easier. And they'll be far less likely to leave — especially if the competition still makes

their

employees use outdated technology, like spreadsheets and CRM solutions that can't talk to each other. 
Expand Your Customer Outreach Efforts
The goal with all customer outreach is to widen the sales funnel as much as possible — using things like social media, paid advertising, direct mail, and content marketing. But in an increasingly saturated market, standing out from the crowd can be difficult. 
We have an exhaustive resource on How to Launch a Solar Outreach Campaign. But before you start marketing to potential users, it's important to develop personas for your ideal customers. Understanding their pain points is imperative when crafting a message that resonates with their needs.
If you don't know a lot about your ideal customer yet, that's okay. By overcoming the next several scaling challenges, you'll soon have a growing pool of satisfied users. And you can then use their valuable input to further refine your messaging and scale your outreach efforts.
Learn more about solar customers with our Guide to the 5 Solar Buyers.
Streamline Your Sales Process
Turning as many of those leads into customers, as quickly as possible, is an obvious key to scaling your solar business. But knowing this and accomplishing it are two very different things. 
The typical solar sales engagement involves numerous meetings, where customer information is incrementally used to design the perfect system. Along the way, sales reps need to learn and adapt their proposals to the customer's unique property, electricity demand, monthly energy expenses, and more.     
Having solar software that covers every part of the sales process, from lead to design to signature, sales reps can save a significant amount of time with an efficient end-to-end platform designed to increase close rates.

Deliver a Compelling Proposal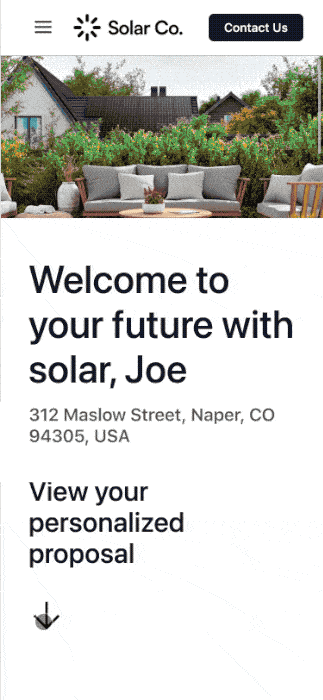 Converting customers is the most important step of the entire sales process. It can involve a lot of negotiation and multiple proposals. And we all know that even a tiny change can mean going back to the drawing board and starting over.
However, as with any project, the right tools can make all the difference. 
First, you have to make your proposals compelling, easy to understand, and changeable. Tools like Web Proposal, for example, allow reps to send personalized proposals to customers over email. If the customer wants to make changes, reps simply edit the proposal, then generate and send a new link. That's it. 
Make Financing Easy 
While the idea of installing solar panels is always exciting, the moment real dollars come into play can be very intimidating for homeowners.
To make the sales process as easy and unintimidating as possible, Sales Mode's Integrated Financing makes it so customers can see their design, contract, and savings, and even apply for financing all in one place —  instead of fumbling with papers or working across multiple platforms. 
Remove the Pain From Contracts 
When customers are ready to move forward, the contract process often adds a lot of error-prone, labor intensive work — manually writing in and changing information, terms, and so on. 
Tools like Contract Manager automate all these tasks. By populating all of the dynamic information about the customer directly into a contract, customers never have to wait when they're ready to commit. And with e-signature capabilities, they can sign right on your tablet.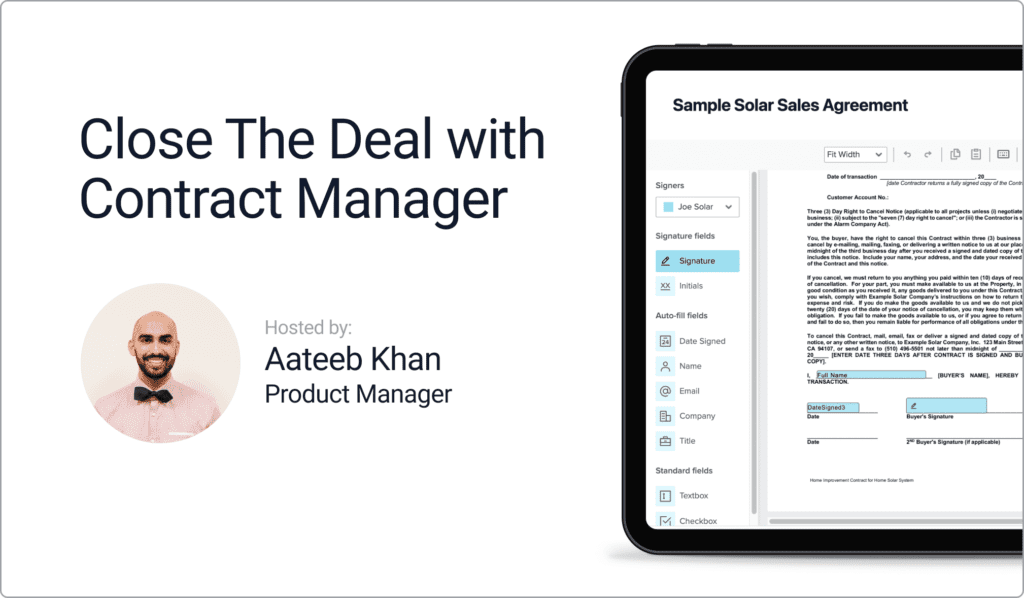 Speed Up Permits and Incentives
Permitting is often the longest phase of the solar installation process, with approvals sometimes taking many months to come through. In addition, permitting can add a significant amount of direct and indirect costs.
Fortunately, these delays and costs are improving as more cities move their solar permitting applications online. You can further reduce delays by using resources like Orange Button, which is a crowdsourced database of local solar permitting requirements for every city in the country. Just type in your client's address, and Orange Button instantly provides you with:
The local authority having jurisdiction (AHJ)

Relevant building, fire, and electrical codes

The property's longitude and latitude
Using this free database won't necessarily make the approval process go faster. But correctly identifying the right AHJ and local codes can help you avoid unnecessary delays.
We also recommend closely following SolarAPP, a joint initiative among the Solar Energy Industries Association (SEIA), National Renewable Energy Laboratory (NREL), Interstate Renewable Energy Council (IREC), and Solar Foundation. Once launched, their Solar Automated Permit Processing will help standardize permitting nationwide using rules-based automation. SolarAPP will also make it possible for non-complex PV installations to instantly qualify for permit approvals. 
However, permitting is not the only administrative aspect that can slow down the installation process. Many state-level solar rebate programs, for example, require that applicants submit detailed shading analysis. If conducting these analyses with Aurora, your team can automatically export shading reports using the formatting and layouts required by the state agencies that oversee these incentives.
Automate PV System Design 
Delays in design turnaround can completely derail an appointment. Sales reps need the ability to generate a design in front of a customer quickly, and adapt it to best suit their property, and their needs.  
You can use tools like Sales Mode, with its customer-friendly features, to deploy an agile sales method. By tweaking the design on-the-spot, you can answer many customer questions and concerns, so they're less likely to look for that information elsewhere (re: your competitors). 
For example, when sales reps can make system changes in real time, it eliminates design bottlenecks, and empowers your team members to increase their closing rates without worrying about inaccurate proposals.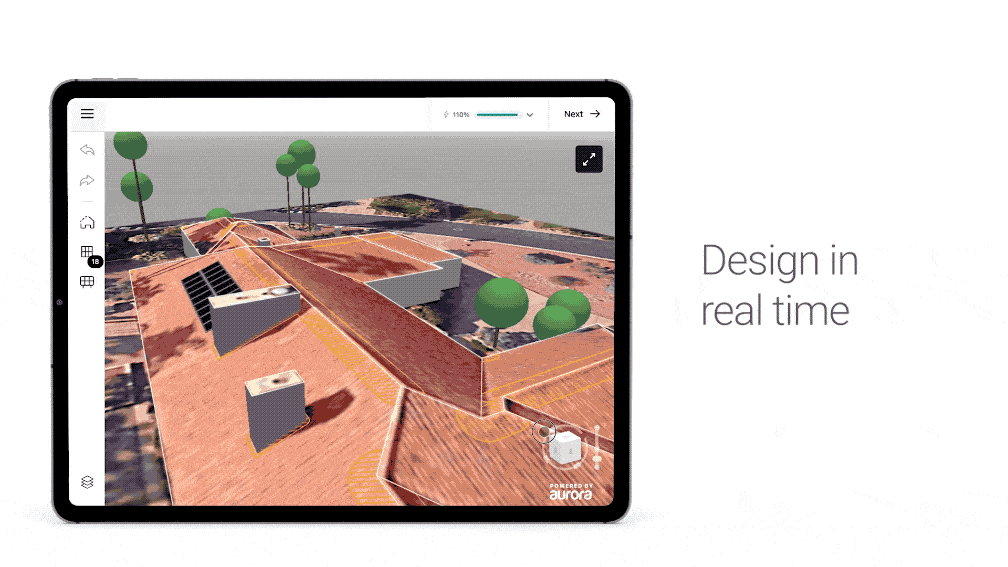 Add Supply Chain Redundancy
Despite all the technical complexities involved, the actual installation itself is often the most straightforward part of the job. As we've seen, using technology to make sure you have all the right measurements, components, and approvals already in place can help make the job go even smoother.
However, adding more supply chain redundancy to your operations can also give your company a leg up. Doing so reduces your exposure to potential solar component shortages resulting from supply chain disruptions. Aligning with more suppliers is a good idea for installers of all sizes. But building these relationships can really help your long-term growth potential.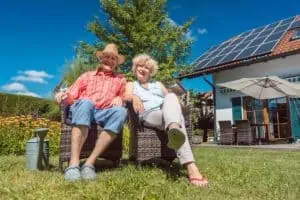 Build Customer Loyalty & Generate Referrals 
Happy customers are an extremely valuable part of any solar panel sales strategy. So, encouraging satisfied customers to recommend your services can help establish a good reputation and will often lead to new business.  
To promote loyalty, you can create an incentive program for current customers to refer your solar company to their neighbors, friends, and family. If a customer is satisfied with their panels, the people that they refer are more likely to trust your business to provide another great experience.
This means that when a project is complete, your job isn't done. You should continue to follow up with customers to ensure the system is working well, give them information relevant to their install… and to ask if they're interested in referring new business.  
Consider Complementary Products or Services
Finally, adding complementary products or services is an excellent way to finalize new solar sales and create more value for your customers. Whether it be roofing services, extended warranties, or ongoing solar panel cleanings, new customers are more likely to choose a company that can meet all their needs.  
Today, more and more companies offer solar storage to help customers have peace of mind. With smart recommendations provided instantly, Aurora's solar configuration page can help automatically analyze load offset, calculate system price, and make battery sizing recommendations. 
Ready to Scale Your Solar Company? 
The PV installation industry is already competitive. And with nearly 1 million new solar jobs projected over the next decade, the space will only become more crowded. But as the world rapidly switches to sustainable energy sources, there will also be unprecedented demand for the very services your solar installation business offers.
To discover how Aurora Solar can help your business scale and satisfy this growing demand, request a free demo of our AI-powered solar design platform today.

Featured image by FutUndBeidl.