If you work in the solar industry, chances are you've heard of NABCEP—the North American Board of Certified Energy Practitioners. NABCEP is a nonprofit professional certification board and credentialing organization that offers some of the most widely recognized and respected certifications for solar professionals. It seeks to promote consumer confidence and quality assurance by guaranteeing that certified practitioners have met minimum levels of education and experience, passed a rigorous competency exam, and abide by a code of ethics.
Earlier this year, Aurora's Co-founder and COO, Samuel Adeyemo, had the pleasure of talking with NABCEP Executive Director Shawn O'Brien and members of his team at the 2018 NABCEP Continuing Education Conference in Niagara Falls, New York. The interview explored the role of NABCEP, how their programs are changing, recent solar industry developments, and more. We're excited to share that conversation with you today.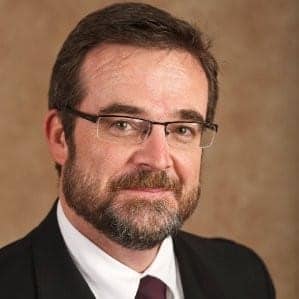 NABCEP Executive Director Shawn O'Brien
[Note: This interview has been edited for brevity and clarity.]
How do you envision NABCEP certification impacting the evolution of the solar industry?
Shawn O'Brien, NABCEP Executive Director: I see NABCEP helping to ensure that the quality of solar installations and the maintenance of systems continues to improve. That includes helping to ensure people have quality experiences with the solar industry from point A to point Z, from a homeowner's first interaction with a salesperson to the completion of their installation.
I also see NABCEP helping to improve safety in the solar industry by making sure that those doing the work—installing, maintaining, etc.—have some type of credential that confirms they know what they're doing and can do it in a safe and effective way.
We would also like to make our certifications available internationally. We want our programs to be able to help communities beyond North America. This is something we started back in November and December of 2017 with the expansion of our PV Associate program. We now have approved trainers in Saudi Arabia and India, and are working with folks in Dubai and Jordan for our company accreditation program.
Finally, a major vision for our work is to really enhance career development for professionals in the industry. I like that being a solar installer is not just a role anymore, it's an occupation, a career path for individuals working in the industry. We're very interested in helping them along that career path and advancing their journey.
For those unfamiliar with NABCEP's credential programs, can you talk a little about how your programs are designed?
Shawn O'Brien: Something to note about NABCEP's certifications is that NABCEP doesn't prescribe the requirements. We look to subject matter experts, members of the profession, to tell us what they're doing in their work and how important certain skill sets are for a given role.
To evaluate this, we use what we call a Job Task Analysis. It's a tried and true way of identifying the competencies needed to do a job. We send that out to the profession with a list of skills and say, "How important is it that someone who's going to be, for instance, a PV Technical Sales Professional, can do this skill and how critical is it that they do it right?" We analyze all of the data we get back, and based on that we design our certification programs to test for the skill sets that are needed.
What is some feedback you've received about how NABCEP certification benefits solar professionals?
Dan Pickel, NABCEP Program Manager: We require quite a bit of training. One of the main themes we hear in our conversations with solar professionals who pursue our certifications is that a lot of times they go into the process thinking that they already know everything they need to know based on their experience in the industry. However, in talking to them after they complete the training and certification exam, they report that they really come out knowing more, being more versatile in the field, and having a broader sense of PV installation work.
Even people who fail the exam often report that they've learned and grown a lot from the process. It's a tough exam; we want to make sure that if someone passes this exam they really have the necessary knowledge and can translate that knowledge into skills in the field.
What are some interesting recent developments NABCEP has observed in the solar industry; how are those developments impacting NABCEP's programs?
Dan Pickel: One of the things we've noticed is that there has been more specialization within the industry in recent years. Solar professionals tended to have a lot of diverse skills. There were more jack-of-all-trades roles at smaller mom-and-pop installation companies, where they did everything from A to Z—running the company, doing installations, maintenance, etc. But as the industry has grown, we've realized that specialization has become more common.
As a result, NABCEP has developed some new certifications. We now have PV Design Specialist, PV Installer Specialist, and Commissioning & Maintenance Specialist certifications. These three specialty certifications were developed with the input of subject matter experts using our Job Task Analysis approach. We believe these specialty certifications will offer a lot of value to solar professionals as a way to advance their careers, whether they are looking for a bump in their salary, to transition into a more senior role, or to open their own firm.
Shawn O'Brien: More broadly, two of the major industry trends we're seeing are increased focus on Operations and Maintenance (O&M) and energy storage. The O&M part we have addressed through our new Commissioning & Maintenance Specialist certification that Dan mentioned. Energy storage, and whether there is a need for a specialist certification in that area, is something NABCEP will be exploring this year and in early 2019.