Solar Power International (SPI), the largest North American solar trade show and conference, is just around the corner! It's a terrific opportunity to get a firsthand look at the latest in innovative technology, industry research, and key issues impacting solar contractors. You can also network with a whole host of industry experts, check out the competition, and pick up some great business insights. But you'll get a whole lot more out of the event if you go with a carefully thought out plan of action.
For those of you attending SPI (it isn't too late to sign up!), we've identified some choice learning opportunities and events to add to your agenda–as well as some things to keep in mind to get the most out of the event.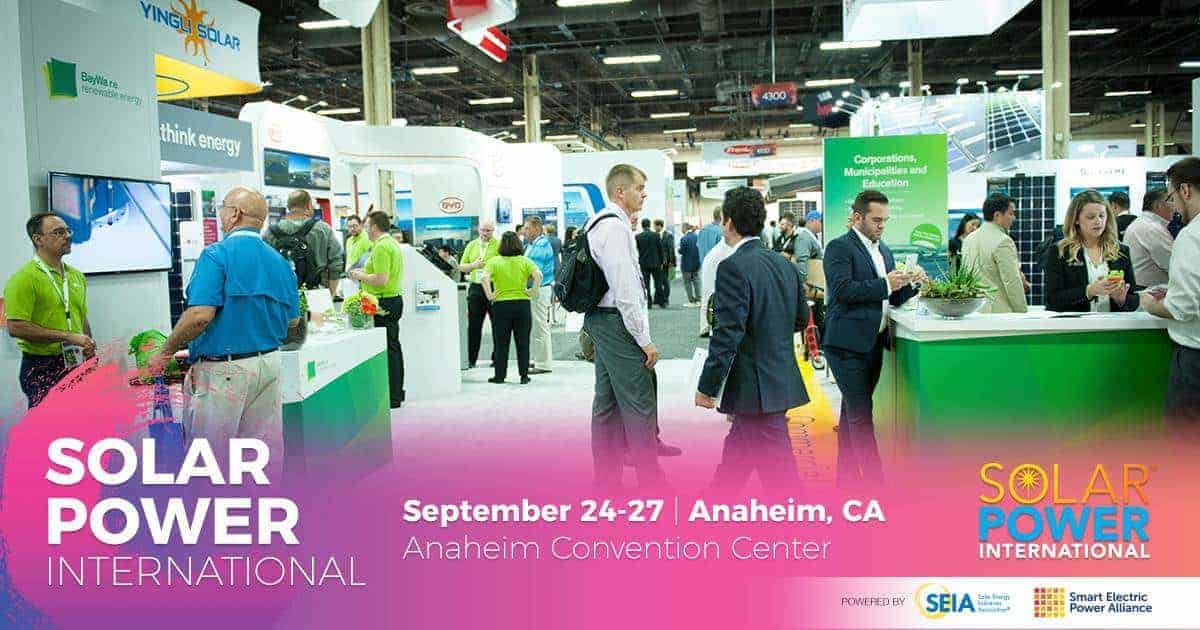 Conference Overview
SPI is running from September 24-27 at the Anaheim Convention Center in Anaheim, California. It will be attended by solar professionals from all segments of the industry–from contractors and developers, to financiers, manufacturers, software providers and more–across the residential, commercial, and utility-scale sectors. Last year saw 20,000 attendees and over 750 exhibitors. The event is put together by the Solar Energy Industries Association (SEIA) and the Smart Electric Power Alliance (SEPA).
Each of the four days is made up of a variation of the following: a general session, educational sessions in the meetings rooms and on the expo floor, networking opportunities, and various other events like poster presentations and educational walking sessions.
You can register as a Full Conference attendee and take advantage of all the educational content available. Or you can register for the Expo Floor only, where you can access education opportunities on the trade show floor or at the Expo Floor Education Theaters, as well as attend general sessions and poster exhibits. The Expo Floor pass is a great option for those focused on connecting with current and prospective business partners.
The SPI website is an excellent resource, featuring a summary of the week's events. It also gives you the ability to save favorite events and build your own custom schedule. Take advantage of the interactive floor plan to identify the locations of stages, meeting rooms, connected hotels, and exhibitor booths. You can click on a booth to learn more about an exhibitor and jump to their website.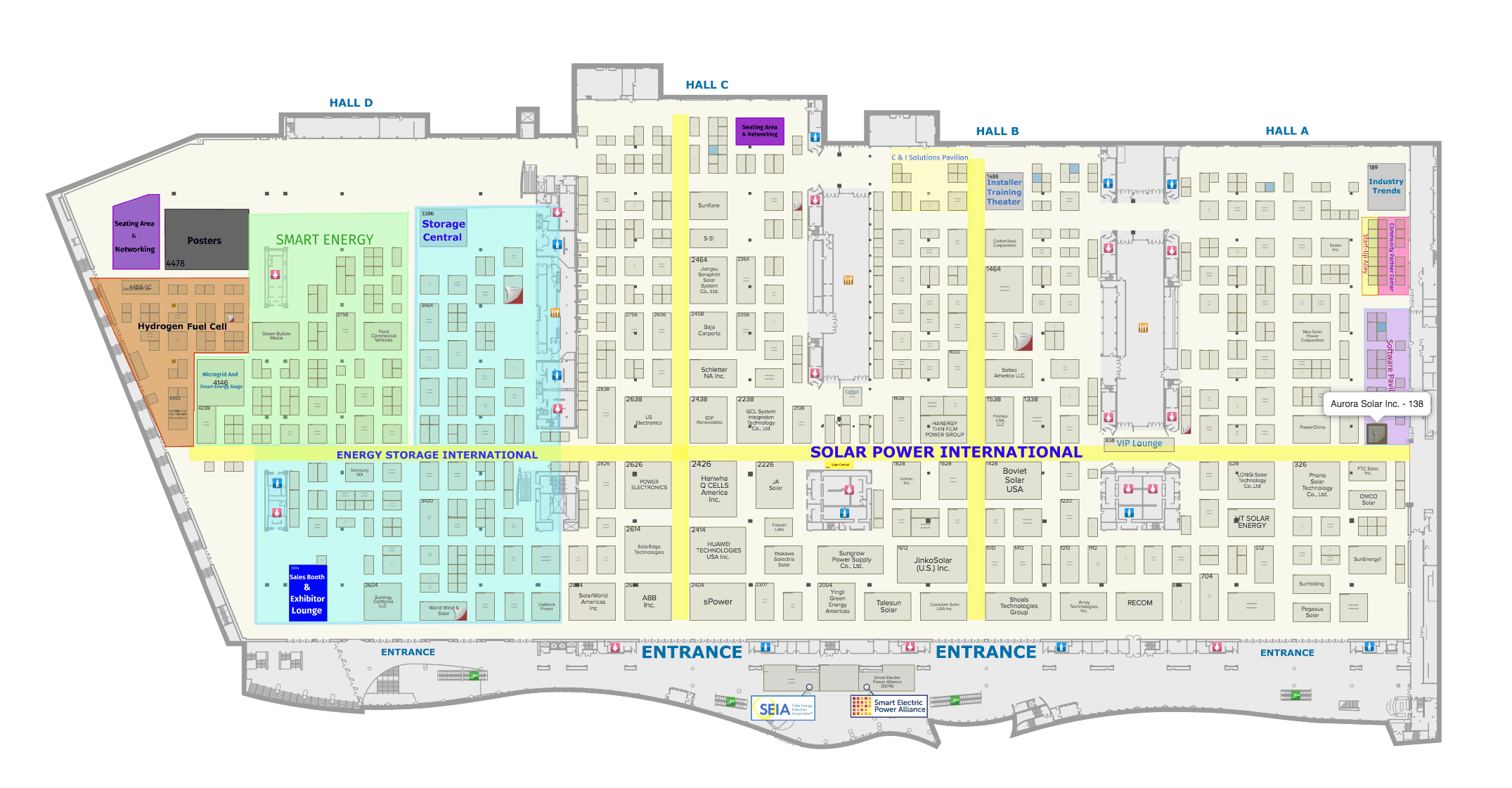 A map of the SPI Expo Floor. Click on the image to visit SPI's interactive floor plan.
Educational Highlights
There are over 100 education sessions at SPI, many of them on the show floor. Their themes range from distributed energy to grid modernization, finance, policy, asset management, storage, and microgrids. The general sessions, open to all attendees, tend to be highlights. They offer an high-level perspectives on key issues affecting the market from a number of distinguished speakers.
Tuesday's general session at 8 AM at the Marriott Platinum Ballroom, Turning Positive Solar Attitudes to Positive Results, features such heavy-hitters as SEIA President Abigail Ross Harper, Omar Johnson–Chief Marketing Officer at Beats By Dre and former Apple VP of Marketing, Matt Lewis of the Daily Beast, and former White House Communications Director Jen Psaki. They'll be discussing how to use data-supported messages to effectively advocate for solar's growth in the U.S. energy marketplace.
There is something for everyone among the many other educational sessions. Sessions on Tuesday that may be of particular interest (and open to all attendees) include talks addressing the fundamentals of customer acquisition, myths about solar demographics, and strategies for cutting the cost of residential solar. Wednesday includes open access sessions on solar O&M, the "internet of energy," and key metrics and strategies for running a healthy solar business.
SEIA and GTM Research will be presenting their latest U.S. Solar Market Insight Report (Q3 2018) on Thursday at 11:30 AM in Industry Trends, Booth 189–providing a robust look at latest market numbers and trends.
Building on the theme of industry trends, our own COO, Samuel Adeyemo, will be giving a presentation on The Role of Software in Transforming Solar Design with John Miller, Solar Technology Manager at Black & Veatch Corporation on Tuesday at 1pm on Level 2 in room 202AB. (We'll be showcasing some brand new tools to take your solar design and sales to the next level!)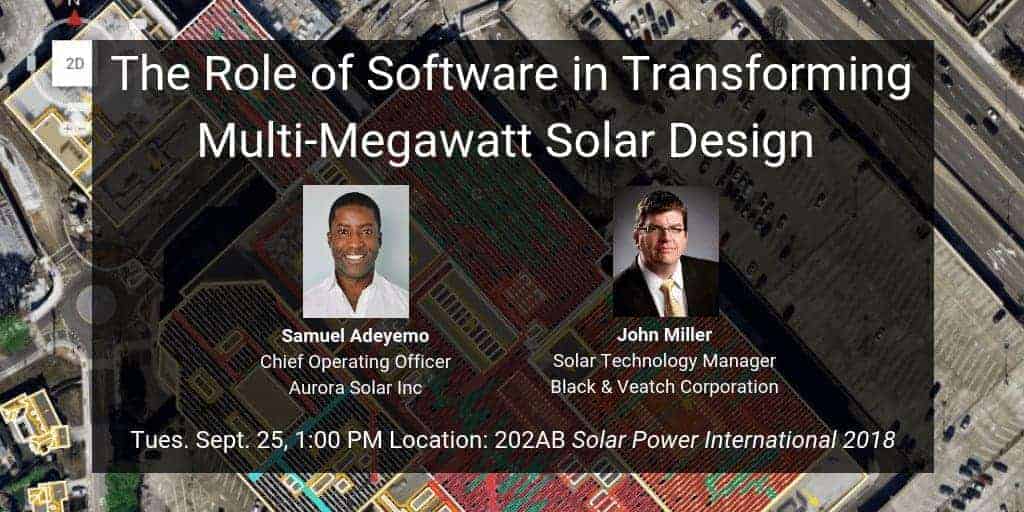 There are also over 80 educational posters on display all four days of the event in the education corridor, near the walkway to the Westgate Hotel. These great snapshots of current market innovations and issues. There will be presentations of many of them during a reception on Tuesday from 5 – 6 PM. (We'll be there discussing some of the Top Technologies Changing Solar Design.)
Networking Opportunities
There are over 23 hours of networking events sprinkled throughout the conference–so bring those business cards! These include coffee breaks, job fairs, happy hours (one hosted by SETS specifically for young professionals Wednesday 5 PM at Booth 3386) and even a block party and an Oktoberfest. For job seekers, solar nonprofit Grid Alternatives is hosting a solar job fair on Wednesday from 1 – 4 PM.
There are two events specifically for solar industry women: the Women in Solar Luncheon (largely sold out but you might get tickets on-site) on Wednesday at 12 PM at the Marriott Grand BR Salon E and the Women of Renewable Industries and Sustainable Energy happy hour on Wednesday at 4 PM.
Tips for Making SPI Count
With so many great opportunities to choose from, you may be wondering how you can be sure to make the most of your time in Anaheim. Here are some tips from the Aurora team and other industry professionals:
1. Plan.
As we've discussed above, there are a ton of things to see and do at SPI. Avoid getting overwhelmed or missing out on what's most important to your company by defining your goals and planning out meetings and events you'll attend each day.
Jeff Spies (Quick Mount PV Sr. Director of Policy, NABCEP Secretary, and Director of the solar documentary Solar Roots) suggests mapping out your plan of action in your event directory.
Saving your favorite events on the SPI website and building your schedule is another good approach, as is using the SPI app, as solar marketing expert Tor Valenza suggests.

(You can hear more SPI tips from Tor and others in an episode of Suncast, a podcast that interviews solar thought leaders.)
2. Connect.
One of the most valuable benefits of SPI is the chance to meet face-to-face and build relationships with other solar industry professionals, be they existing or potential partners, customers, or those you want to learn from.
Solar distributor BayWa r.e. recommends making appointments in advance (even the day before) to get some dedicated time with a company. John-Ross Cromer who runs the solar training site Community.Solar suggests that this is a great time to try out new tools to make sure you keep track of contact information and can effectively stay in touch with those you meet.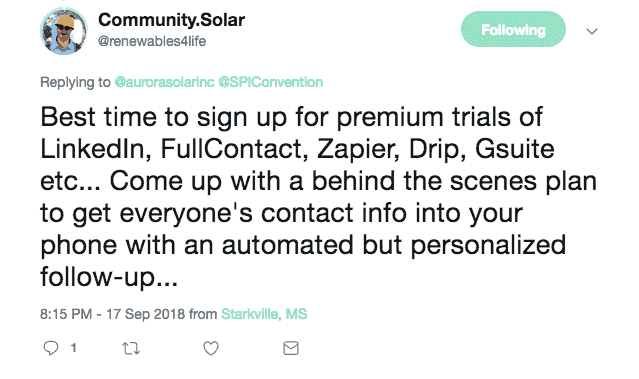 3. Recharge.
Long days of meetings, conference sessions, and walking the show floor can leave anyone exhausted. Make sure to take take care of yourself so you can bring your full energy to the experience. That includes hydrating, getting enough sleep, and taking periodic breaks.

4. Follow up.
Finally, don't let your new insights and connections go to waste by failing to act on them when you get home. In their SPI roundup, Baywa r.e. recommends scheduling a team meeting shortly after you get back. This way you can capture ideas while the memories are fresh and map out actionable next steps.
We wish you a successful SPI experience and hope to see you there!
---
P.S. We're unveiling some exciting new developments at SPI so make time to stop by the Aurora booth (138) Plus, we're offering a free high-resolution shade report to anyone who visits and shares their business card or scans their badge!