Last week we were thrilled to exhibit at Intersolar and get to meet many of our customers and supporters. We also enjoyed the opportunity to see many interesting developments in the industry. For those who weren't able to be at the expo, we wanted to share a few of the technologies and programs we found particularly noteworthy.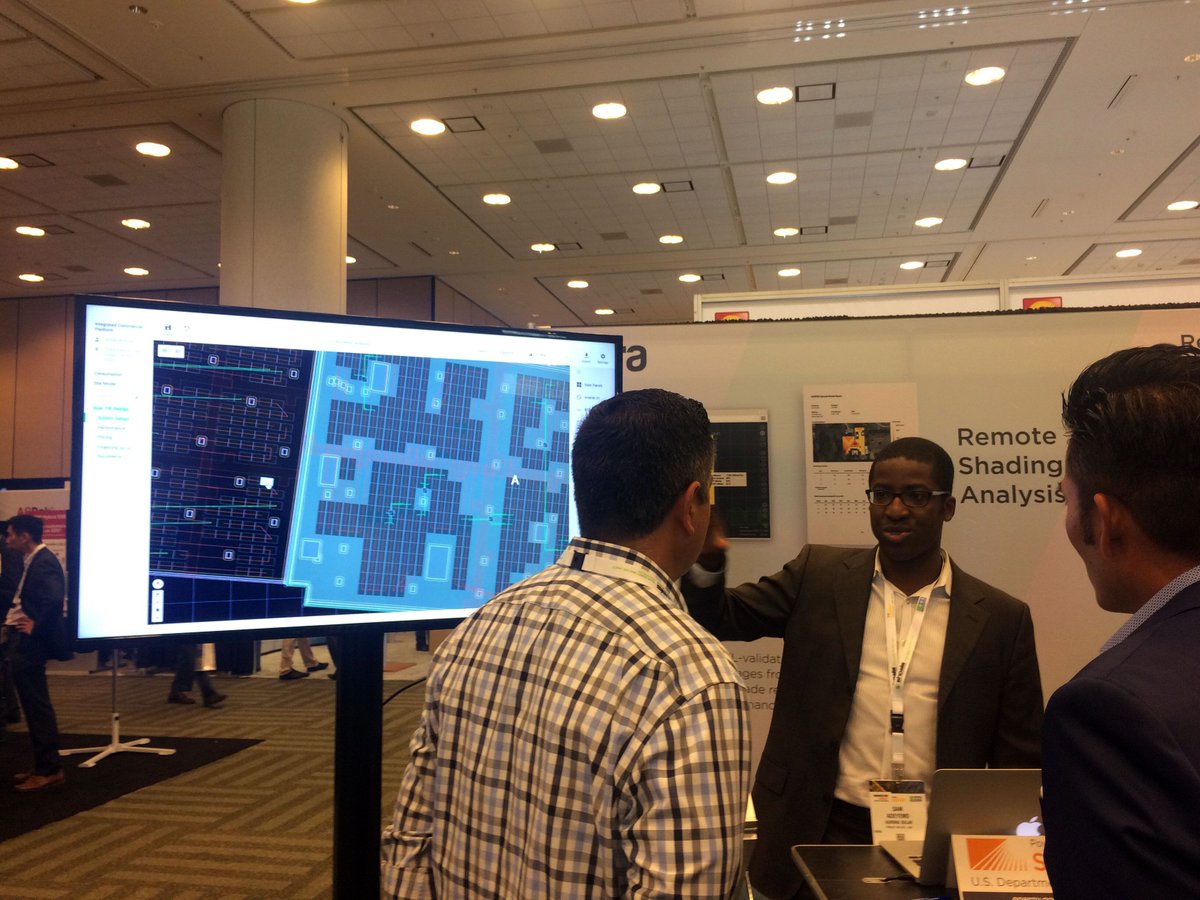 Aurora co-founder and COO Samuel Adeyemo discusses our software solutions with Intersolar attendees.
Sales Development Representative Cara LoPiano talks with booth visitors.
Bringing Solar to New Places
A number of the technologies and programs that stood out to us on the Intersolar expo floor were focused on opening up new frontiers for solar development.
Solar on Water
One of the many cool things that piqued our interest at Intersolar was Ciel et Terre's Hydrelio Floating Solar System which supports the installation of solar arrays on bodies of water—including quarry lakes, irrigation canals, and remediation and tailing ponds.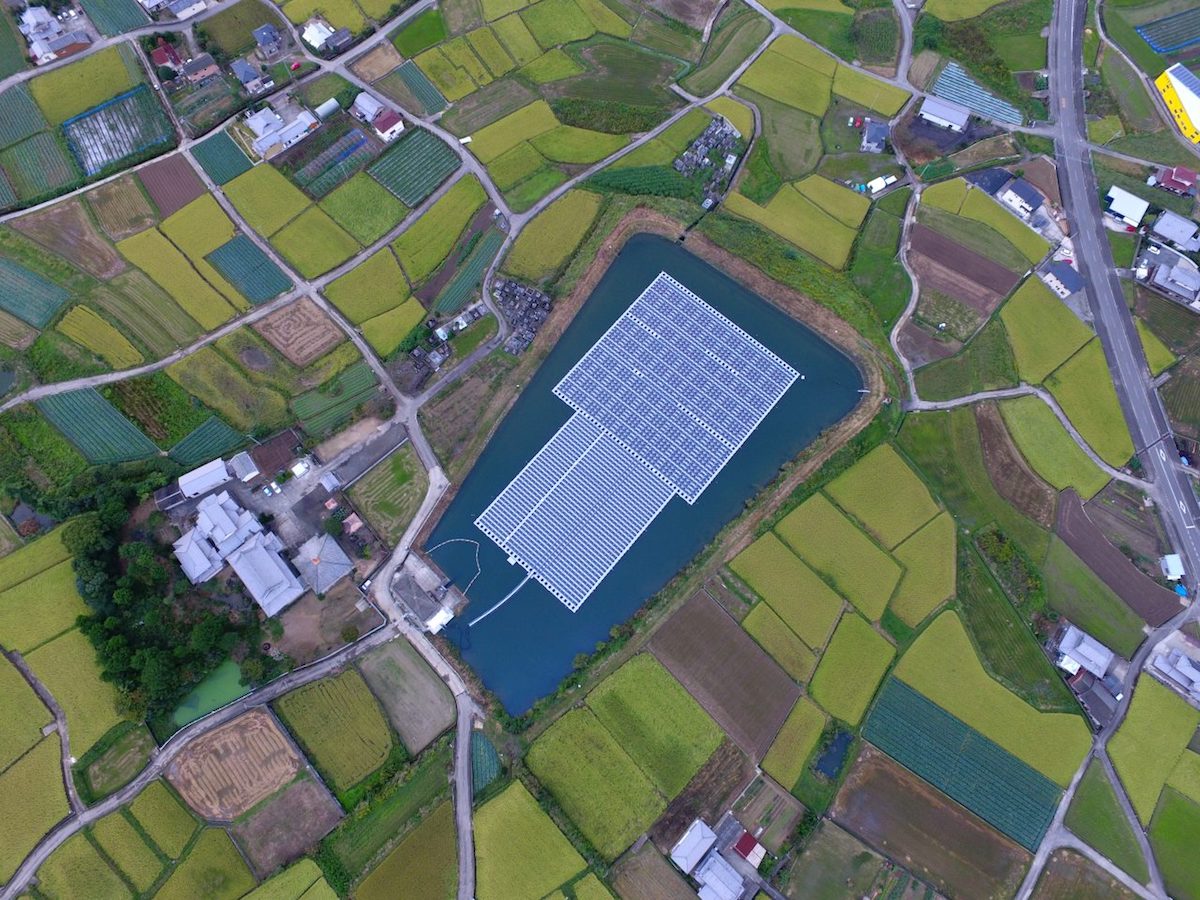 A solar installation on a body of water in Japan that utilizes Ciel et Terre's Hydrelio technology. Photo Credit: Ciel et Terre .
We love how this technology opens up the possibility of solar in non-traditional locations. The company notes that the technology is particularly well-suited "for energy and water-intensive industries who cannot afford to waste either land or water," such as "wineries, dairy farms, fish farms, mining companies, waste-water treatment plants, irrigation districts and water agencies."
The patented floating platform for solar panels can be anchored in place so that it rises and falls with water level variations but remains in the same location. After assembling the platform with solar panels, it is towed into its designated location and attached. The platform is also able to withstand up to 130 mph winds and is even compliant with drinking water standards, so it can be installed in places like reservoirs.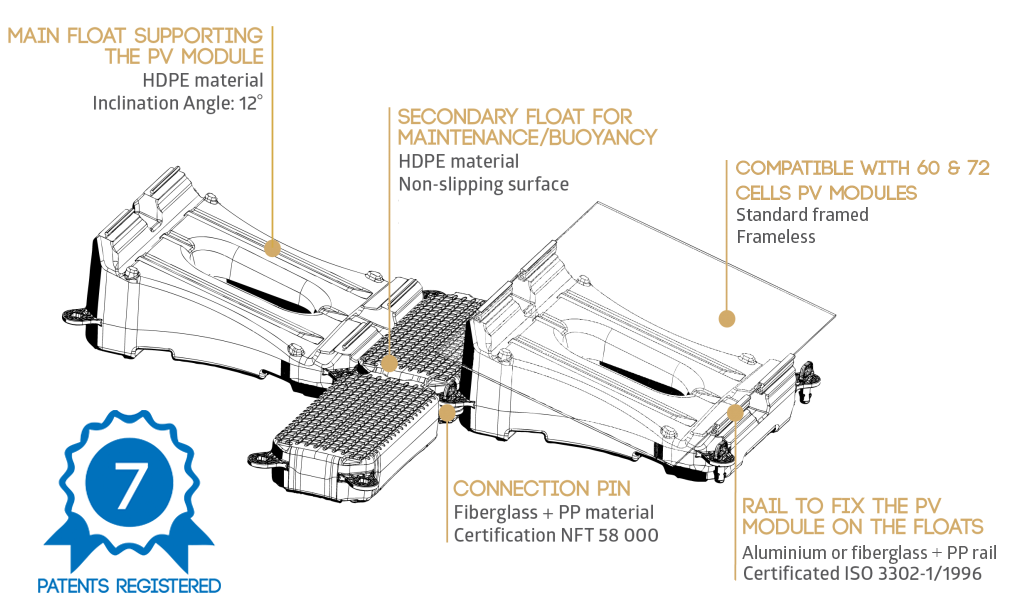 A diagram of Ciel et Terre's Hydrelio components. Photo Credit: Ciel et Terre .
Solar on Landfills
Another technology that we were excited to see expanding the siting options for solar was Gamechange Solar's landfill racking products . These racking solutions have been used at landfill and brownfield sites around the country. We're inspired by the prospect of using blighted, otherwise unusable landfill space to generate energy from the sun.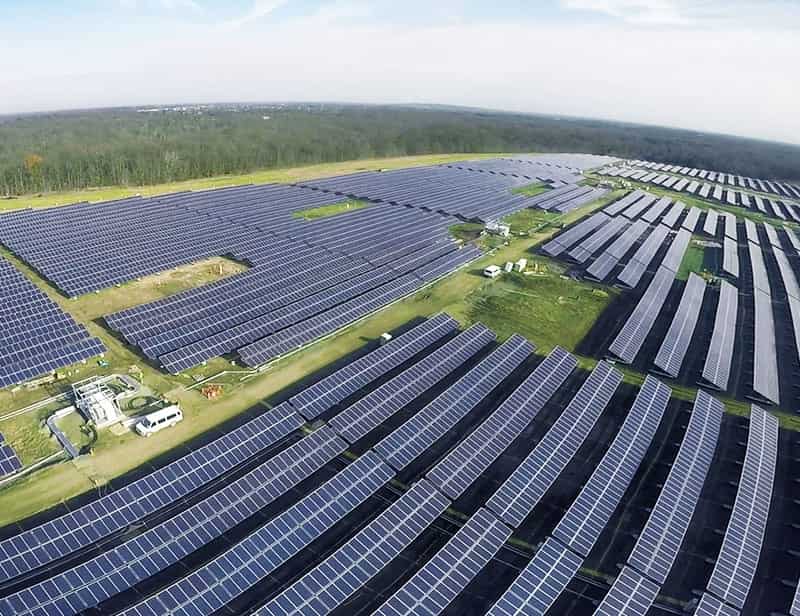 A 12.9 MW solar project constructed on a landfill in New Jersey with Gamechange Solar's Pour-in-Place System. It is the largest superfund landfill solar system in US. Photo credit: Gamechange Solar  .
These ballasted ground racking systems are designed to meet the unique challenges of installing solar on landfills and brownfields, where precautions need to be taken to ensure that the installation doesn't disturb the ground below.
Using landfills and other similar sites for solar development helps preserve habitats and open space and turns these traditionally undesirable locations into assets that benefit the community. For instance, a 12.9 MW solar project developed by GameChange Solar on a landfill in New Jersey now powers 40,000 nearby homes.
Solar in New Communities
Another compelling initiative we saw that's bringing solar to new places—this time through capacity-building and policy changes, rather than new technologies—is the SolSmart program . The program works with cities to identify policy factors that present challenges to solar growth.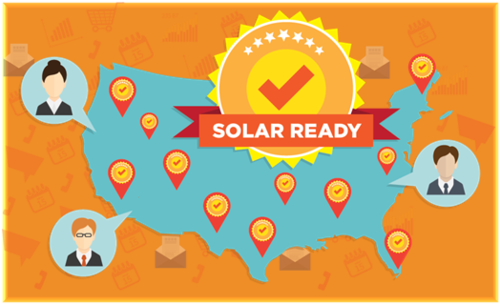 Photo credit: SolSmart .
SolSmart is a national designation program, funded by the U.S. Department of Energy SunShot Initiative, that recognizes communities that address local barriers to solar energy development. The program provides free technical assistance for local governments, led by the Solar Foundation , on how they can make their communities more solar-friendly. In particular the program focuses on reducing soft costs for solar by making sure local government procedures (such as permitting, planning, and zoning) don't introduce unnecessary barriers to solar development due to complexity and red tape.
Communities around the country that have obtained the SolSmart designation. Image credit: SolSmart .
Since its creation in 2016, more than 50 cities, counties, and towns across the US have achieved the designation. We're thrilled to see programs like this helping communities to advance the growth of solar energy!
Resources to Strengthen Your Solar Business
While you may not be planning on installing solar on landfills or water anytime soon, wherever and however you're looking to grow your solar business there are a number of great resources to support your goals. From finding the right employees to strengthening solar skills, here are a couple of programs that inspired us at Intersolar.
A Pipeline of Solar Talent
In any industry, finding talented individuals to join your team can be a challenge, and that's certainly true in the solar industry, which is growing 12 times as fast as the rest of the economy.1

Image credit: The Solar Foundation .
But the Solar Foundation's Solar Training Network makes it easier for solar companies and qualified job seekers to connect with its online solar career platform . The Solar Training Network aims to "meet the workforce needs of the solar industry through solar training and strategic employment partnerships."
Solar Training and Credentials
Another resource that caught our attention was the solar training offered by Solar Energy International (SEI) . The nonprofit education organization offers many different ways for solar professionals to strengthen their skills and deepen their knowledge.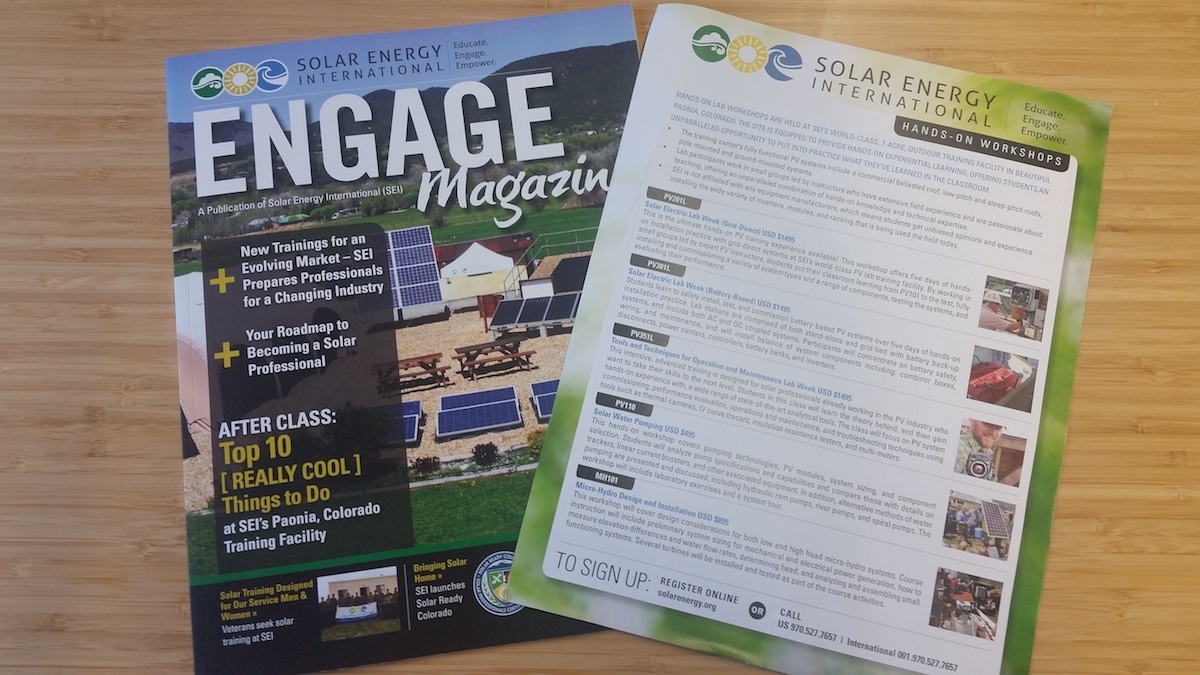 Resources and course selections from Solar Energy International.
SEI offers online courses as well as classroom and hands-on lab training on solar PV (as well as solar hot water and micro-hydro) topics, in addition to producing textbooks and e-books. SEI also provides certifications and licensing (including NABCEP certification) and certificate programs. Whether you're looking to expand your solar skillset, strengthen your resume, or transition into the industry, SEI has options worth exploring.
---
We love the opportunities that conferences like Intersolar provide to see what's happening in the solar sector and connect with customers, supporters, and solar enthusiasts.
These are just a few of the many interesting technologies and organizations we saw at Intersolar. Tweet us @aurorasolarinc to let us know what else intrigued you at #intersolar!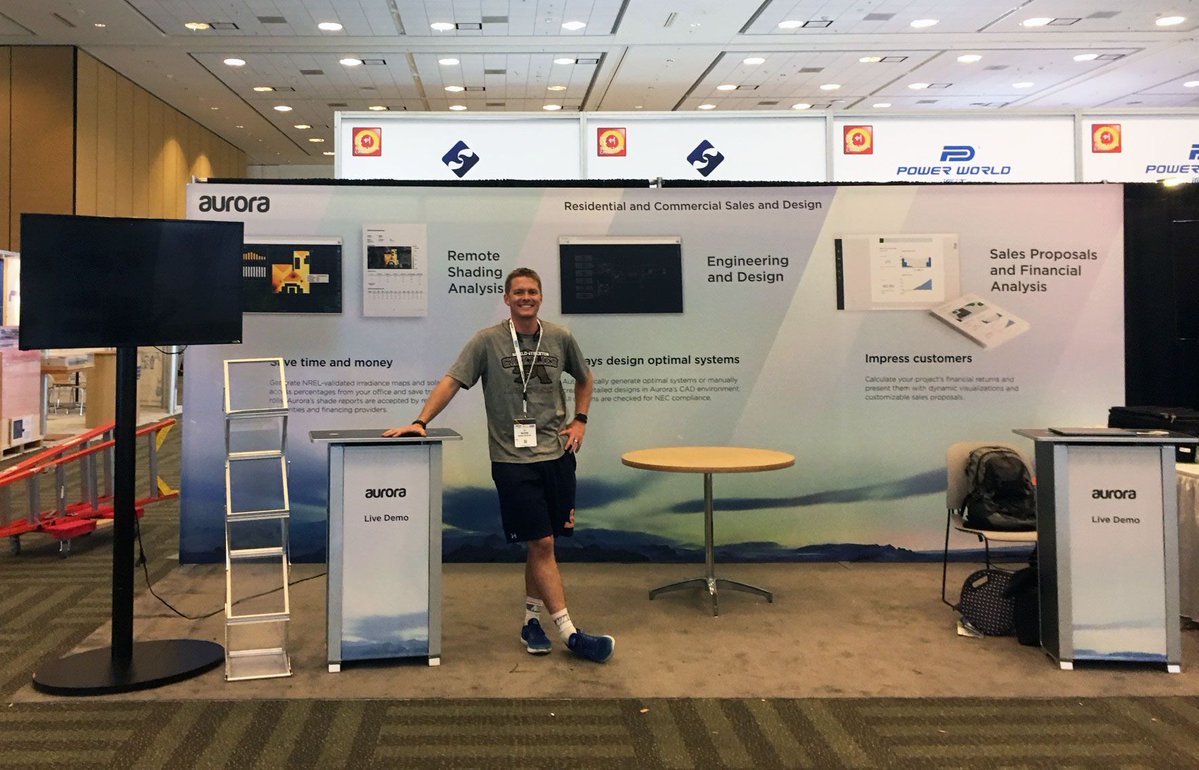 Sales Consultant JT McCook poses with our booth setup before the start of Intersolar.
Cover Photo Credit: Intersolar .