RE+ 2023 brings together tens of thousands of stakeholders from across the renewable energy industry to the Venetian Convention & Expo Center and Caesars Forum in Las Vegas, Nevada from September 11 to 14. Formerly known as SPI, ESI, and Smart Energy Week, this annual conference focuses on the latest trends, innovations, and opportunities in solar, storage, wind, electrical vehicles (EVs), and more.
The Aurora team will be there, of course. Come visit us at Sands Level 2 — Booth 2955 in the Solar section. We'll be focused on cutting-edge technologies and insights to help PV professionals stay ahead of the curve — and we even have a couple exciting product announcements up our sleeves, including a reimagined Sales Mode to deliver a faster, easier, and more customizable sales experience.
Want to learn more? Click here to meet with Aurora at RE+ 2023.
In this guide, we'll look at the key events, speakers, and exhibits that we're looking forward to at RE+ 2023.
Opening act: RE+ Tonight
One of the most anticipated events at RE+ 2023 is the all-new RE+ Tonight taking place on Monday, September 11th from 5:00 pm – 6:30 pm. This event features host Kal Penn interviewing high-profile guests, including:
Van Jones, CNN Host and President of Magic Labs Media
Sandhya Ganapathy, CEO, EDP Renewables North America
Annette Clayton, CEO, Schneider Electric North America
Following the celebrity interviews, welcome remarks will be delivered by:
Designed as an entertaining kickoff to the four-day conference, RE+ Tonight sets the stage for the show's key topics and previews what attendees can expect throughout the week. The talk show format brings star power and compelling discussion to the opening night of the largest clean energy event in North America.
Master Speaker Series
One of the highlights of RE+ is the can't-miss Master Speaker Series, featuring insights from leaders across the renewable energy landscape. Attendees will gain forward-looking perspectives on key industry topics:
On Tuesday at 8:30am, solar pioneer Jigar Shah of the Department of Energy joins Duke Energy's Lon Huber to explore how solar companies and utilities can collaborate on virtual power plants (VPPs). They'll discuss compensation models, system design, and the customer experience.
Later on Tuesday, Kate Darling of the MIT Media Lab delves into the future of human-machine interaction as AI technologies grow increasingly advanced. She'll examine how we integrate autonomous systems into our lives and how to shape their role in business and society.
The series also tackles pressing questions like humans versus AI in optimizing battery storage revenue. On Tuesday at 1pm, experts from Stem discuss leveraging human traders and AI tools to maximize wholesale market profits from storage assets.
With topics spanning new utility partnerships, AI adoption, and optimizing emerging technologies like storage, the Master Speaker Series provides crucial insights attendees won't want to miss.
Immersive exhibit halls (come find us)
The immersive RE+ exhibit hall is a must-see, spanning two venues and over 800 exhibitors. Attendees can experience hands-on product demos and innovations across solar, storage, EVs, hydrogen, wind, and more. This interactive floor map can help you optimize your time on the show floor.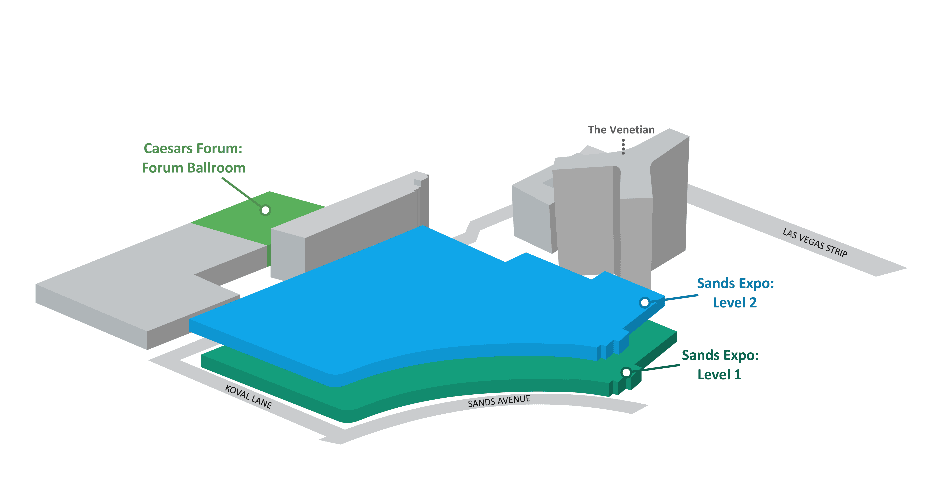 This year's record exhibitor participation required additional space at Caesars Forum to complement the sold-out Venetian Convention Center. Don't miss this exciting new exhibit area.
All the industry leaders will have a presence, including Aurora. We'll be at Booth 2955 in the Venetian Convention Center's Sands Expo Level 2 – Solar section. Stop by for demos of our leading solar sales and design software, as well as the best swag. Make sure to connect with our team to learn more about the reimagined Sales Mode.
With two venues packed with 800+ exhibitors, the RE+ exhibit hall promises an engaging, interactive opportunity to experience the latest products and connect with key vendors.
Networking in Sun City
Networking is a focal point of the RE+ experience. For first timers, a New Attendee Orientation on Monday prepares you to maximize your experience. Women in Renewable Energy returns this year (on Tuesday), giving attendees a chance to celebrate the industry's growing diversity. And the lively Block Party on Wednesday night brings festival energy.
Beyond these signature events, networking happens throughout, like the opening Welcome Reception, poster sessions, and expo hall happy hours. And attendees can connect every day at RE+ Daily Roundup recaps.
With dedicated networking events plus social opportunities interwoven into the entire schedule, RE+ is designed to foster both professional and personal relationships. And the backdrop of Las Vegas ensures the fun lasts well beyond the more formal sessions.
Make the most of RE+ 2023
Here are some tips we've learned about how to get the most out of this incredible event:
Plan ahead with the RE+ app: Before you even set foot in Las Vegas, make sure to download the RE+ app. It's a lifesaver for keeping track of sessions you don't want to miss and finding booths you want to visit (like ours)!
Networking is key: One of the best parts of RE+ is the chance to meet people who are just as passionate about renewable energy as you are. Don't be shy; introduce yourself and make new connections that could last a lifetime.
Stay informed: Keep an eye on updates and announcements. The RE+ app will send you notifications so you're always in the loop.
Hydrate, hydrate, hydrate: Las Vegas' desert climate combined with the excitement (and perhaps a cocktail) can quickly lead to dehydration. Always carry a reusable water bottle and take advantage of water stations throughout the venue. It's a simple step that can make a world of difference in your RE+ experience.
Follow up: Once the event is over, don't forget to follow up with the people you've met. A quick message can go a long way towards building meaningful connections and generating new business — so you make sure all the networking that happened in Vegas doesn't stay in Vegas…

We can't wait to meet you all in person. If you're at the event, come find us at Sands Level 2 — Booth 2955 in the Solar section. Hope to see you there.