RE+ — formerly SPI, ESI, and Smart Energy Week — is an annual highlight for anyone in the renewable energy industry. It's the place to go to get caught up on the newest technology, trends, and industry movements while scoping out competitors and networking with industry leaders.
The name change to RE+ is a natural evolution of Solar Power International (SPI) which over the years has grown and expanded to include complementary markets such as IoT, energy storage, wind, hydrogen, and fuel cells as well as microgrids, and electric vehicles.
After a couple long years where travel was limited, to say the least, the industry is ready for a great event. And, with a packed four-day program, more than 19,000 attendees, and 700+ exhibitors, there will be a lot to do when it comes to RE+ 2022. So, it pays to carefully plan every day to make sure you don't miss out. 
We'll have a large team there, as well. Here are some tips we've accumulated over the years for how to make the most of the conference, including some exciting education sessions, networking opportunities, and more.
(Psst, if you haven't signed up yet, there is still time!)
A quick overview
Arranged by the Smart Electric Power Alliance (SEPA) and the Solar Energy Industries Association (SEIA), RE+ is running from September 19-22, 2022 at the Anaheim Convention Center in (you guessed it) Anaheim, California.
Tens of thousands of attendees and exhibitors from all corners of the smart energy industry will come together to learn, collaborate, educate, and network. Everyone from installers, contractors, and developers, to manufacturers, software providers, and financiers across the residential, commercial, and utility sectors can get something valuable out of RE+.
Every day of the conference offers a combination of general sessions, educational sessions, networking events, happy hours, and even athletic events like golf and running.
There are several registration options depending on what you want to get out of the show. You can register as a Full Conference attendee, which gives you access to all general sessions, educational sessions, the expo hall, as well as networking events and parties. Another option is the Expo Hall pass which gives you access to the general sessions and educational sessions on the trade show floor. With an Expo Hall registration, you can add on the networking events separately.
Educational sessions we're checking out
The educational sessions cover a wide range of topics, ensuring something relevant and interesting for every attendee. The topics range from energy market opportunities, financing, cybersecurity, microgrids and much more, covering all technology sectors: electric vehicles, hydrogen, microgrids, solar, storage, and wind.
Tuesday's sessions (which are open for all attendees) include topics like emerging energy technologies, the incorporation of EVs into distributed energy resources, and best practices for inclusive solar outreach. 
Wednesday includes talks about the latest developments in US trade policy and how they impact clean energy, using storage to solve clean energy goals, and how to plan for and address cybersecurity challenges. 
Thursday's program includes sessions about solar intelligence and data-driven decision making, the future of multi-unit dwelling EV charging, and a discussion about the obstacles holding back the community solar industry.
As for specific sessions, 2022 has been a unique and eventful year in the US solar industry. SEIA and Wood Mackenzie will be presenting their latest US Solar Market Insight Report (Q3 2022) Tuesday at 10:30 AM in the Industry Trends Theater, booth #1694. Here, they will discuss new trends and insights into where the industry is headed.
In the same location, our own Paul Grana — GM, HelioScope and Commercial — will continue the discussion about industry trends with a presentation about how new AI products have developed from being hyped-up ideas on everybody's lips to valuable tools that are reshaping sales and marketing processes for solar developers. Find him Tuesday at 3 pm at the Industry Trends Theater, booth #1694. 
There are several opportunities throughout the four-day event to get to know other professionals in the industry and drum up new collaborators and clients. The networking events include something for everyone — from sports events to happy hours — and even two parties: the Annual Block Party and a Party on the Plaza.
Networking… in person!
The Women in Renewable Energy Reception offers a chance to network with professionals from all over the world and get insights from senior-level women in a still-male-dominated industry. The event takes place Tuesday from 4:20 PM to 6:00 PM at the Platinum Ballroom at the Marriott. Tickets are included with the Full Conference pass, but Expo Hall attendees can purchase tickets separately.
To get an overview of all the sessions, events, and exhibitors, visit the RE+ website. The site allows you to plan your visit and save events you don't want to miss out on. It also gives you access to an interactive floorplan, so you can learn your way around before even arriving.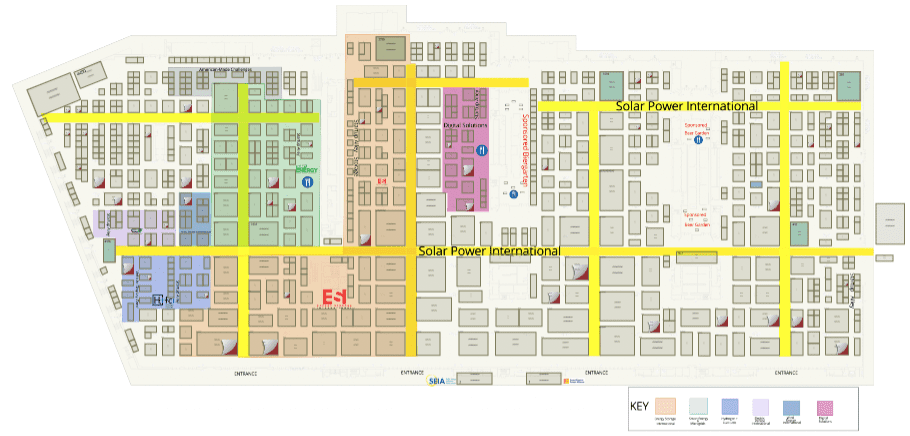 How to make the most of RE+
RE+ has a very packed program and numerous opportunities to learn, network, and scope out potential associates and competitors. Here are three things we've learned to help get the best experience at RE+:
1. Come prepared
So little time, so much to do! The best way to avoid getting overwhelmed is to make sure you plan out as much of your conference as possible in advance. Use the RE+ website to create a customized schedule for yourself. Determine what you want to get out of the conference and plan accordingly. Which booths do you want to visit? Which sessions are important to you? When is the best time for you to network?
2. Mix and mingle
It's not every day that you find yourself in the same place as the biggest names in the renewable energy industry. It is a great opportunity to build relationships with industry peers and potential partners, and it's also one of the best times to connect with people who can help elevate your career.
3. Follow up
Don't wait too long after the conference to follow up with contacts and leads. Striking while the iron is hot is the best way to ensure you don't miss out on any opportunities or connections you created in person. So, set up those meetings soon after getting back — or even while you're there — to get the ball rolling.
---
Stop by and see us at the Aurora booth (#2464) to chat about our latest news, get demos and hands-on experiences with our newest products, and (of course) leave with some cool SWAG.
We hope to see you there!
Featured image by Jeffrey Keenan.