The continuous growth of the solar industry has allowed many companies to profit from solar energy installations, while creating a tremendous amount of value for their customers.
But even with substantial market growth, unfortunately, many companies trying to survive in this extremely competitive market have been limited by inadequate business practices when trying to earn a slice of the solar pie.
To help make your solar company more profitable, let's take a look at how the industry works, some of the risks involved, and a few specific tips on how to minimize inefficiencies and generate more sales. 
Why do customers go solar?
Of course, to understand how to make money in the solar industry, it is important to understand why PV panels are in demand in the first place.  
No matter its size or location, the value proposition of a modern solar installation is typically based on three key factors: saving money, reducing greenhouse gas emissions, and/or increasing energy independence.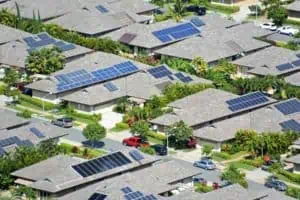 And while the net-zero carbon goals of governments, businesses, and private citizens have allowed the industry to expand in recent years, a large chunk of customers choose to go solar to save money.
In locations with net metering policies in place, for example, system owners who produce more power than is consumed on the property can even be compensated for that energy surplus that is fed back into the utility grid. 
Combined with the lowering costs of installation, under the right circumstances, most modern solar panels systems can "pay for themselves" in under 10 years.
There's also a group that sees solar as an alternative to traditional grid power consumption. Independent solar panel owners can invest in a system to reduce monthly utility expenses, stunt long-term energy costs, or generate off-grid electricity with battery storage. 
TL;DR, while there are some common motivators, every customer is different. To help installers get a sense of what certain customers are looking for — and how to sell to them — we conducted research that identified 5 common solar buyers. 
While each buyer is primed to go solar, the sales strategies they respond to are vastly different. To learn more, visit our 5 Solar Buyers page and watch to our webinar.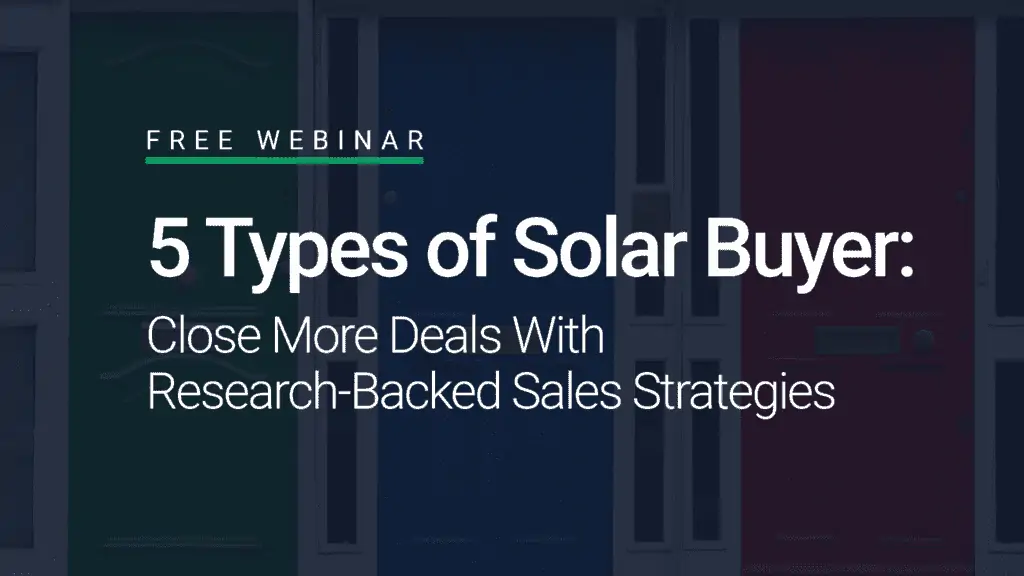 What are the risks associated with the solar industry?
Although the solar industry has seen significant growth over the past decade, this does not guarantee success. Even when companies are doing everything they can to cut costs and boost sales, outside influences can still cause local solar demand to drop. 
For example, if net metering policies are unfavorably adjusted or eliminated, that can have a real effect on the local market for rooftop solar. Likewise, home and business owners are less likely to go solar if utility rates somehow become more affordable. 
Of course, most studies indicate that the highly volatile price of fossil fuels will continue to increase utility rates nationwide. So, it's up to you to show that it's extremely likely that solar will pay for itself over time.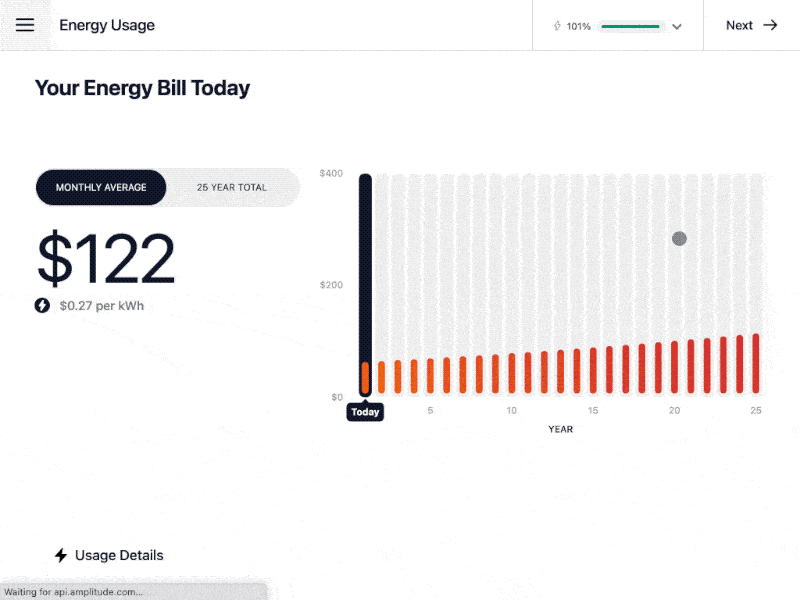 Then there are risks that you have more control over. Things like negative user reviews and unexpected costs are risks that can absolutely sink a solar business. In our next section we'll look at how to minimize some of these risks, and maximize your company's profits.
Tips to Make Your Solar Company More Profitable
Solar companies thrive in the same way as any other business: higher sales and lower operating costs. Here are 4 strategies to help your company succeed on both fronts. 
Build and Align Your Sales Team 
Without the right people, it's impossible to scale a business. There are obviously a number of important roles in every company, but for this piece we'll focus on your direct money generators: salespeople.
And while headhunting the best people is both costly and time-consuming, you can save significant time and resources on the hiring front by doing everything possible to keep your best employees once you hire them. 
You can do this in a couple ways. First is making onboarding and training as simple and painless as possible. Think about it, the longer a new salesperson spends ramping up, the longer it takes them to start making commissions. The longer that takes, the less happy they'll be. 
Second is making sure those salespeople have everything at their disposal to close deals — even after just one meeting.
Every additional homeowner meeting before a contract is signed means two things: more time goes by, and the homeowner is more likely to go with someone else. Either way, this can lead to fewer sales, and unhappy salespeople.
Tools like Sales Mode can help in both these areas. It's designed with salespeople in mind, allowing them to do everything from generating proposals, to working with customers on changes, to even e-signing in the room. (Watch the video below for more information.)
Eliminate Inefficiencies
More than anything, solar companies can reduce operating expenses by creating accurate site designs to eliminate follow-up visits, contract changes, and other costly project delays.    
In fact, change orders are one of the largest issues that impact developers' profit margins, and solar professionals report an average of $583 in additional project costs for new designs.  
As change orders impact approximately 10 to 30% of all solar projects, developers hoping to keep expenses low must do everything in their power to accurately project every part, cost, and consideration. 
With software like Aurora's, solar companies can generate fast and accurate roof models, including bankable shade reports, to cut wasted time and money. 

Market Yourself 
Finally, the most important step to landing more happy customers is knowing how to successfully market your solar company. 
Utilizing both online and offline marketing strategies, having your company name visible within your service area is one of the best ways to be considered for new local solar development. 
After identifying your brand's key selling points, it is then up to you to find the most effective ways to position your company's value in front of your target audience.
See what you can accomplish with Aurora, schedule a demo today.
Make Leads Come to You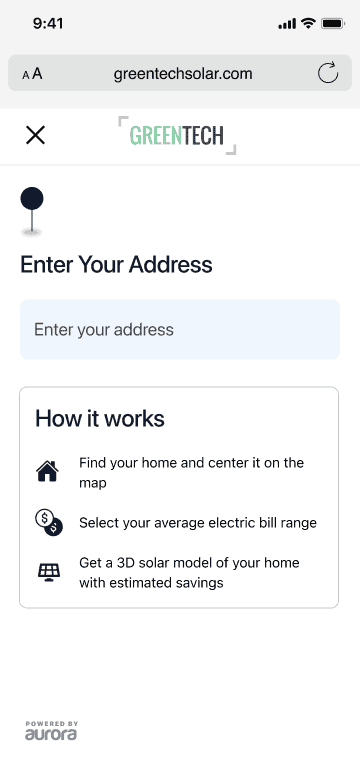 Solar companies are under constant pressure to develop quality leads. There are many strategies out there, from referrals to purchasing leads outright. And all these methods can be very successful if done right. 
One lead generation technique that every company should have in their quiver is the ability to generate leads from their own web traffic. So, homeowners who come to your website to do research should have an easy way to raise their hand and say, "I want solar." 
Tools like Lead Capture AI can really give companies a leg up in this area. Since it's embedded in your website, prospects don't have to click away or send an email. They simply enter their address and an estimate of their utility bill, and Lead Capture AI shows them if solar will work on their house. 
By having potential leads self-qualify, your salespeople never make a call or set an appointment until they're sure the homeowner's house qualifies, and they're interested.
In Closing
The solar industry is thriving. But to keep your company thriving, you need to make sure you're doing everything possible to bring in money, and reduce waste. This seems obvious, but it can be easier said than done. 
This blog is just a start. Here are some other resources to help you maximize your solar company's potential.
Featured image by Kostiantyn Li.