In honor of Independence Day, we thought it was the perfect time to explore a solar design for a revolutionary hero: George Washington. Using Aurora's remote solar design and analysis capabilities, we explored how solar can bring energy independence to Mount Vernon, the home of America's first president.
The grandiose manor in northern Virginia was Washington's pride and joy. He put a great deal of work into Mount Vernon , expanding the original, modest 1.5-story house his father built, and incorporating elements of British architectural style . He also spent decades developing the gardens—including an exceptional vegetable garden to meet the estate's needs, and even adding a greenhouse for exotic plants. Even when duty called him away for long periods of time, during the Revolutionary War and later his presidency, he wrote home often detailing his vision for renovations and landscaping.
Given the pride he took in developing a self-sufficient home, we imagine Washington would have been intrigued by the opportunity to power his house with only energy from the sun.
George Washington's home, Mount Vernon, overlooking the Potomac River.
Modeling the Home
The 11,028 square foot manor includes the main house where George and Martha Washington lived and hosted guests, as well as side buildings that held the kitchen and servants quarters. The home also sports an iconic front porch, known as the "piazza," one of Washington's personal contributions to Virginian architecture. This peaceful sitting area provides the perfect spot for taking in Mount Vernon's breathtaking views of the Potomac River. Remarking on the vista, Washington once wrote, "no estate in United America is more pleasantly situated than this."1
We used Aurora's remote design features to model the house based on satellite imagery. This allowed us to identify architectural issues that would impact solar panel placement and ensure that our proposed design was well suited to the site.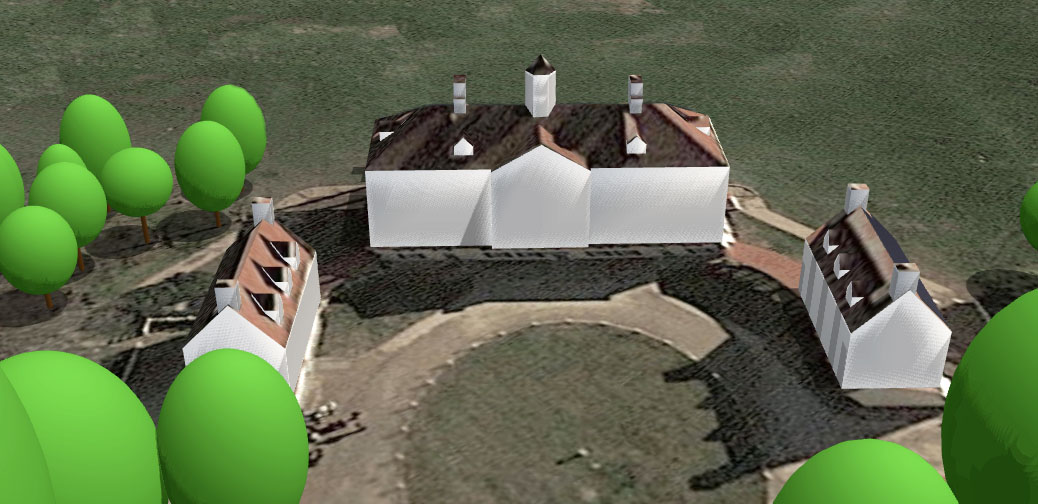 A 3-D model of Mount Vernon, created in Aurora.
Prospecting the Roof
To identify ideal areas for the placement of solar panels, we used Aurora's irradiance map feature to identify sunny areas (areas with high irradiance) where panels would be able to generate the greatest amount of energy.
As the irradiance map below illustrates, the "front" roof facing the Potomac River had high irradiance, as did the roof of the piazza. The kitchen also had an unobstructed roof with high irradiance. While otherwise excellent for solar, the front roof has several dormers that would obstruct the placement of solar panels and cast shade (see the purple areas along the edges in the irradiance map below).
An irradiance map of Mount Vernon's roofs, generated in Aurora based on the movement of the sun throughout the year and local weather data. Lighter areas indicate greater irradiance.
Developing a Load Profile
Next, we analyzed the estate's energy consumption patterns (load profile) in order to understand what size solar installation would be appropriate. This also allowed us to later model how the solar installation would impact bill savings.
While we didn't have actual electricity bills or interval data for Mount Vernon, we estimated its monthly energy consumption using data from the U.S. Energy Information Administration. At 11,028 square feet, Mount Vernon is ~5 times larger than the average Virginia house.2 We approximated Mount Vernon's monthly electricity consumption at ~5 times the average monthly consumption for a Virginia home.3 From the monthly energy consumption (kWh) data we entered, Aurora developed a representative load profile, with an estimated annual energy consumption of 71,768 kWh.
Estimated monthly electricity consumption (orange) and bill amounts (blue) for Mount Vernon, generated by Aurora's Consumption Profile tool.
The Design
From there, we turned our attention to the design of the installation. As we mentioned previously, the front roof and roof of the piazza were identified early on as promising locations for solar. We proposed installations on each of these roof faces, avoiding the dormers on the main roof.
However, we wanted our design to meet as close to 100% of the site's energy needs as possible, so we also looked beyond the main house to expand the size of the installation. We proposed a roof-mounted installation on the kitchen building, and a south-facing ground mount in an unshaded area of the property. We positioned this to the left of the main house (when facing out towards the Potomac) so as not to obstruct Washington's spectacular river view. This resulted in an approximately 60 kW (59.97 kW) system, containing 179 modules.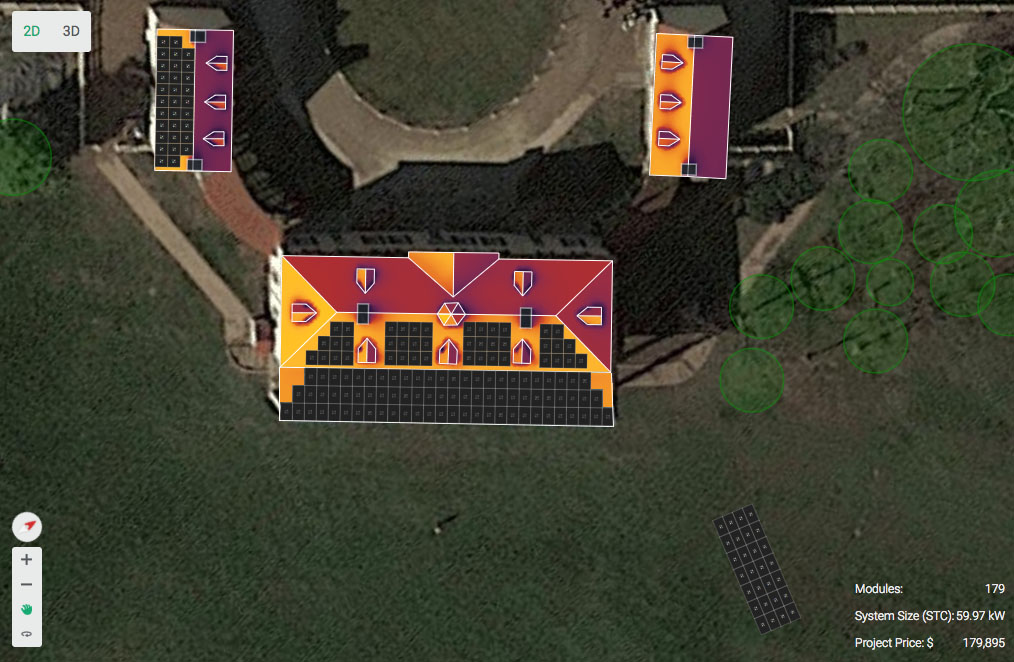 An overhead 2-D view of the proposed solar design for Mount Vernon, consisting of roof-mounted installations on the main building and kitchen and a ground mount.

A 3-D view of the proposed solar design for Mount Vernon.
Analyzing System Performance
We then used Aurora's performance simulation engine to get a detailed picture of how much energy this design would produce. Aurora estimates this design would have an annual production of 70,949 kWh, offsetting 99% of the estate's energy needs.
We intentionally designed the system to offset slightly under 100%, since production in excess of a home's annual consumption is compensated at a much lower rate.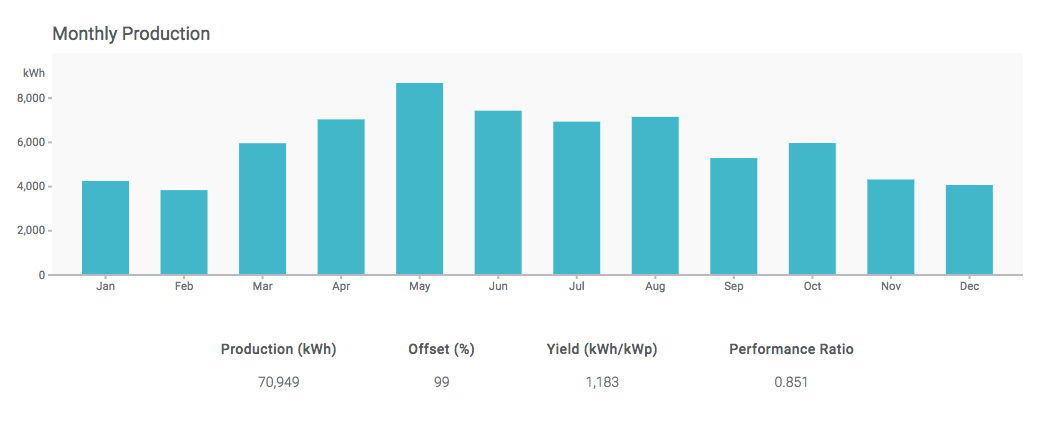 Estimated monthly electricity production of the proposed solar design for Mount Vernon, generated by Aurora's performance simulation engine.
Aurora's performance simulation engine assesses how different factors reduce the energy production of the system and generates a loss tree diagram.
Bill Savings and Environmental Impacts
Using Aurora's financial analysis features, we then examined how much this installation would save the estate on it's electric bills, as well as the environmental benefits it would provide.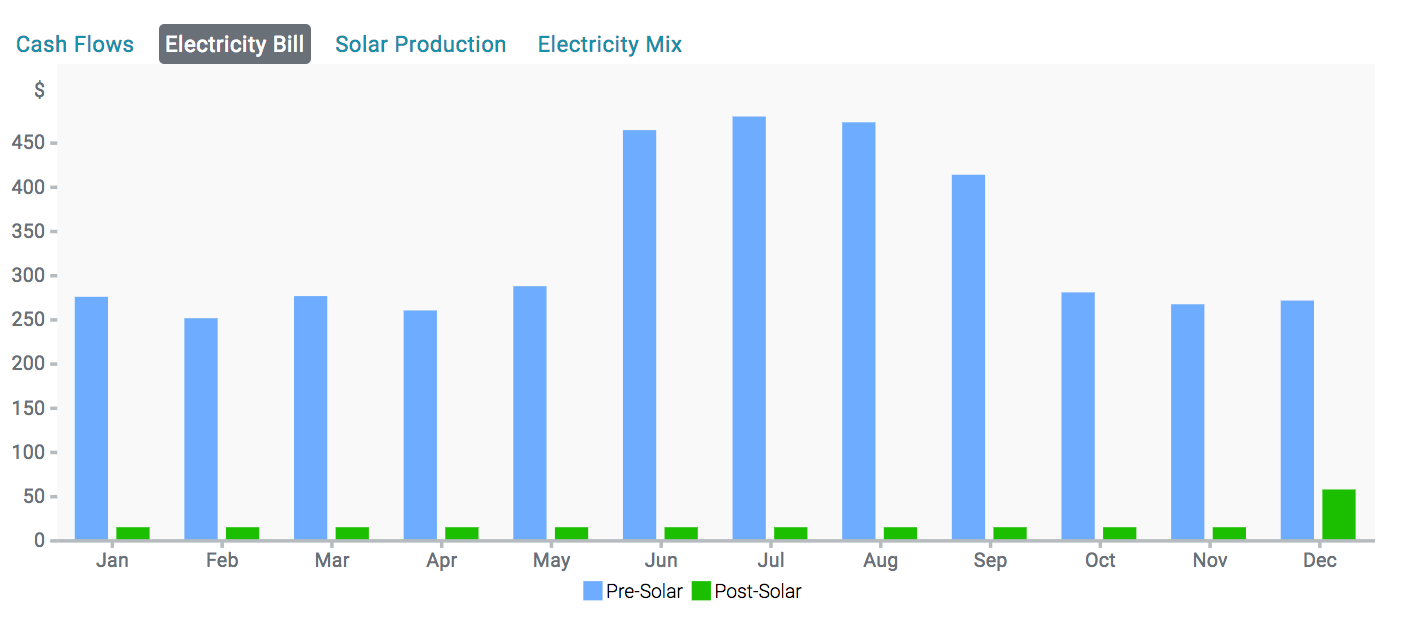 Mount Vernon's pre-solar (blue) and post-solar (green) electricity bills.
Without solar, based on our electricity consumption and utility rate assumptions4, Mount Vernon's electricity bills average $334 per month and total ~$4,000 per year. With solar, Mount Vernon will save $3,785 annually on its utility bills, paying only $15 for electricity in most months of the year. Over the lifetime of the installation, the system will save the estate $38,304.
Beyond its bill saving benefits, the installation would have significant environmental benefits. It will offset greenhouse gas emissions equivalent to not burning 1,330,168 pounds of coal or the growth of 32,305 tree seedlings over 10 years. (Given his passion for gardening, we think that's a statistic George Washington would have appreciated!)
Alternatively, in terms more applicable to the 4th of July, this installation would save as much CO2 as would be generated by 50,958 cylinders of propane used for home barbeques.
We'd say that merits some fireworks!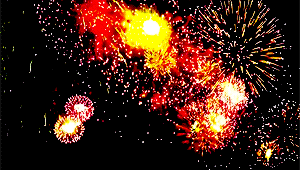 Acknowledgements: Special thanks to Aurora Customer Success Analyst Victor Ionin for his work modeling Mount Vernon and designing the proposed solar installation.