In honor of Independence Day, we thought it was the perfect time to update one of our favorite posts: a solar design for revolutionary hero George Washington's family. We originally designed a system in 2017 using the latest Aurora tech — but a lot has changed since then. So, using 2023 solar design and analysis capabilities, we explored how solar can bring energy independence to Mount Vernon, the home of America's first president.
The grandiose manor in northern Virginia was Washington's pride and joy. He put a great deal of work into Mount Vernon, expanding the original, modest 1.5-story house his father built, and incorporating elements of British architectural style. He also spent decades developing the gardens — including an exceptional vegetable garden to meet the estate's needs, and even adding a greenhouse for exotic plants. Even when duty called him away for long periods of time, during the Revolutionary War and later his presidency, he wrote home often detailing his vision for renovations and landscaping.
Given the pride they took in developing a self-sufficient home, and their clear love of nature, we imagine the Washingtons would have been intrigued by the opportunity to power their house with energy from the sun.
The home
The 11,028 square foot manor includes the main house where George and Martha Washington lived and hosted guests, as well as side buildings. The home also sports an iconic front porch, known as the "piazza," one of Washington's personal contributions to Virginian architecture. This peaceful sitting area provides the perfect spot for taking in Mount Vernon's breathtaking views of the Potomac River. Remarking on the vista, Washington once wrote, "No estate in United America is more pleasantly situated than this."
Here's the initial view of Mt. Vernon from above.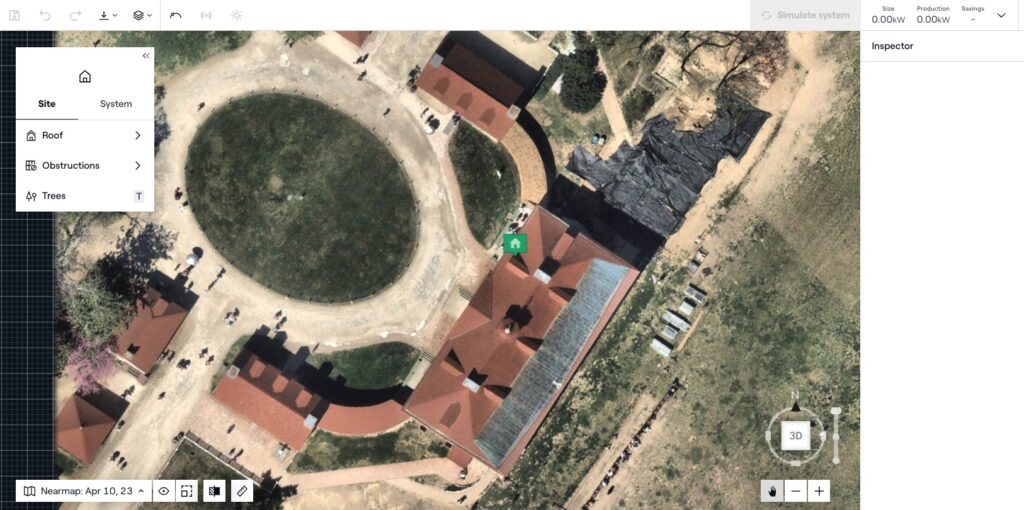 Starting the proposal
The first thing you need to get a feel for in a solar sale is the customers themselves. Knowing what we do about the Washington family, we figure they want a consultative approach, where they're partners in designing the system. So, we immediately think Sales Mode, and start our proposal.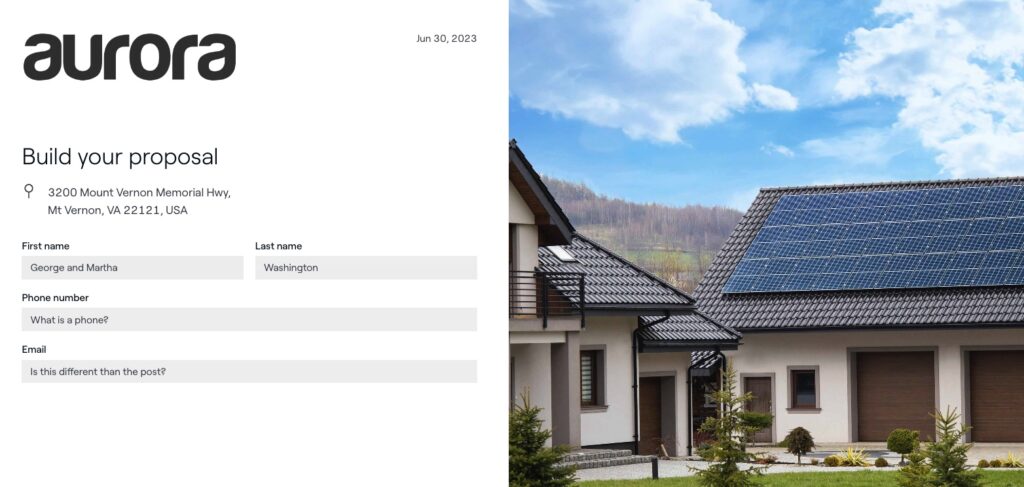 Developing a load profile
Next, we need to get an idea of the estate's energy consumption patterns so we can understand what size solar installation would be appropriate.
While we didn't have actual electricity bills or interval data for Mount Vernon, we estimated its monthly energy consumption using data from the U.S. Energy Information Administration. At 11,028 square feet, Mount Vernon is ~5 times larger than the average Virginia house.
Since we figure the Washingtons are more energy conscious than most, we estimated Mount Vernon's monthly electricity consumption at more like 3 times the average monthly consumption for a Virginia home, which is about 1,100 kWh according to EIA data. Since we didn't have access to any electric bills, we chose May as an "average" month and plugged 3,300 kWh into Sales Mode. Aurora's simulation estimated the other months from there.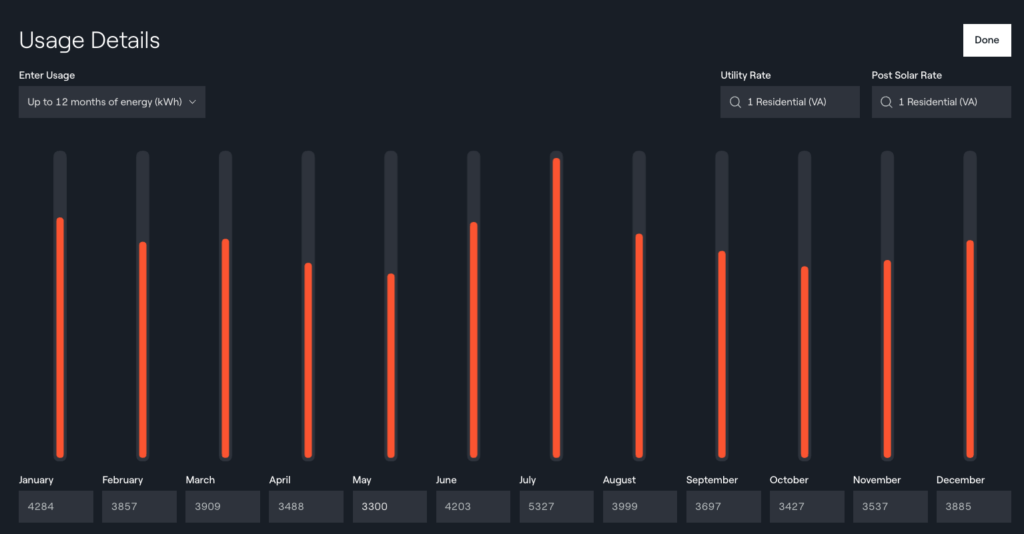 It used that data to generate an average monthly bill.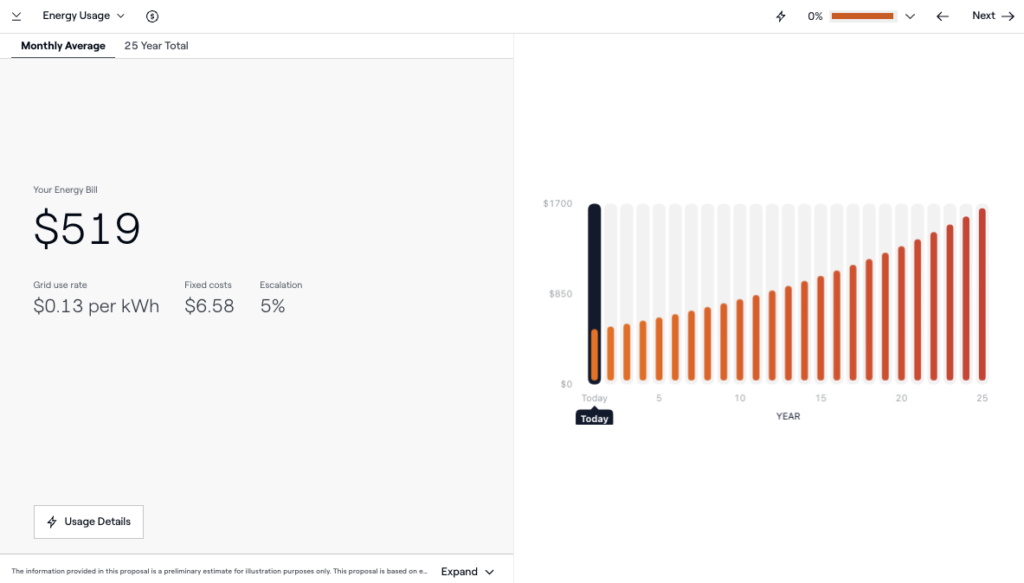 While a $520 monthly electric bill doesn't seem too bad for an estate of this size, a look at the 25-year picture is a little more grim.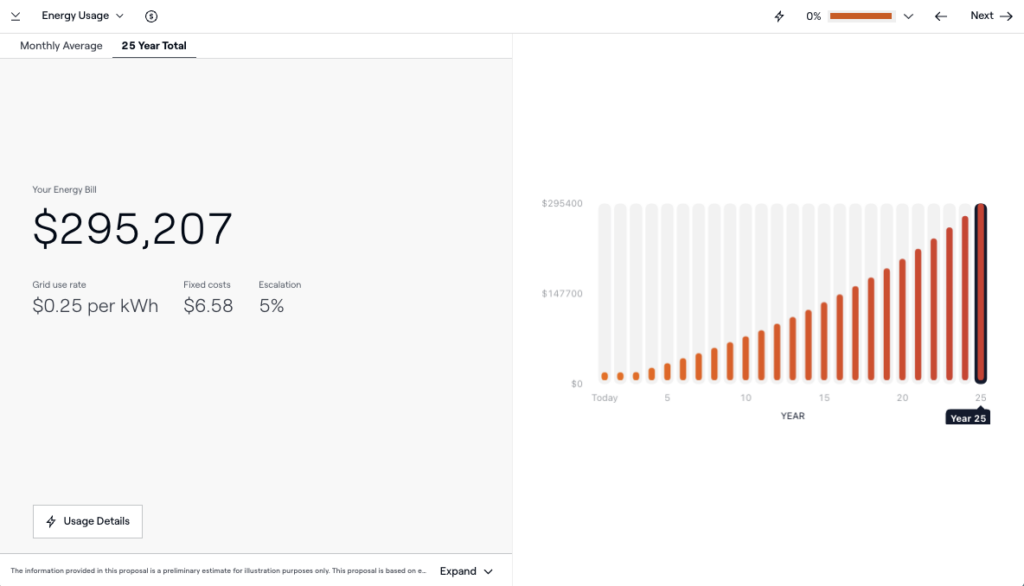 Modeling the home
Now that we have the Washingtons' usage, we can get to the fun part: modeling the system. We knew this was a pretty complex house, so we had a designer create the 3D model before our appointment, which we loaded into Sales Mode. That way we could jump right into working with the Washingtons to design the system.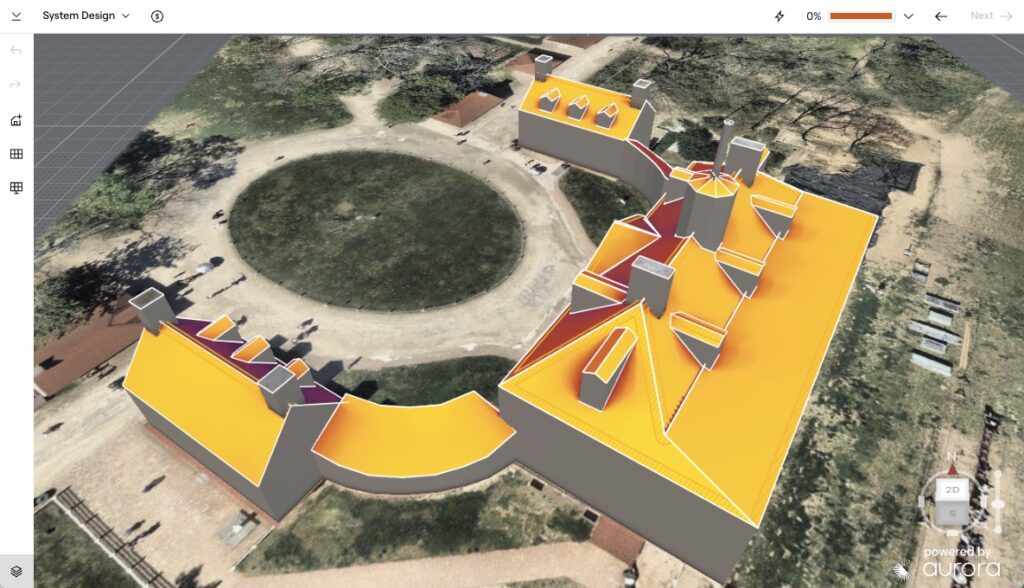 Wow, that is complex. But our expert even got the individual roof faces on the top spire. With irradiance added, we can also see that the front roof of the main house has good access to the southeast, and the auxiliary house has even better access to the southwest.
This level of detail will really help when we move to the next step: adding panels.
The design
The initial model has 90 panels total split between the main house and the auxiliary house, and the Washingtons are looking at 88% energy offset.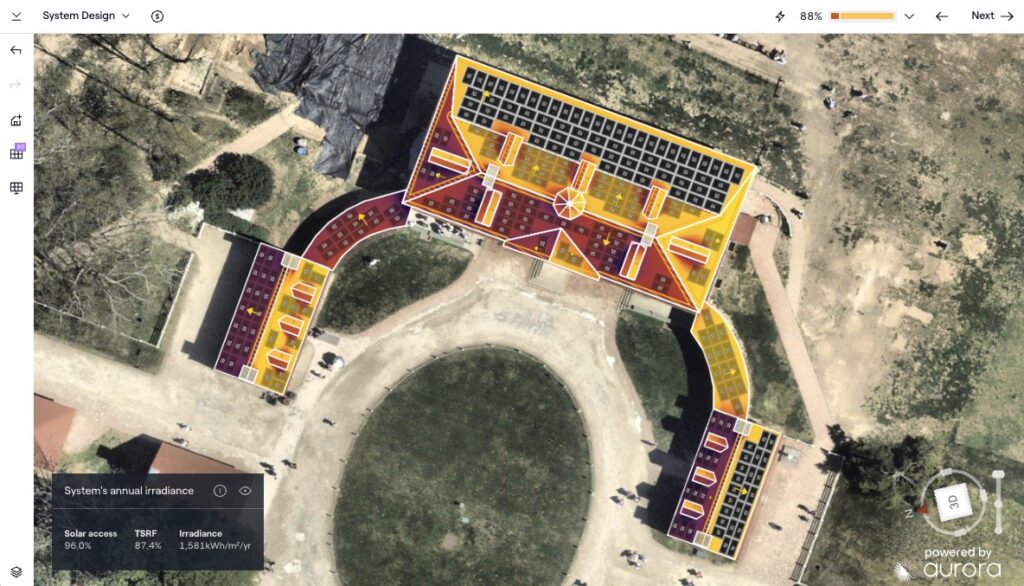 While they like the performance, they have some renovation plans for the aux house and don't want panels on that roof.
So, we work with the Washingtons to come up with a better design for their needs.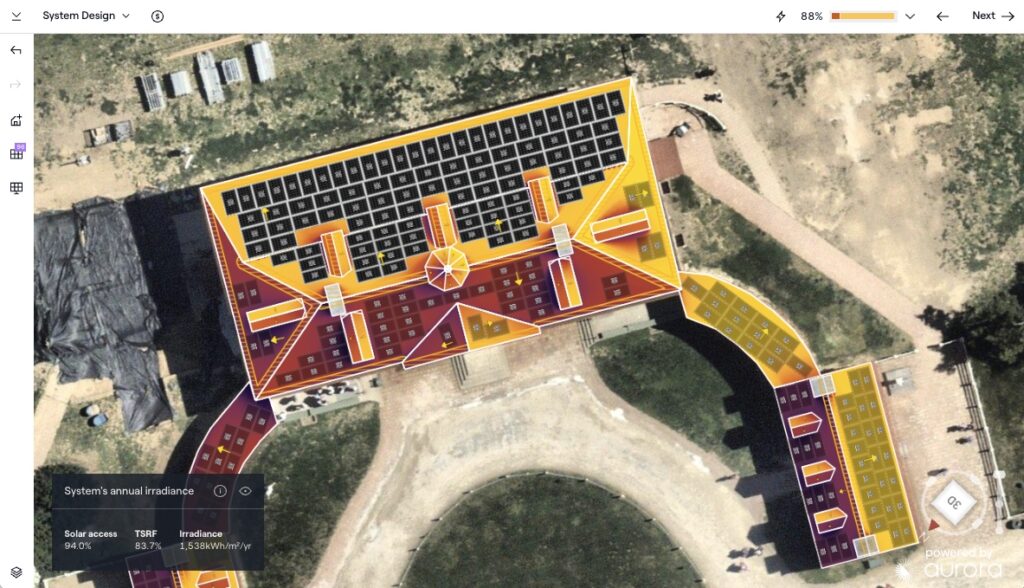 Not bad. Very clean looking, but we're up to 96 panels instead of the original 90. Since we've established ourselves as trusted partners, we explain that because of irradiance differences, we need more panels to get the same 88% offset. We help them understand the concept by showing them how the dormers shade the paneled areas just a bit.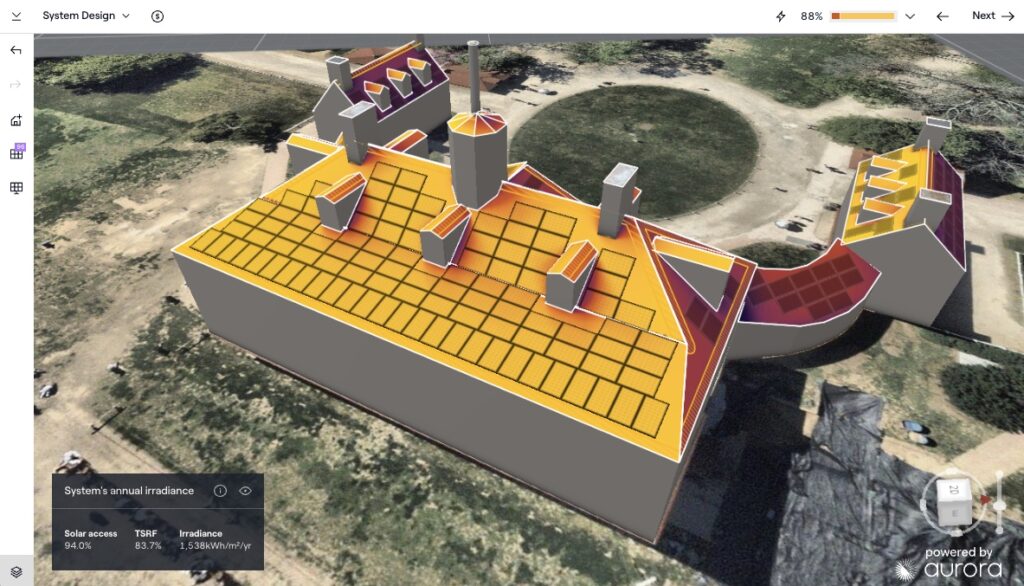 A good fit for storage?
Next we move on to storage. Living in the country and coming out of the Revolutionary War, the Washingtons appreciate the need for a little backup. They think they'd like a couple days of being able to use the essentials, just in case.
But… the Washingtons are also risk takers, and $31,00 is a little steep for their budget right now. They decide to go without storage, knowing they can add it on later and the storage will still qualify for the ITC.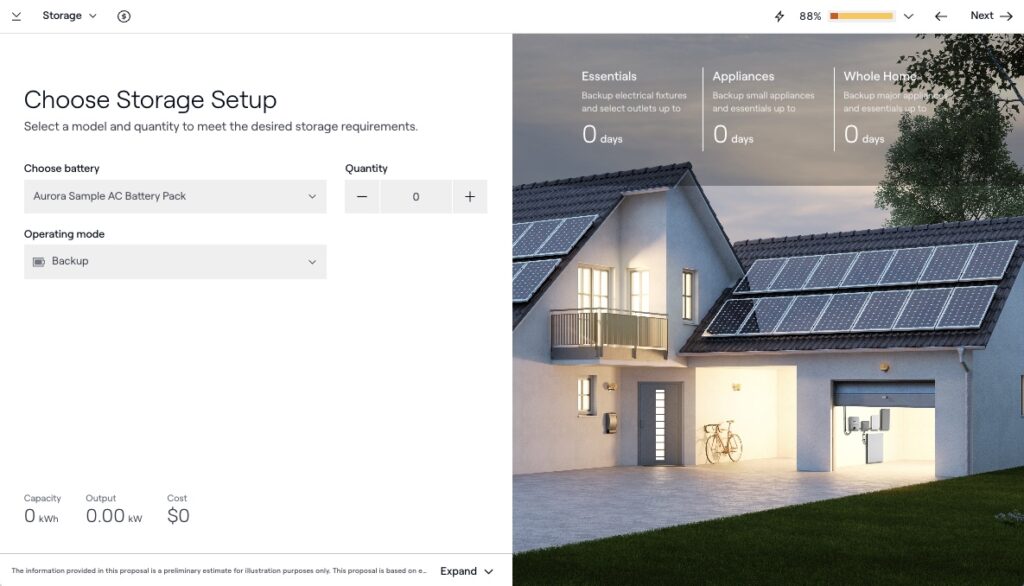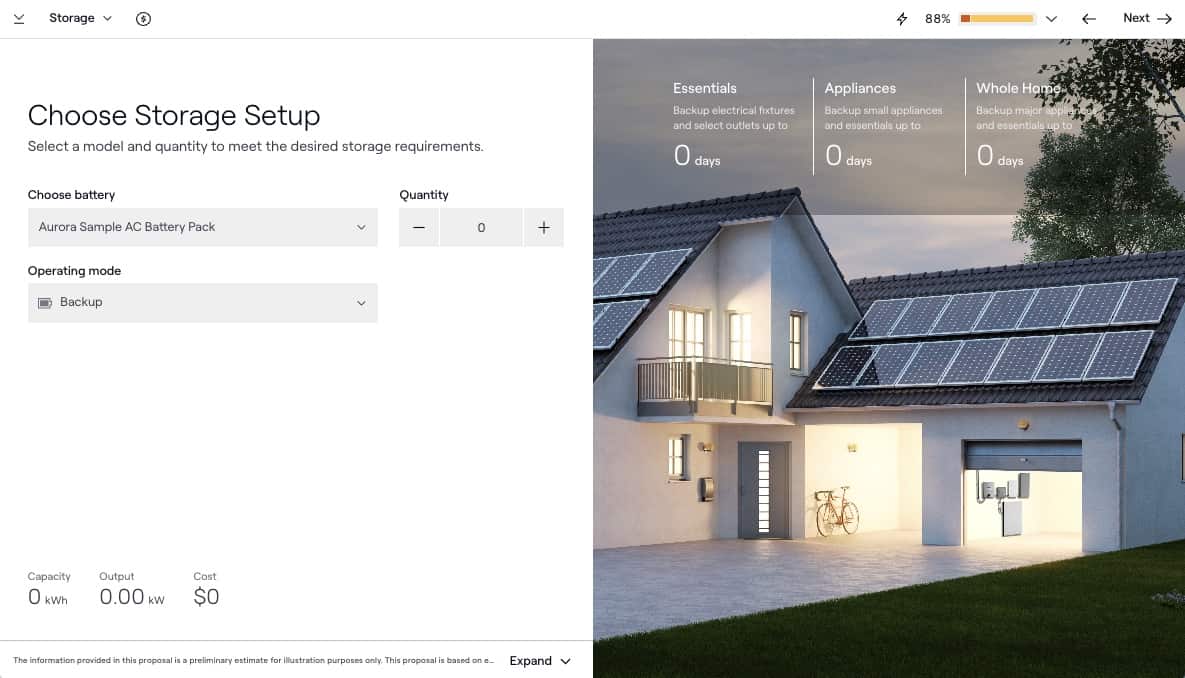 Environmental impact
The Washingtons obviously care about the health of these United States of America, so they're interested in the environmental benefits of their system, as well.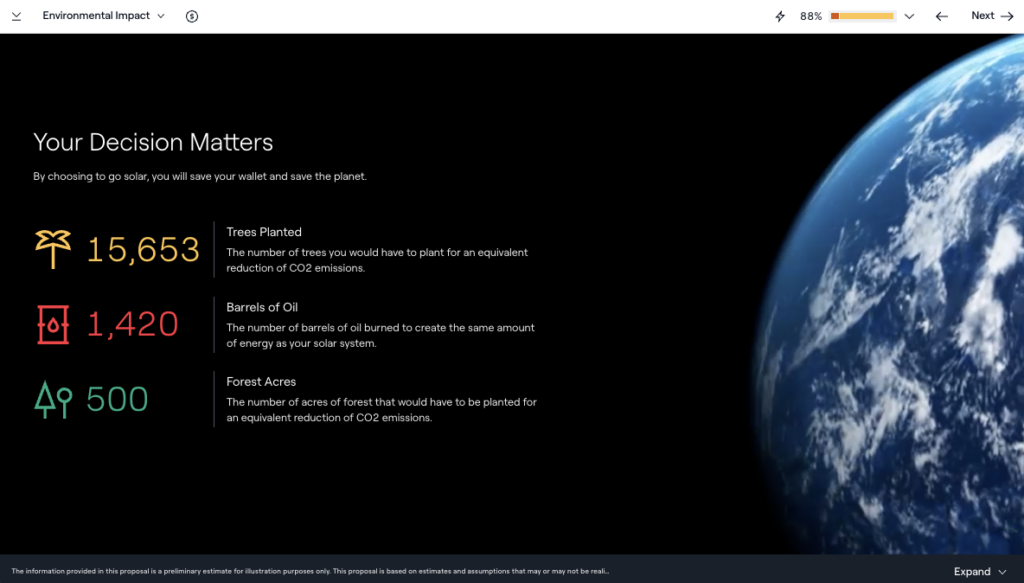 While they're a little confused about what barrels of oil are and what they could possibly be used for, the number of trees planted and forest acres really hit home. It doesn't exactly make the sale, but it's a nice added benefit.
The savings
Now we get to the page we've all been waiting for: savings. When it comes down to it, most homeowners still go solar to save money and the Washingtons are no different. They're looking at a low- or no-money-down loan and go with a 4.99%, 20-year option.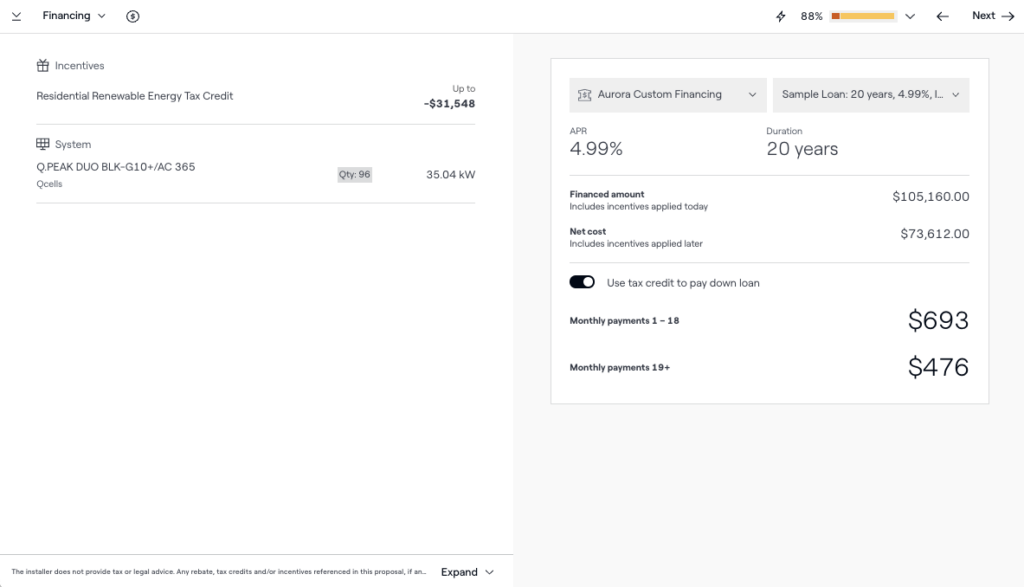 As we can see, the bill savings here isn't exactly obvious…. at first. With the monthly loan payment, a little bit of grid use, and minimal fixed costs, the Washingtons will be paying more per month with solar than without. At least for a little while.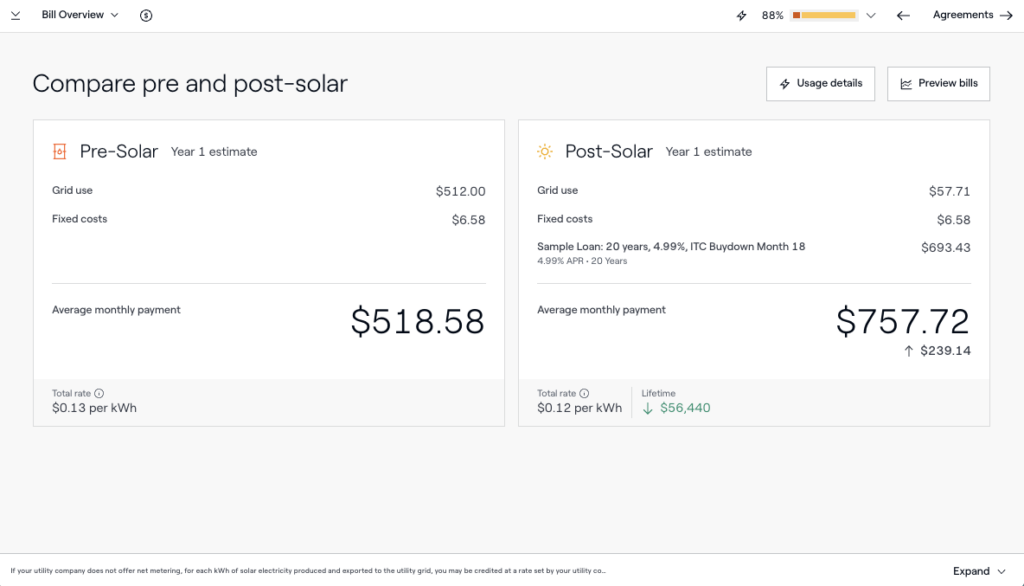 They're understandably a bit confused — solar is supposed to save them money. So, we click down into the monthly estimated bills over 25 years, and that does the trick. We can see the system becomes cash flow positive in Year 2, thanks to our ITC buydown and rising electric rates.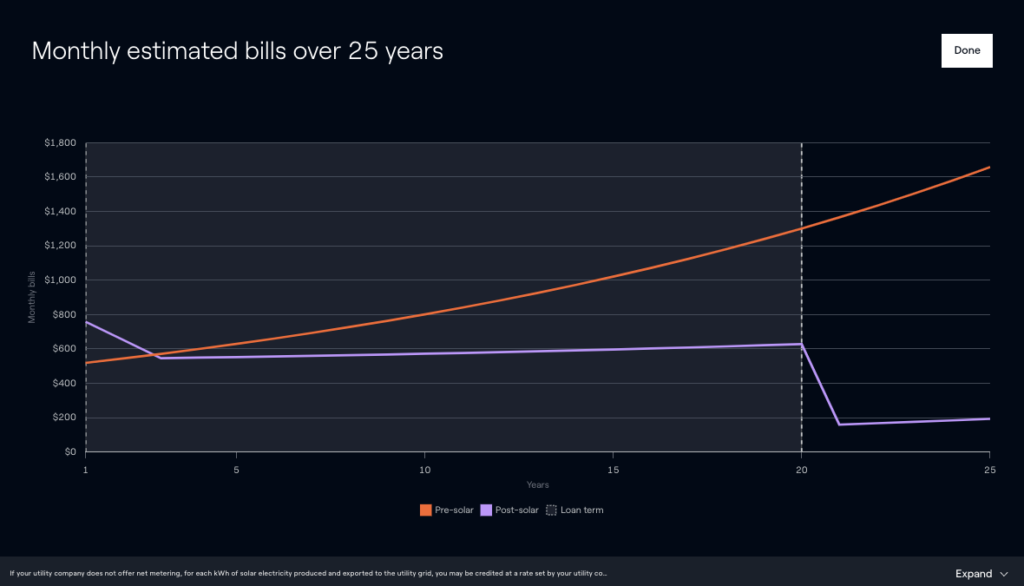 Sign them up
With savings like these — lifetime savings of over $55,000 — the Washingtons were ready to sign up, which they could easily do electronically with Sales Mode.
In the future, the Washingtons might consider more ambitious projects to cover 100% of their electricity needs, or even more to become net producers. For one, we'd like to see an agrivoltaics project as a part of the gardens the Washingtons enjoy so much.
This is just the start, though. Do you have other ideas? Some ground mounts? Agrivoltaics? More panels up on a roof? Let us know! Tag us on LinkedIn and Instagram, and tag it #AuroraSolar. The best design will win some Aurora swag.
Acknowledgements: Special thanks to Sheila McMenamin, to Stephen Gerken for all the updated modeling in Aurora, and to Victor Ionin for his work on the original Mount Vernon post.