When selling solar, an educated, engaged homeowner is one of your best weapons. A salesperson that can provide a detailed, yet easy-to-understand proposal — tailored for that specific customer — is more likely to close, and close quickly.
"The customer experience is really important when it comes to solar sales, it is what separates a good or a great solar company from a not so great solar company," Bogdan Zlatkov, Content Marketing Manager of Aurora Solar, said in a recent webinar. "And it tends to matter a lot more than we think it does."
After all, by providing a great experience, a company is less likely to collect unfavorable reviews and more likely to be recommended by the customer to a friend. This is incredibly critical for growing a solar business, especially as, according to a survey by Green Tech Media, 80% of solar buyers go on to make referrals after purchasing solar. 
With traditional tools, this is easier said than done. This is where Sales Mode comes in. Sales Mode lets sales teams deliver customizable, customer-friendly proposals to homeowners, while the rep is in the room.  
In this blog, we'll highlight how Sales Mode can help reps educate the customer, address their objections, and achieve that elusive one-call close.

Address Homeowner Objections in Real-Time
Of course, while walking potential customers towards a solar purchase, most homeowners are likely to ask questions and object to things that seem unclear. We know that a sales rep's ability to confidently and correctly answer customer questions and objections is critical to closing a deal. In fact, data from the Modernize Home Services Survey tells us that the top 3 reasons homeowners hesitate before purchasing with a solar company are:
Lack of communication (23%)

Lack of expertise (21%)

Unclear and confusing quotes (20%)
Sales Mode allows solar reps to demonstrate their expertise with a clear run-through of every aspect of the system before laying out all of the details in an easy-to-understand quote. 
Answers to Common Objections 
There are a couple very common objections that come up in most solar sales that Sales mode can help answer. Like with many large purchases, price always tends to be one of the biggest obstacles between homeowners and solar energy systems. If price is the issue, Sales Mode's live proposal changes make it easy to add in holiday, military, senior, or any other types of authorized discounts you may have up your sleeve.
And while one-call-closes are always ideal, if a customer says that they simply need more time before a purchase, Sales Mode allows the customer to share a live proposal with partners, family, and friends before ultimately deciding whether or not to move forward.  
Achieving the "One-Call Close" 
A few years ago, an Aurora survey found that change orders affect 47% of installers on 10-30% of their projects. And while it's obvious that change orders can dramatically slow down the sales process, they may also lead to a bad customer experience, which can reduce the likelihood of both a close or referral. 
This is why Sales Mode is built with the one-call-close in mind. From any tablet or laptop, a sales rep can add electricity usage, estimate bills based on local utility rates, and create a fast, accurate home and system design. The rep can then auto-generate a roof design in real-time.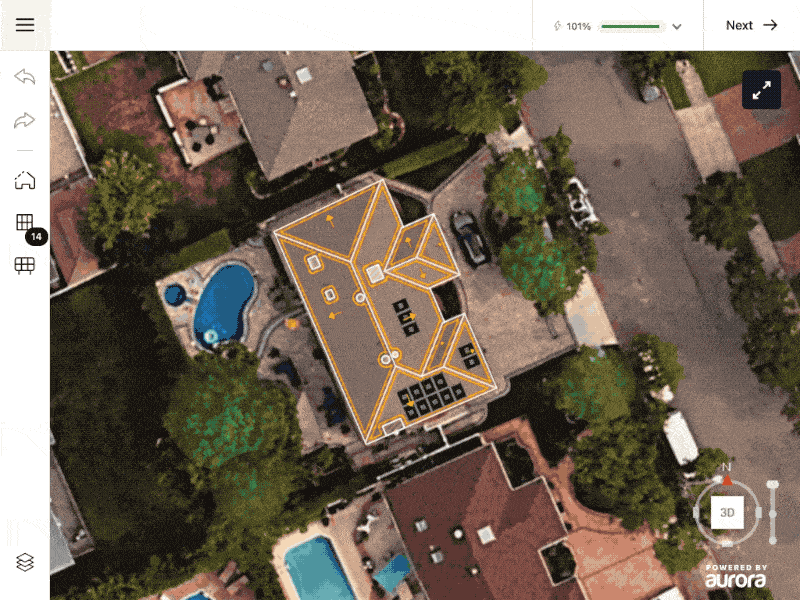 A customer's local utility and building code information can also be pre-populated on a roof to instantly create the best solar energy system for the location. Beyond just the panel placement, Sales Mode can also be used to toggle between inverters and microinverters or even add a battery to a system to see the real-time impact on costs and savings. 
Once the system has been perfected — right in front of the customer — Sales Mode lets homeowners instantly compare financing options, with the ability to show various payment models with the click of a button. With electricity bill savings calculated as accurately as possible, the rep can walk potential customers through their future electricity expenses with a solar energy system before signing on the dotted line.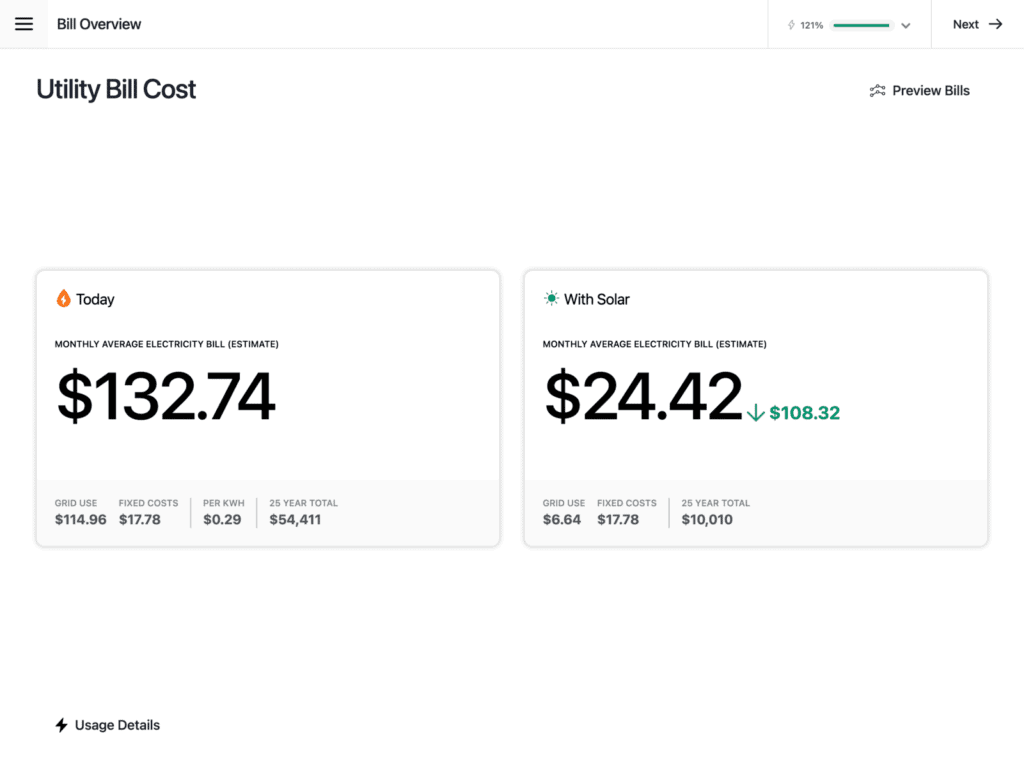 Get Professional Help With Your Modeling
Aurora's Expedited Modeling Service, can help you deliver accurate 3-dimensional models in less than three hours — with an average time of about an hour (contact us to see about plans that guarantee 30-minute turnaround times). You send the specs, one of Aurora's designers takes on the project, and a 3-D model comes back that's ready to go. And since experts create the models, you can feel confident that they'll be accurate.
All the Tools, Right at Your Fingertips
All in all, Sales Mode is designed from the ground up to make sure your sales team can:  
Adapt to individual customer needs 

Make changes in real-time

Show multiple options to help close the deal 
Whether you use it on a tablet or computer, Sales Mode helps demonstrate your company's expertise and value in real-time. From inputting current electricity usage, to system design, environmental impact, and financing information, Sales Mode's intelligent features can help your customers understand their solar energy system, with complete customization and control for solar sales reps, in homes and on the go.