In today's competitive marketplace, solar providers can't afford any delays when going from first point of contact to getting that signature to start a project. 
Yet, all over the world, commercial solar sales are held back by things like high turnaround times, slow communication among design and sales teams, and the inability for sales teams to quickly react to customer feedback.
A lot of these problems stem from using multiple tools and outdated software, which can then cause a lack of continuity and inefficient processes.
HelioScope Pro can help you revamp those ineffective workflows that cost your team time and money — and generate those 4 Ibuprofen headaches — and empower commercial sales teams to minimize inefficiencies, improve proposal accuracy, and ultimately close more deals.   
Introducing HelioScope Pro
HelioScope Pro is designed to deliver an all-in-one commercial solar sales experience.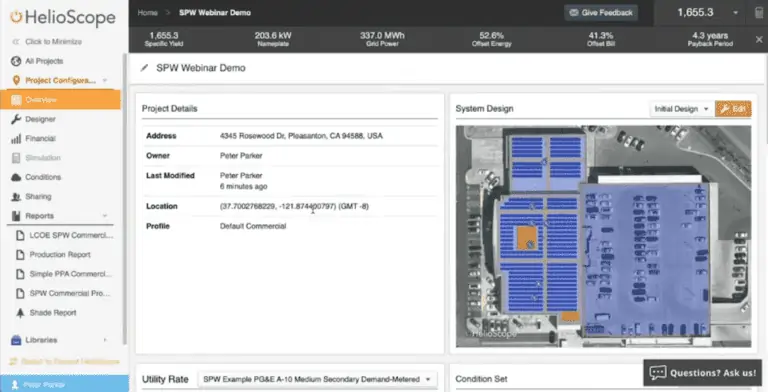 "HelioScope software has been instrumental in the sales and marketing of our projects at the commercial level," said Ra'Ed Arab of Quadra Solar. "The simulation part allowed us to expedite the design process to minutes instead of hours. With the new reporting tool, it closed the circle for both engineering and sales."
During a recent webinar, Aurora Solar Customer Success Manager Desmond Pressey detailed how HelioScope can help improve your commercial solar sales processes. In this blog we'll look at three particularly impactful ways HelioScope Pro can help your sales teams close more deals right now. 
Fully Integrated Lead to Close Experience
From the initial contact to the final signature, HelioScope Pro packages the entire customer experience into one simple platform. This puts an end to disjointed workflows from having to switch between different software — design, CRM, Excel, etc. — for commercial projects. 
HelioScope Pro lets you create and edit solar designs, and also build and customize financial templates, utility and incentive libraries, and sales proposals — you can go from site design and production simulation, to financial analysis and proposals all in one seamless process.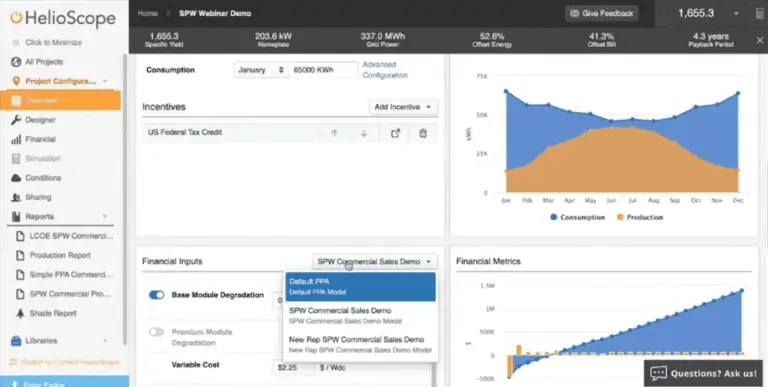 For example, HelioScope allows you to effortlessly compare between different designs and financial variables so you can come up with the best solution for each customer. This way you can compare and contrast different options with your customers, collaborating with them to come up with what works for them. 
When weighing these design and financing options, HelioScope's software combines bankable production simulations with financial analysis tools like a utility rate library, to ensure all calculations are as accurate as possible.   
Sales teams can then visualize energy graphs and cash flow tables in real-time to help customers understand a potential system's internal rate of return, net present value, levelized cost of energy, and more. And it can all be easily updated to integrate any customer feedback for design configuration or financing terms. 
Beyond just finances, sales teams also have the option to highlight the environmental impact of a proposed design. This can be particularly important if a customer is specifically looking to meet emissions or sustainability goals. 
Accelerated Design Optimizations
What if, for example, a customer needs more energy production to meet their sustainability goals? These types of changes are no longer a serious engineering endeavor. When a design adjustment is necessary, HelioScope Pro allows sales teams to control every aspect of a proposed solar system directly in front of the customer — they can add new elements to a system with a few simple clicks. 
Let's take the example of trying to generate more electricity from a system by adding a new feature — a carport in this case. 
This would traditionally require new schematics and financial calculations. But, HelioScope Pro makes it as simple as drawing an outline, adding the carport racking into the design, and adding variable costs for engineering and construction to the financial model.
Everything is then automatically updated within the software.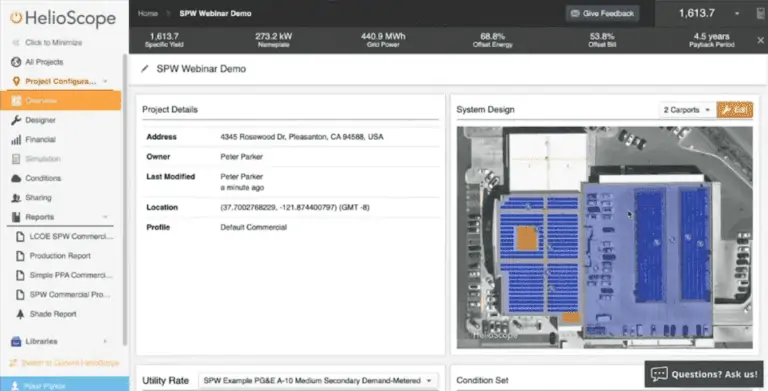 "The consumption, financials, and details of the projects are all right there, available in the proposal," Desmond explained. "You don't have to do any manual edits, and it's all templated so that it updates automatically if anything in the design or analysis is altered."
 This means there's a much lower likelihood of errors when changing a proposal, which empowers sales teams to confidently show how a different design or equipment options can change production, construction costs, and payback periods of a proposed system. 
To seal the deal, an additional terms and conditions sheet can be added to the fully customizable proposal template to help customers move forward with a commitment without ever having to leave the platform. 
Reduced Training Times  
A big barrier for new sales reps in commercial solar sales is coming up to speed on all the different tools they need to do their job: design, financing, and lead management, just to name a few. HelioScope Pro puts all these areas — and more — in one package, so users can quickly become sales-ready.
Of course, this doesn't just help reduce training times while onboarding new employees, it empowers existing team members to close more deals. Now, when they're in the field talking to prospective clients, sales teams have everything they need to meet and exceed customer expectations.  
Want to learn more about Heliscope Pro? 
Watch the entire webinar, check out another HelioScope webinar, sign up for a HelioScope trial, or reach out to our support team support@helioscope.com.